Nepal, the landlocked Himalayan country supposed to play the role of a buffer zone between two Asian giants- India and China, is fast reducing itself into Beijing's Client State seriously jeopardising the balance of power in the region.
Over the recent past, the ruling Nepal Communist Party has been playing down some of the most serious transgressions into the country from Beijing, while sparring with India over trivial and imagined Kalapani territorial dispute, holding little significance for Kathmandu but having strategic repercussions on the Sino-India border equations.
The latest transgression from China comes in the form of Beijing's attempt to alter the position of the highest peak in the world- Mt. Everest by highlighting its Tibetan side and completely downplaying the more popular Nepali side of the highest peak in the world. 
China's State media outlet China Global Television Network, tweeted, "An extraordinary sun halo was spotted Friday in the skies over Mount Qomolangma, also known as Mount Everest, the world's highest peak located in China's Tibet Autonomous Region."
According to a 1960 Border Resolution Agreement, China and Nepal had decided that Mount Everest would be divided- the Southern slope would belong to Nepal and the Northern slope to Tibet, which China claims as a part of its territory.
It was also decided that the China-Nepal border would pass through the summit of Mount Everest, but now that Beijing wants to use the highest peak in the world for mounting its 5G network and snoop in India, Bangladesh and Myanmar by beaming through the Himalayas, it is doesn't even recognise the fact that it shares the peak with Nepal. 
This is how Chinese expansionism starts- calling geographical features with chauvinistic names and recognising them as parts of Beijing's own territory.
Here is the tweet the @CGTNOfficial has deleted. Cheers. https://t.co/MC7DzuPQY9 pic.twitter.com/jZfmxZkd3s

— Palki Sharma (@palkisu) May 10, 2020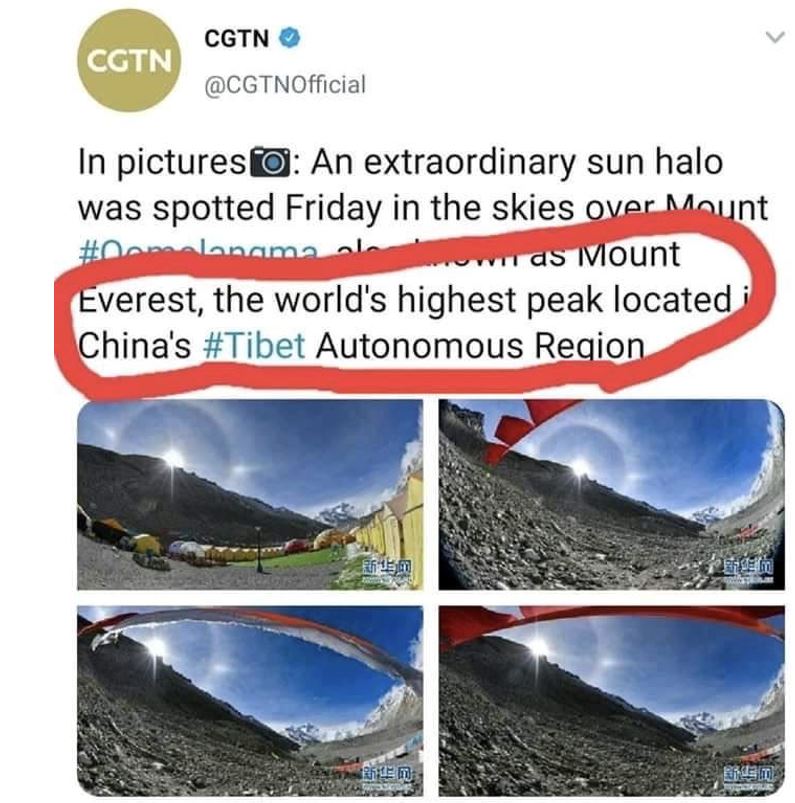 Nepal and China continue to share disputes regarding Mount Everest regarding its measurement– Nepal measures its altitude as 8,848 metres, while China continues to stick with its own measurement that is four metres less than Kathmandu's measurement.
But all that the Oli government in Nepal is concerned about is the Kalapani territorial dispute with India, one that has little strategic significance for Kathmandu but bears significant ramifications on India's security situation against China.
Oblivious about China's expansionism, Kathmandu objected to the strategic Dharchula-Lipulekh road link inaugurated by India recently that bolsters India's plans to build solid road infrastructure along the Line of Actual Control (LAC) and ensures ease of access only 4 km away from the China border.
Nepal's Foreign Ministry had objected to India building a strategic road on India's own territory. It released a statement that read, "The government of Nepal has learnt with regret about the inauguration yesterday by India of a link road connecting to Lipulek (Nepal) passing through it."
It added, "The unilateral act runs against the understanding reached between the two countries including at the Prime Ministers' level that a solution to the boundary issue would be sought through negotiation."
Kathmandu argued that all territories East of Kali (Mahakali River) belonged to Nepal, however, India has rejected Nepal's claims and Anurag Srivastava, Ministry of External Affairs spokesperson said, "The recently inaugurated road section in Pithoragarh district in Uttarakhand lies completely within the territory of India."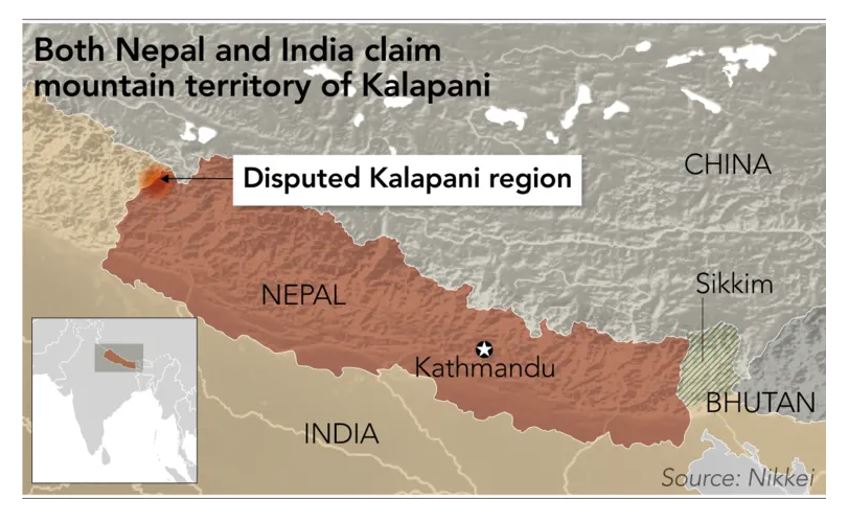 Why should Nepal be worried about India building a road on its own territory? Kathmandu doesn't face any threat of violent aggression from India, while the road is strategically crucial for India which faces the threat of Chinese aggression as is visible from the face-off between the Indian Army and PLA Army troops in Sikkim's Naku La sector.
Clearly, Beijing is exercising more influence over how Nepal prioritises its territorial disputes than Kathmandu itself.
When did this happen?! Even Mount Everest is Chinese now? Beijing's aggression is blatant and crass. In the middle of a pandemic, provoking a clash with India in Sikkim's Naku La sector, and claiming Nepalese territory on the sly. https://t.co/EIwDkPlHDm

— Palki Sharma (@palkisu) May 10, 2020
The Communist regime in Kathmandu dominates the public discourse which is why even the trivial and imaginary Kalapani territorial dispute with India having no strategic consequences for Kathmandu, tends to get played up. Last year, when India released its political map, Nepal had hit out at India for showing Kalapani area at the tri-junction of Nepal, India and Tibet as a part of its territory.
Interestingly, a report released by the Nepal government in response to India's political map had revealed a massive Chinese land grab in different districts, as Beijing expanded its road projects in the region.
Surprised, Nepal's Communist regime had tried to hush up Chinese encroachment with Foreign Minister Pradeep Gyawali saying that there was no major border dispute between China and Nepal.
This is how the Communist government is literally playing into Beijing's hands by dismissing Chinese land grab as "nothing major" and fanning flames against India, even if India builds strategic roads on its own territory.
China is building trans-national rail line cutting through the Himalayas in Nepal and at the same time virtually guiding how the ruling Communist Party in Nepal goes about its affairs. With 90 per cent FDI and BRI projects into Nepal, Beijing is doing with Nepal what it does in Pakistan or any other country with significant investments.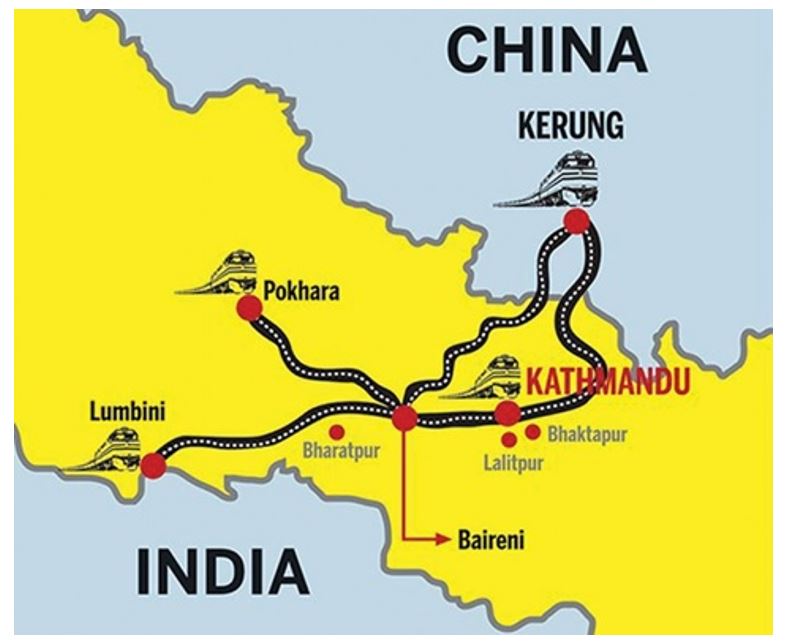 Nepalese people must understand how the Communist regime is pushing them towards virtual Chinese slavery, while destroying cultural Indo-Nepal ties, with its deafening silence towards Chinese expansionism and shocking attempts to thwart India's strategic road projects.