In a courageous move, the Indian government has ditched the China-led Regional Comprehensive Economic Partnership (RCEP). India has very solid reasons to back off from China-led RCEP. The member countries of RCEP include ten member states of the Association of Southeast Asian Nations (ASEAN) (Brunei, Cambodia, Indonesia, Laos, Malaysia, Myanmar, the Philippines, Singapore, Thailand, and Vietnam) and 6 Asia-Pacific countries (Australia, China, India, Japan, South Korea and New Zealand). Out of the 15 member countries, India already has trade deals with ASEAN (10 countries), Japan, and South Korea.
The only countries whose market access India would get, are Australia, New Zealand and China. The government is already working on bilateral trade deals with New Zealand and Australia. China, with which India already has $53 billion dollar trade deficit, India is not interested in signing a free trade deal.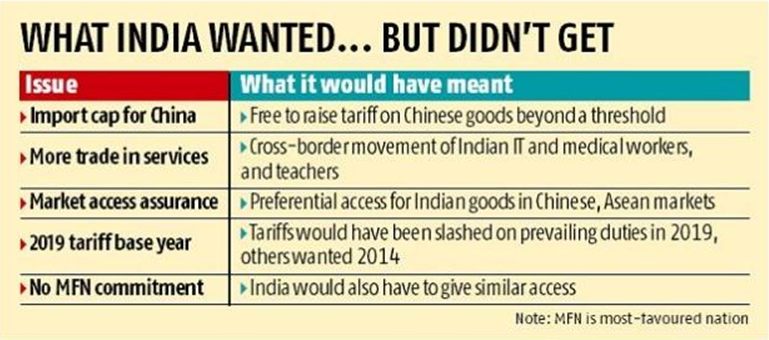 Indian businesses worry that they will lose due to new trade deal because companies from RCEP member countries could offer cheaper products which will ultimately hurt their own sales and profits. A $53 billion trade deficit with China is a major concern for the policymakers in the country, businessmen policymakers also worry that India could be dumping ground for Chinese exports as the United States shuts door for them.
Therefore, India wanted Import cap for China which means India would have been free to raise tariffs on Chinese products, but the member countries did not agree to Indian demand. 
One argument in favour of the trade deal was that India will gain at services front due to the robust presence of Indian companies in the services sector. The policymakers were very much sure that India is going to lose on the goods front in the short term but on the services front, there will be an opportunity to capture a large market. In the long run, the service sector will constitute a larger part of the Indian economy, therefore, the trade-off of goods for services seem a good idea.
India wanted more trade in services and preferential treatment to Indian services sector. This would have meant that Indian workers in IT sector, medical professionals, and teachers could easily migrate to member nations and work there. But, China did not agree to these demands. 
A few other major issues were 2019 as base tariff year, as the deal is to be signed this year or next year. But, the member nations wanted 2014 as base year. Another major issue was that the other nations wanted assurance for most favoured Nation (MFN) status which India was not ready to provide.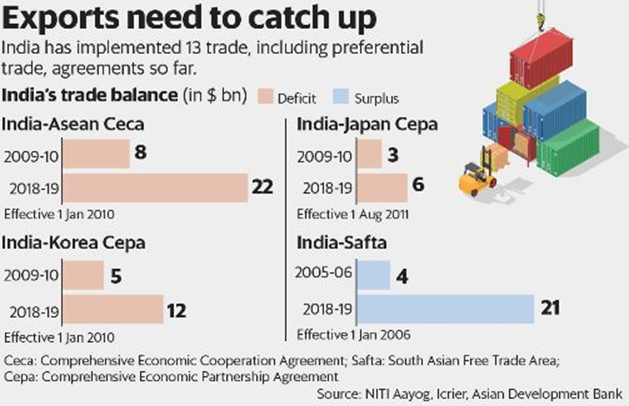 Moreover, India has already burnt its fingers in India ASEAN FTA. The poorly negotiated deal cost hurt India's domestic industries and widened the trade deficit. In FY 2010, India's trade deficit with ASEAN countries was 8 billion dollars. In last 9 years of FTA, the trade deficit widened to 22 billion dollars due to poorly negotiated trade deal. Among all FTAs signed by India, ASEAN was most poorly negotiated and it hurt the Indian industries most. 
The ASEAN-India FTA, signed in 2009 by the UPA government gave disproportionate concession to the countries like Vietnam and Indonesia. India agreed to eliminate 74 per cent of tariff lines while Indonesia and Vietnam eliminated only 50 and 70 per cent tariff lines respectively.
Hence India was not keen on going forward poorly designed trade deal. The trade deal was expected to benefit the services sector of the country. But, over the years, it has been seen that countries could easily find a substitute to goods but services cannot be replaced easily due to the sheer specialization they require.
So, if, an India company is providing some service to American or Chinese enterprise, they would not easily find another company in another country which could supply the same specialized services. Therefore, India could capture China's services market without a free trade deal or a bilateral deal. In a bilateral deal, India could bargain better given India $53 billion trade deficit with China.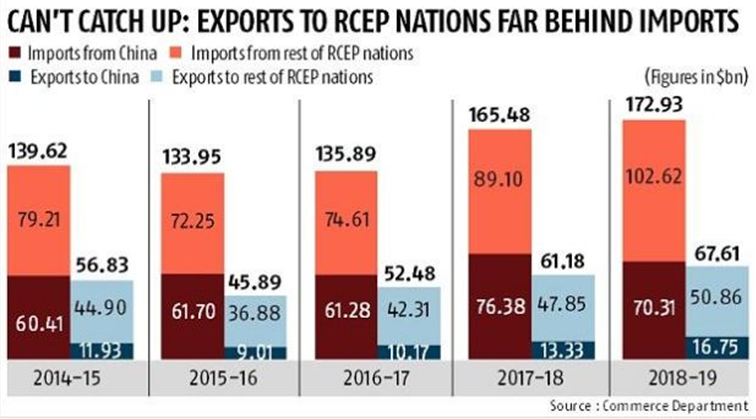 The trade deficit of India with China as well as other RCEP member nations has widened over the years. Currently, the trade deficit with China is around $53.5 billion and deficit with other RCEP nations is around $52 billion. The country has $105 billion combined trade deficit with RCEP member nations and in this case these jaw-dropping numbers have trumped the optimism around RCEP.
A multilateral deal like RCEP, with India's concerns unaddressed, would have further widened trade deficit with member nations. India would prefer a bilateral deal with member countries of RCEP instead of a multilateral deal. Out of the 15 member countries, India already has trade deals with ASEAN (10 countries), Japan, and South Korea.
The wave of multilateral free trade deal is over since the rise of protectionism. The economic superpowers like the United States, United Kingdom are going for bilateral trade deal rather than multilateral ones. India might just take a leaf out of their book and sign bilateral trade deal with the United States instead of going for RCEP.