Sheikh Hasina, the Prime Minister of Bangladesh who is on four day India visit, met PM Modi on Saturday. The Bangladeshi PM signed seven agreements and launched three projects. The state of Tripura, surrounded by Bangladesh on three sides was at the center of these projects.
Hasina agreed to source LPG for Tripura and the gas will be transported using Bangladeshi trucks. She also agreed to allow Tripura to withdraw 1.82 cusecs of water from Feni River. The water will be used for drinking purpose in Sabroom town in Tripura.
Sabroom, the southern border town in Tripura is just 146 km away from Chittagong port, which will help in a great way to trade with our North East states reducing our dependency on "Chicken Neck" Siliguri. It will help in cost reduction of goods traded in Tripura, Mizoram, Manipur, Nagaland, Arunachal Pradesh and the eastern parts of Assam like Dibrugarh since this area is mostly flat land unlike the high mountainous regions of Xinjiang it will be easier to build road and railways through this route.
PM Modi said that the sourcing of LPG will reduce the transportation distance for India by 1,500 km and it would help Bangladesh in increasing its exports, generate income and employment.  "The three projects inaugurated today are of three different sectors –- LPG import, vocational training and social facility. But their objective is the same, and that is to improve the lives of our citizens, which is the basic mantra of India-Bangladesh ties," he added.
Developing Agartala-Chittagong route will also help in developing the Kolkata-Dhaka-Agartala and Dhaka-Shillong-Guwahati route resulting in the overall development of East and North East India.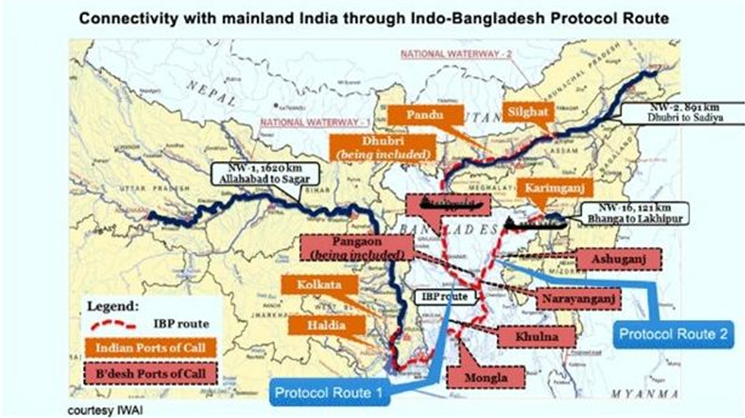 Many other waterways are in the pipeline including some cross country ones. The Indo-Bangla waterway project which aims to connect the Meghna river of Bangladesh to Gomati River of Tripura. This would give India access to Ashuganj port of Bangladesh and make the Indian state of Tripura accessible through water.
The government had announced that it was working on a plan to set up a waterway freight corridor to connect the mainland with the northeastern states via Bangladesh at a cost of Rs 5,000 crore which would substantially reduce the time taken to transport goods to the eight northeastern states and costs.
The present route of ships is limited to Dawodkandi of Bangladesh which is 80 km from Sepahijala district of Tripura. The newly elected CM of Tripura, Biplab Kumar Deb is very enthusiastic for implementation of the Indo-Bangla waterway project as it has the capacity to revolutionize the transportation to the state.
The state of Tripura would immensely benefit from growing Indo-Bangladesh ties.  An example can be the 15.054 km-long railway line scheduled to be completed by 2020 connecting Agartala with Akhaura in Bangladesh that will be connecting Indian Railways with Bangladesh Railways for improved connectivity and which in turn will boost trade between the state and Bangladesh. The line will cut through Dhaka instead of Guwahati and will help in freight movement as well as goods from the northeastern state, while goods from Chittagong port will reach Agartala quicker.
India welcomed Bangladesh's "imminent graduation out of LDC (least developed country) status". The countries also agreed to conduct a joint study on the prospects of entering into a bilateral Comprehensive Economic Partnership Agreement (CEPA).
Since the country became independent in 1971, India has supported Bangladesh's development at every step, which have helped it shed its LDC status. These steps have been through investments, Line of Credit at concessional rates, grants, market access for Bangladeshi products and a lax visa regime. The Line of Credit India provides to the Bangladeshi economy is almost $8 billion, the biggest it provides to any country. Beside the huge line of credit, India also gives financial aid to Bangladesh which has contributed to the country's infrastructure, power and railway sectors.
In last decade, the Bangladeshi economy has grown very fast, and has become the second largest garments exporter, third largest outsourcing country, fourth largest rice producer, fifth largest freshwater fish producer, the fifth largest supplier of legal migrants in the world, eighth largest remittance earning country, and tenth largest food grain-producing country. The nation has a large population of almost 16 crores with a literacy rate of around 66 percent.
The Northeast and West Bengal is a huge market for Bangladeshi products, and the Indian government has promised huge investment in infrastructure development in the Northeast which will make those markets more accessible for Bangladeshis. The greater cooperation between India and Bangladesh would help the northeastern states in economic growth. Tripura, the state with majority of its border surrounding Bangladesh would benefit most from the growing bonhomie between PM Modi and Sheikh Hasina.