The National Crime Records Bureau (NCRB) data 2017, released after a delay of more than one year, has some very interesting finding. Kerala, the Southern state that constitutes only 2.76 percent population of the country, accounted for 7.84 percent of total FIRs filed in the country.
As per NCRB, there were 30, 62,579 lakh cases registered across the country in 2017 compared to 29,75,711 in 2016 and 29,49,400 in 2015.
Uttar Pradesh, with more than 3 lakh cases, accounted for 10.1 percent of total FIRs. But, given the fact state accounts for 16.51 percent of country's population, crimes committed per lakh population, was among lowest.
UP was followed by Maharashtra where 2, 88,879 FIRs were registered which is proportionate to its population share (9.28 percent) in the country. The Western state with 9.28 percent of country's population registered 9.6 percent of total cases.
Maharashtra was followed by central Indian state- Madhya Pradesh, which registered 2, 69,512 FIRs in 2017 and accounted for 8.8 per cent overall cases. The cases in MP were disproportionate as the state accounts only for 6 percent of the country's total population.

MP was followed by Kerala which registered 2, 35,846 cases and accounted for 7.84 percent of total case with only 2.76 percent of population. The per capital registered cases in Kerala were three times higher than that of National average.
Delhi, the national capital of the country is also crime capital of the country. The National capital Territory has highest crime rate in the country with 1,050 cases registered per one lakh population as listed under Indian Penal Code. Delhi registered 2, 32,066 cases or 7.4 percent of total cases against 1.4 percent of the total population.
"Majority of cases under crimes against women were registered under 'Cruelty by Husband or his Relatives' (27.9%) followed by 'Assault on Women with Intent to Outrage her Modesty' (21.7%), 'Kidnapping & Abduction of Women' (20.5%) and 'Rape' (7.0%)," said the NCRB report.
In Kerala, there was exponential rise in criminal cases since CPM led Communist government came to power in May, 2016. The state has not been able to improve law and order situation under the leadership of Pinarayi Vijayan.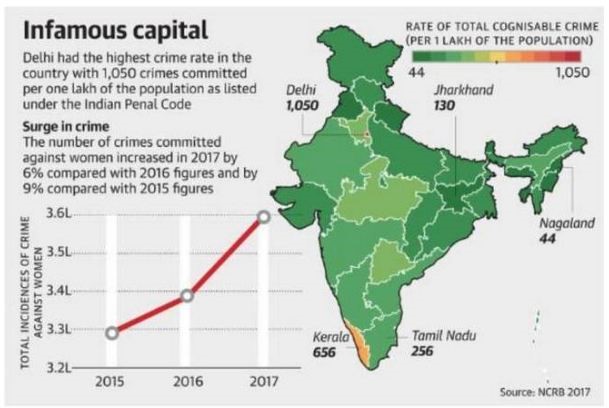 Among states, Kerala registered highest crime rate in the country with 656 cases per lakh population, followed by Tamil Nadu and Jharkhand with 256 and 130 cases respectively. The cases registered in Kerala are 2.5 times higher than that of Tamil Nadu and 3 times higher that Uttar Pradesh.
The first thought which comes to mind when one talks about Kerala is the 'high literacy rate and high HDI' of the state, 'scenic beaches and landscapes', 'medical tourism', etc. But, of late, we are hearing a lot about the failed law and order situation in the state, regular killings of RSS/BJP members and Hindus. This is not something new, to understand the current persisting situation; we should take a look back at the history of communism in the state.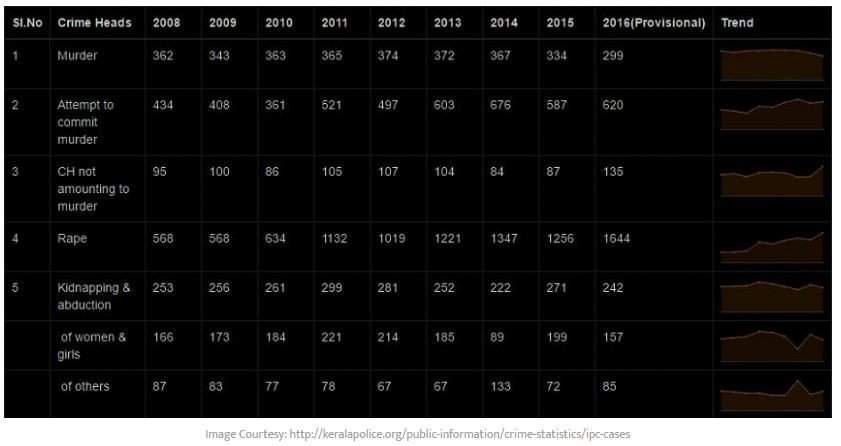 The situation in the state was appalling under Congress too. As per 2015 NCRB report, 257074 IPC Cases were registered under IPC Crimes. The rate of such crimes in the state was a staggering 723.2, second only to Delhi, while the National Average was 234.  The state registered 139562 crimes against the body (murder, attempt to murder, culpable homicide, kidnapping and abduction, and such cases) were registered. The rate of such crimes was 392.6 against the National Average of 68. Though 6981 cases against Public Order, riots were registered, the rate of such crimes was 19.6 against the National average of 6.9.
The media ignores the cases, sometimes just giving it a passing off report, and the government hardly gives any importance to the cases. Most of the media portals highlighted that UP has highest number of cases but they refrained from mentioning that per capita cases in the state are among lowest.