As the world grows increasingly tired of the noisy and unconstructive climate change strike led by a 16-year old Greta Thunberg who in turn is being remote-controlled by a left-liberal lobby in their bid to pull down governments in the name of climate change, a peek into the CO2 polluters per capita data, uncovers some fascinating insights. Greta Thunberg recently attacked Prime Minister Modi for not doing enough for the environment and was unsurprisingly oblivious of the giant strides that India has made under the Modi government as it shifts towards cleaner forms of energy.
When it comes to CO2 emissions, India ranks third in the total amount of CO2 emissions after the USA and China but in terms of per capita CO2 emissions India lags far behind while developed countries like the USA, the United Kingdom, Australia and Canada top the charts.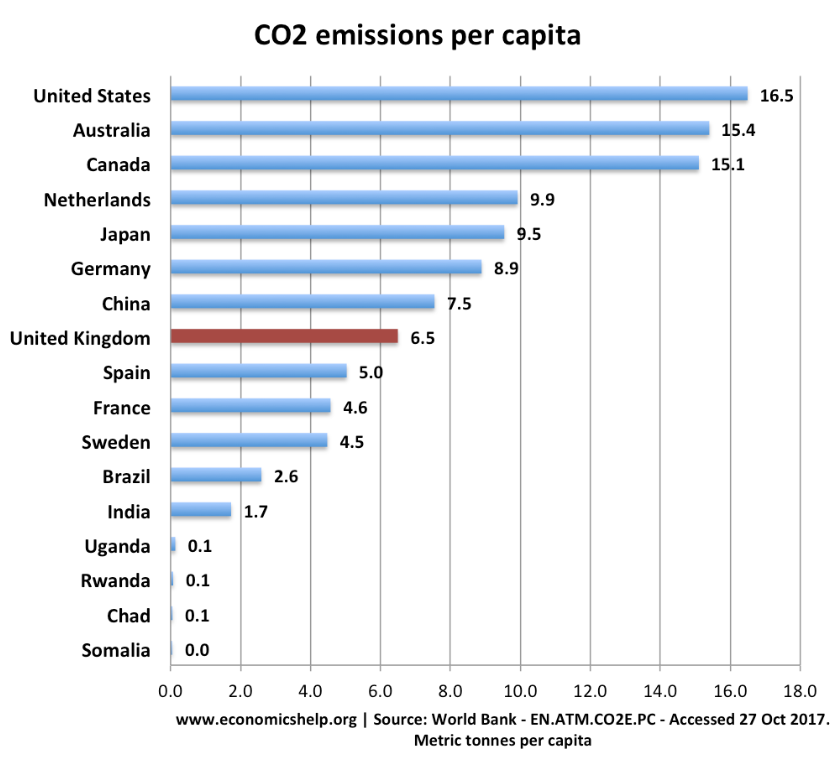 The likes of 16-year-old Greta Thunberg have been rebuking governments including those of developing countries, alleging that enough is not being done to address climate change for countries' dreams of "eternal economic growth". A kind of fanaticism has gripped these climate change warriors especially in the West, and their cohorts back home, and often India and China are attacked aggressively for high CO2 emissions.
However, India, a developing country of 1.3 billion ranks 158th in per capita emission, and the USA's per capita emission is almost 10 times higher. Sweden emits nearly 3 times more per capita, the country Greta Thunberg hails from and sends video messages diminishing PM Modi and India's work in renewable energy, hygiene, and sanitation as "small victories" that PM Modi needs to stop "bragging" about.
The US is ranked 11th at 16.5 per capita and amongst countries with sizeable populations, has the highest CO2 emissions per capita while India is the third highest country in terms of absolute emissions, but per capita emissions stand at only 1.7 metric tonnes. While India's per capita emission appears as a bare minimum for the developing country to grow and lift more and more people out of poverty, the developed world's gluttonous guzzling of fossil fuels strips it of any moral authority to attack the aspirations of India's 1.3 billion people.
India, like every other signatory of the Paris Agreement, had acknowledged a list of goals and pledged to achieve them by 2030 and had set itself a goal of achieving 40% of its electricity from non-fossil fuel sources by 2030. However, India is all set to achieve this goal by 2022 itself, a staggering eight years ahead of schedule. Moreover, Indian officials have estimated that the country might no longer need to build new coal plants beyond those that are already under construction. In a recent auction in India, developers of solar farms offered to sell electricity to the grid for 2.44 rupees per kilowatt-hour and India's technological advances have emerged as a game-changer as the country managed to dramatically reduce the per-unit cost of power. That is about 50% less than what solar farms bid a year earlier and about 24% less than the average price for energy generated by coal-fired power plants. The Modi government has extensively focused on sustainable growth which has resulted in the country's renewable energy capacity registering a compound annual growth rate of over 20%.
The Modi government's focus on renewable sources of energy has certainly yielded results as India's solar capacity currently stands at nearly 30 GW, up from 2.6 GW in 2014 and the same period, Wind capacity has shot up to over 36 GW from 21 GW. Recently, Modi Govt distributed 350 million LED bulbs thereby reducing electricity consumption. The Modi government in its second term is extensively focusing on the importance of water conservation as the government plans to invest 3,60,000 crore rupees in the next five years under the Jal Jeevan mission. Under the 'Har Ghar Jal' initiative, the government aims to provide 55 liters of clean drinking water per person by 2024. 'Har Ghar Jal' is a great initiative because as of today, only 18.24 percent (32.57 million out of 178.54 million) households have access to piped water. The move shall improve the lives of millions in the country. The Modi government's push for enhancing India's renewable energy capacity has not escaped the eyes of the investors and have made huge investments in the sector. The total investment in clean energy is estimated at 11.1 billion dollars for the calendar year 2018, according to data from the Ministry of Renewable Energy and consultancy firm KPMG.
India has recorded staggering progress in the renewable energy sector ever since the Modi government assumed power. It is extremely difficult for a developing nation to take such giant strides especially at a time when millions of Indians still live without 24/7 electricity supply where coal can act as a quick fix and ensure energy supply, however, India continues to pursue sustainable development as much as can be afforded.
While the developed world has had a good run with extensive use of coal, the same has been used to shame India, perhaps, in a bid to stall its economic growth which is naturally aligned with cheap energy consumption. Former Chief Economic Advisor Arvind Subramanian had previously slammed carbon imperialism and asserted that coal should remain the primary source of energy for India in the short to medium term as it remains the cheapest energy source for development needs.
It appears as if India's aspirations to achieve the same development as the developed world is too much to ask for from hypocritical climate change warriors. If anything, it is the developed world that must put a stop to its massive emissions through the unchecked use of fossil fuels, manufactured goods and voracious meat-eating and any attack on India's ambitions to seek development, reeks of ignorance fueled by entitlement, privilege and racism.