Amazon, the Jeff Bezos led e-commerce giant is expected to earn 7 billion dollars (in United States) in advertising revenue this year. This is the second highest advertising revenue by any Internet company after Google, which estimated its advertising revenue at 40 billion dollars.
Now take a look at this image:

The above image is from Amazon's website. The company very openly displays that it sells sponsored products. It also has a 15 second explanatory video about Amazon advertising.

Currently, Amazon controls 13 percent of America's total advertising revenue compared to Google's 73 percent. But, the total advertising revenue of the company is expected to reach 16 percent by 2021.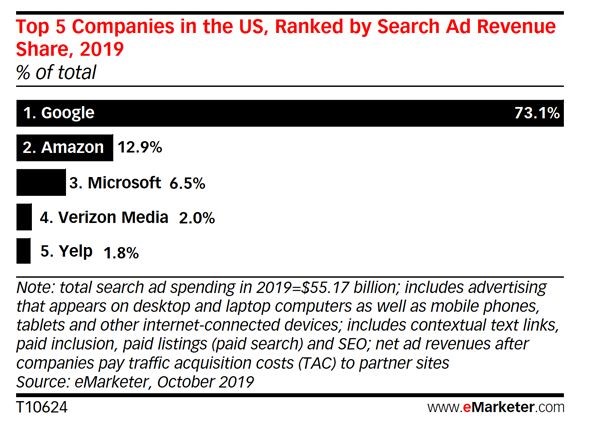 The ecommerce website has displayed a screenshot in which the website displays sponsored products on the "first page of result". Therefore, whenever a customer searches for a product, the sponsored items appears on the first page. It is achieved through the default sorting order. Notice the default sorting order on Amazon and most ecommerce portal is 'relevance' whose rules are set by the company itself. Relevance itself is an absurd term as compared price, popularity or ratings which are the other sort orders on different ecommerce portals. Here's Amazon's detailed advertising policy  for sponsored products.
There is a golden rule about search results only the obsessive shoppers will go beyond say second or third page. So, there are high chances that the shopper will pick something from the first few pages.
In September this year, The Company launched display advertising which will help external advertisers to place ads. "Today we launched Sponsored Display, a new self-service advertising solution that helps you grow your business by reaching relevant audiences both on and off Amazon. Sponsored Display is currently available in beta to all professional sellers, vendors, and agencies who sell on Amazon," said Lynly Schambers-Lenox, Senior Product Marketing Manager.
The unethical business practices of e-commerce are not limited to advertising of products. They resort to unethical discounting practices which harm small retailers.
Discounting by online retailer on their platforms is explicitly banned; CCI found that Flipkart and other online retailers were discounting on their platforms. In March 2016, the country allowed 100 percent FDI in online stores that follows the marketplace model; no FDI is permitted in firms following the inventory model.
Marketplace model means providing an information technology platform by an e-commerce entity on a digital and electronic network to act as a facilitator between buyer and seller. The companies like Flipkart, Snapdeal, and Amazon follow this model primarily. Inventory model means an e-commerce activity where the inventory of goods and services is owned by an e-commerce entity and is sold to the consumers directly. Alibaba, the e-commerce giant of China follows this model.
Recently Confederation of All India Traders (CAIT) Secretary General Praveen Khandelwal has alleged that e-commerce companies are violating India's FDI norms.
Piyush Goyal said that strict action will be taken against e-commerce companies they are found to be violating India's e-commerce policy. "The central government has made clear cut guidelines in e-commerce. We have made it clear that if anybody tries to use the route of multi-brand retail, then strict action will be taken. E-commerce is a marketplace platform. E-commerce companies have no right to discount their products. They have no right to harm small retailers by using the method of predatory pricing," said Piyush Goyal while speaking to reporters in Mumbai.
The unethical practices by e-commerce companies harm the interest of consumers and small traders. Previously, the Ministry of Commerce and Industry has barred e-commerce players such as Amazon and Flipkart from selling the products of their own subsidiaries. But the companies continue to do so through shell companies and due to this, the small traders could not compete.