In India, the police forces don't have an exactly bright image among the masses. But there are certainly some instances where they are wrongly targeted for incidents that they weren't even responsible for. But in a rare moment of sanity, UP Police didn't lose their cool and calmly explained how a case, purportedly perceived as the truth by artist Chinmayi Sripaada, was not true at all begin with.
It all started when singer Chinmayi Sripaada accused UP Police of being insensitive to a gang rape victim, citing an article shared by India Times about the same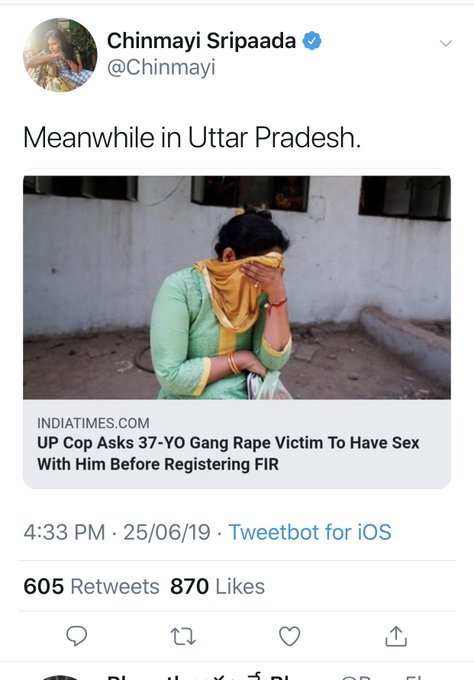 However, this turned out to be old news, which turned out to be fake after proper investigations by UP police. Pointing out the same, UP Police posted the following details:
-Meanwhile it is not expected of celebrities to post a #FakeNews of 2017 in 2019.
-Meanwhile the victim had lodged a fake gang rape case which the SI had exposed hence revengeful.
-Meanwhile t charges against SI were found false after proper investigation & voice sampling test pic.twitter.com/CidRGdJ1XE

— UPPOLICE FACT CHECK (@UPPViralCheck) June 26, 2019
However, Chinmayi Sripaada wasn't done yet. She further accused the Police of trying to shield the accused.
However, instead of losing their cool, the UP Police calmly schooled her on the basis of cold facts, explaining the entire process of investigation as shared in the previous post. They even told Chinmayi Sripaada that the woman has been arrested for misleading the police on this case.
Meanwhile u hav not bothered to read the template of 2017 which contains t gist of investigation.T lady alleges a call from SI who was allegedly demanding sexual favours. The concerned mobile number turned out to be her friend's, who confessed to his crime hence both were booked

— UPPOLICE FACT CHECK (@UPPViralCheck) June 27, 2019
This is not the first time, however, that misleading propaganda has been spread against the Police. Congress politician Shama Mohammed spread rumors that UP DGP admitted to the 'fact that BJP workers murdered Surendra Singh'. Surendra Singh was a BJP worker who was considered close to Smriti Irani, and was murdered soon after she had won the Lok Sabha elections from the Congress bastion of Amethi.
When Congress supporter and alleged political consultant Gaurav Pandhi backed her on this subject, Police was compelled to come out and school them on common sense and hard facts. They even forwarded the tweets to Amethi police for legal action against the two for spreading false rumors about the murder of Surendra Singh.
Your tweet regarding murder in Amethi is a deliberate distortion of facts. In the article used in yr tweet/elsewhere DGP UP OP Singh has not attributed the murder to members of any political party
We have forwarded your tweet to Amethi police for legal action for spreading rumour https://t.co/ltf0trS0NP

— UP POLICE (@Uppolice) May 30, 2019
.@GauravPandhi deletion of such misleading tweets will not be of any help.
An FIR regarding the same has been lodged by @amethipolice yesterday itself.
This will be followed by a threadbare investigation & consequent legal action
We request everyone not to misquote us anywhere! https://t.co/CbwNsCeq46 pic.twitter.com/IKRQiNbdq0

— UP POLICE (@Uppolice) May 30, 2019
A year ago, when Rahul Kanwal attempted to label the encounters in the UP as 'fake' and tried to sympathize with one such 'victim', the ADG of Meerut had to step in and criticize him for mocking the trauma faced by the actual victims.
What a blunder and an unexpected tweet ! U shd have verified the facts of the cases from the rape victims, young girls n women who suffered trauma at the hands of these dreaded criminals, if not from police!

— ADG ZONE MEERUT (@adgzonemeerut) April 4, 2018
Finally, Chinmayi Sripaada deleted the tweet and apologized for spreading misinformation. 
I sincerely apologize for the tweet & appreciate you took the effort to reply. I share such reports (and I will continue to do so) only with the intention of helping people without a voice or influence.
I'm deleting the tweet.
धर्म एव हतो हन्ति धर्मो रक्षति रक्षित: । https://t.co/N2S8JAMiMe

— Chinmayi Sripaada (@Chinmayi) June 27, 2019
At a time, when the left liberals are leaving no stone unturned in order to malign the Police, it is commendable to see that the Police is maintaining their commitment towards a crime-free UP, not hesitating to take an extra step and call out the rumor mongers if necessary. However, this also raises serious questions on people like Chinmayi Sripaada, who are spreading rumors based on old and misleading news.