Objectivity and fairness in journalism are not the traits Rajdeep Sardesai is famous for but when it comes to his coverage on PM Modi, the veteran journalist becomes particularly biased and almost vindictive. Known for his acerbic, misleading comments against PM Modi, even when Modi was the CM of Gujarat, Rajdeep Sardesai deliberately misquoted the PM's recent address in the Lok Sabha yesterday, only exposing his vicious hatred for PM Modi further.
Yesterday, PM Modi delivered a thunderous speech in the parliament during the motion of thanks to the President. PM Modi's address covered many issues. From attacking people behind the dark days of the Emergency to mentioning everything about his previous term as PM, he minced no words. He even targeted the Congress party. However, Rajdeep Sardesai didn't budge from peddling his propaganda and right after the address, he hosted a debate on India Today. He targeted PM Modi for his speech, accusing him of being in 'election mode'.
Is PM Modi losing sight of real issues by targeting the Gandhis?
Panelists debate on #NewsToday with @sardesairajdeep.
Full video – https://t.co/fsr09xxih3 pic.twitter.com/3CrH3UZU00

— India Today (@IndiaToday) June 26, 2019
Rajdeep Sardesai stated, "Is our PM still in election mode, accusing the Gandhi family? Or is he the PM who wants to rise above the din and extend his hand to the Opposition and say that let's work together. Let's turn India into a 5 trillion dollar economy. Can you please tell us how it will happen? Should PM not tell about his vision, instead of continuing his enmity against the Gandhi dynasty?"
Now two things come into prominence: Either Rajdeep Sardesai doesn't watch TV, or he deliberately ignores PM Modi's speeches. PM Modi had made it clear that how schemes like Make in India are necessary in order to make India a 5 trillion dollar economy. This was clarified by a Twitter user. He attacked Rajdeep for his hypocrisy through the same tweet, as shown below –
Of course @sardesairajdeep you didn't hear PM @narendramodi talk about $5 Trillion economy and how he plans to use Make in India, Defence production, Tourism, Infra, Research, start up..bcoz you were more worried & busy looking out for your favorite family in his speech. Watch. pic.twitter.com/XhGKUe2k4n

— Yo Yo Funny Singh (@moronhumor) June 26, 2019
In his speech, PM Modi quoted the example of China's arms production and stated how India's arms production fell prey to the policy paralysis and governmental inefficiency during Congress led rule. According to him, these are some of the reasons why India is compelled to be the world's largest arms importer, while China, which was nowhere in comparison to India's arms production during the time of her independence, now also exports huge caches of arms throughout the world.
This is not the first occasion when Rajdeep Sardesai twisted news to suit a narrative in order to criticize PM Modi. When PM Narendra Modi biopic courted controversy for its release right before the Lok Sabha elections, Rajdeep through his channel tried to proclaim that the Vivek Agnihotri directed 'The Tashkent Files' is targeting the Congress leadership 'unjustly' and should thereby be restricted until the end of the elections. Taking strong exception to the same, Vivek roasted Rajdeep, despite being blocked by the latter on Twitter:
Friends,

Someone sent me the attached clip from Rajdeep Sardesai's show.

Since Rajdeep Sardesai has blocked me, I have not other way to communicate to him.

Can someone send my note to him.

I am sure he will be fair. https://t.co/iGf3jfQRG5 pic.twitter.com/ESHgwNDE7t

— Vivek Ranjan Agnihotri (@vivekagnihotri) April 3, 2019
This was not all. Rajdeep even attempted in a pathetic manner to communalize the election speech of PM Modi.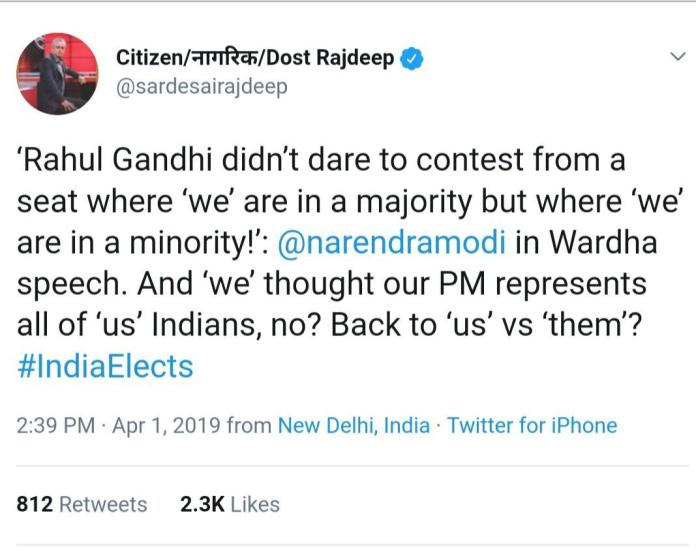 The truth was, however, quite different. PM Modi did not use such words at all during his entire speech. This was why Rajdeep was scoffed at when his theatrics were exposed on social media, as shown below –
There should be a widespread debate on Pappu @RahulGandhi's choice of 'safe' seat. PM has initiated it. Take it to every 'majority' man & woman pic.twitter.com/ET2L2MhCyI

— iMac_too (@iMac_too) April 1, 2019
Rajdeep has been trolled massively for his vicious propaganda. Even Pranab Mukherjee, Saurav Ganguly, and Sania Mirza haven't spared him for his obnoxious theories. Famous writer and journalist Anand Ranganathan had exposed Rajdeep a while ago, exposing his hypocrisy without mercy. However, it doesn't look like Rajdeep has learned anything from his previous antics. Probably he has forgotten that truth may be hidden but never silenced.