The Modi government has constituted a new ministry named Ministry of Jal Shakti to look after water-related issues including the development of waterways. The newly created ministry would look after the work of Ministry of Water Resources, River Development and Ganga Rejuvenation and Ministry of Drinking Water and Sanitation. Gajendra Singh Shekhawat, the person who defeated Ashok Gehlot's son from Jodhpur constituency has been given charge of the ministry. The water-related issues come under the ambit of 7-8 ministries and therefore any solution to prevailing issues used to get stuck in ministerial wars. Waterways are going to be the next big project of Modi government. It brought the National Waterways Act, 2016 to promote and strengthen the waterway system in the country.
As the first Inland Waterway of the country (Ganga Waterway or National Waterway-1) has become a commercially successful project within few months of launch, Modi government plans to expand the waterways network to Western and Southern India. The Inland Waterways Authority of India (IWAI) will strengthen creek system in Mumbai (Thane creek and Vasai Creek) to decongest the city's major port, Jawaharlal Nehru Port. The rivers connecting to island of Thane and Vasai will be dredged to reduce the transportation time for cargo vessels. "It will lead to savings in the cost of logistics for companies as the turnaround time for ships would be reduced," said a JNPT official.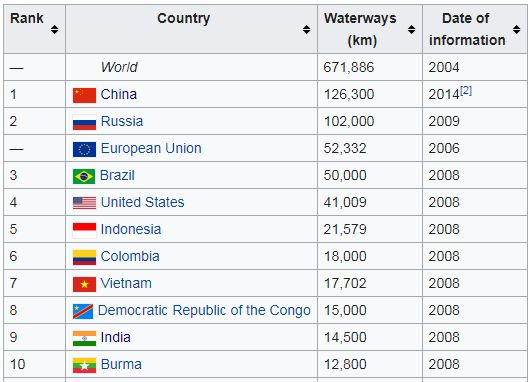 The government also plans to start ferry service in Mumbai; there are already a few ferry services like one for Essel World Island, the government will expand the network and regulate it formally. In New York, Staten Island ferry service connects the city with its suburbs. Countries like China, Russia, and European Union countries have a smaller stretch of rivers have lakhs of km of waterways compared to only 14,500 km navigable waterways which comprise of rivers, canals, backwaters, creeks, etc. The government will also develop National Waterway 4 and National Waterway 5 on Krishna River in Andhra Pradesh and in Odisha respectively.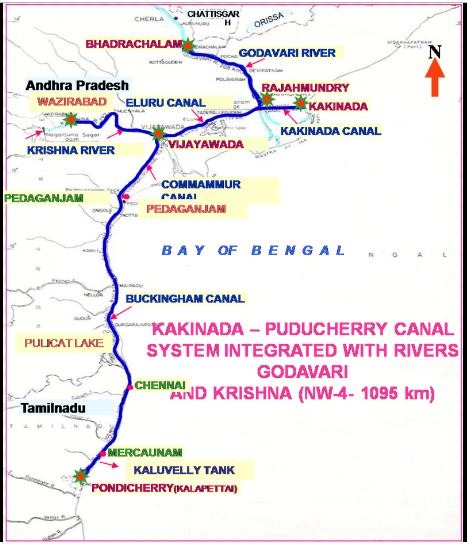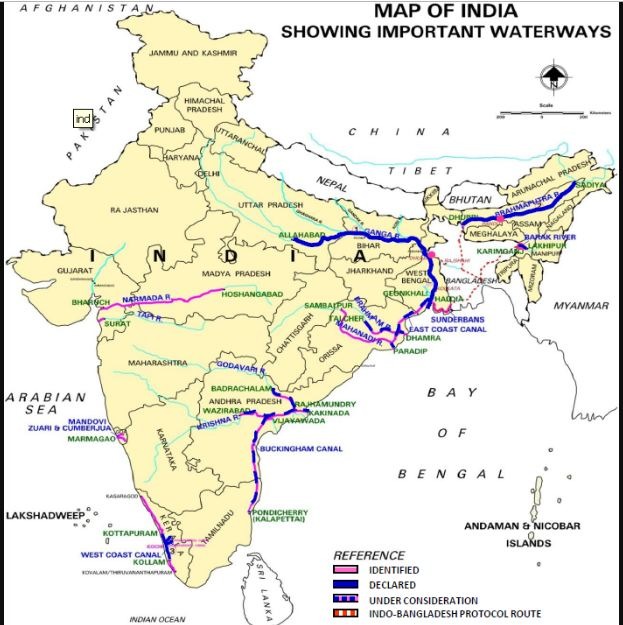 The 1,360 km stretch of the Ganga river between Varanasi & the seaport of Haldia being named as National Waterway (NW)-1 would facilitate the transport of cargo and thereby result in the economic development of the region. The NW-1 passes through Uttar Pradesh, West Bengal, Jharkhand, and Bihar, serving major cities like Varanasi, Prayagraj, Patna, Howrah, Calcutta, Haldia, etc.
Junaid Ahmad, World Bank Country Director for India in his statement said, "Harnessing the mighty rivers of South Asia to build an effective multi-modal transport strategy will give the region a competitive edge on the global scene. This project will allow India to move goods seamlessly between road, rail, and water, and bring down logistics' costs. Importantly, this Project will help IWAI put in place environmentally-sustainable strategies for inland navigation that can be replicated on other waterways in India and other countries."
Freight Transportation through waterways could bring the import bills down because it is more fuel efficient. In one litre of diesel, ships could carry 105 tonnes of load through waterways while roadways and railways can carry only 24 tonnes and 85 tonnes in the same amount of diesel respectively.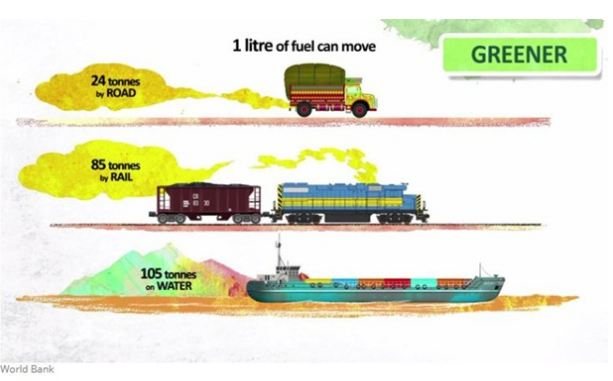 In terms of fiscal efficiency too, waterways transportation is far more efficient than road or rail. The countries in Europe and North America developed sound infrastructure for waterways transportation over the decades. Our eastern neighbour also developed an efficient water transportation system in a very short period of time. But previous Indian governments had a lacklustre attitude towards developing water land transportation infrastructure. Modi government gave the responsibility to develop infrastructure to one of the best performing ministers, Nitin Gadkari. In the upcoming years, many more positive developments could be seen in waterways transportation. The development of waterways will do justice to the historical importance of rivers in Indian civilization.