Rivers have defined India for centuries. The name India itself is based on river 'Sindhu'. The geographical boundary of the country has long been called 'the land of Sapt-Sindhu'. As the Harappan civilization declined, the epicenter of civilization shifted to Ganges. The river Ganga plays very important role in Hinduism, as a river as well as a deity. Today, Indo-Gangetic plain is among the very rare regions of the world where perennial rivers exist. However, for decades, the option to use perennial rivers was not well explored. Modi government pushed for using Inland waterways after coming to power and developed National Waterway-1, Kolkata to Varanasi. Union Minister for Road Transport and Highways, shipping and water resources, Nitin Gadkari flagged off the first cargo container movement on October, 30.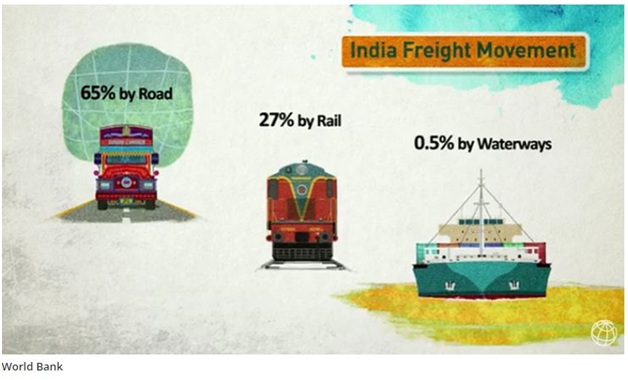 The first container which moved on National Waterway-1 will ship 16 containers of food and snacks by PepsiCo India which is comparable to 16 truckloads. The containers are being transported by MV RN Tagore, a vessel named after 20th century poet and critic Rabindranath Tagore. The vessel will reach to Varanasi in 10 days and on return it will carry IFFCO's fertilizers from its Phupur plant to Prayagraj. Shri Gopal Krishna, Secretary (Shipping) of Government of India, along with Shri Pravir Pandey, Chairman of IWAI, and PepsiCo representatives were present at the flag off of inaugural voyage.  NW-1 is developed through financial and technical assistance from Word Bank with a cost of Rs 5,369 crore under the banner of Jal Marg Vikas Project (JMVP). Its success will facilitate movement of vessels with capabilities of 1,500-2,000 Deadweight Tonnage (DWT). NW-1 will cover the distance of 1,390 km from Haldia in West Bengal to Varanasi in Uttar Pradesh.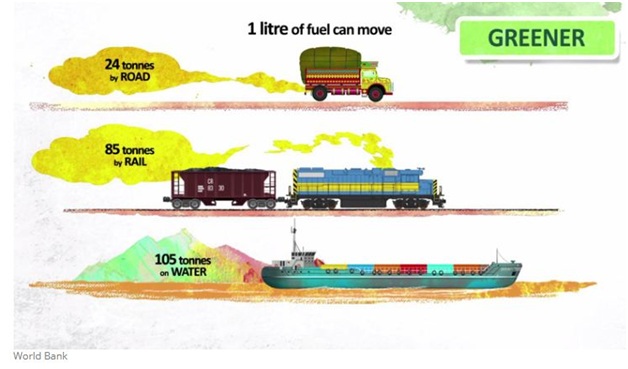 Nitin Gadkari flagged of the inaugural run at NH-1 in August 2016 when a consignment of Maruti cars was shipped from Haldia to Varanasi and since then pilot run has taken place on more than 15 routes including the move on NH-2 (Indo-Bangladesh Protocol Route) on Brahmaputra River. The freight movement through inland waterways is only 0.5 percent while in many other countries like China and United States it is more than 8 percent. The movement through waterways is fuel efficient, cheaper and environment friendly.
India is one of the largest importers of automotive fuels in the world. The growth in economy has pushed the consumption of crude oil in the country and this raised the import bills of the country. Freight Transportation through waterways could bring the import bills down because it is more fuel efficient. In one liter of diesel, ships could carry 105 tonnes of load through waterways while road vehicles could carry only 24 tonnes and rail could carry only 85 tonnes in same amount of diesel.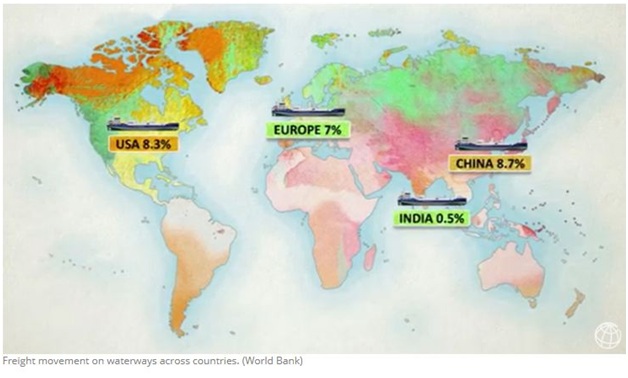 In terms of fiscal efficiency too, waterways transportation is far more efficient than road or rail. The cost to transport 1 tonne freight through waterways is 1.19 rupees on average while for road transportation it 2.28 rupees and for railways, 1.41 rupees. The countries in Europe and North America developed sound infrastructure for waterways transportation over the decades. Our eastern neighbor also developed an efficient water transportation system in very short period of time. But previous Indian governments had lackluster attitude towards developing water land transportation infrastructure. Modi government gave the responsibility to develop infrastructure to one of the best performing ministers, Nitin Gadkari. In upcoming years many more positive developments could be seen in waterways transportation. The development of waterways will do justice to historical importance of rivers in Indian civilization.