The attack by Jaish-e-mohammad on the army convoy that killed 40 CRPF jawans filled every Indian with rage and the demand for retaliation. The Indian government fulfilling the promise retaliated with an airstrike, which received support from important global players. India further moved to the United Nations demanding sanctions against Masood Azhar and declaring him as a global terrorist. After all the delays constructed by China and its backing to Pakistan, India achieved its mission of listing Azhar as a global terrorist. While it's evident that India has won the diplomatic war over the issue, Pakistan still cocoons itself with the false impression that it is Pakistan which achieved a diplomatic success.
Pakistan officials and media have declared that it is not India's success, but Pakistan's diplomatic strategy that has finally been rewarded. While Pakistani diplomats have said that it is Pakistan's win over India's baseless, political references, linking Masood with struggle in Kashmir, its media and press has already started celebrating the victory of sanctions by UN.
Huge diplomatic win by #Pakistan against #India – baseless, political references, linking #MasoodAzhar with the legitimate Kashmiri struggle for right to self determination, removed

— Dr Mohammad Faisal (@DrMFaisal) May 1, 2019
The famous Pakistani media house, Dawn, published an article which spoke about the efforts Pakistan had taken in order to convince China to lift the hold from Masood Azhar's name's listing as global terrorist. It also quoted Pakistani diplomat Mohammad Faisal who said, "Earlier proposals to list Masood Azhar failed to generate the requisite consensus in the Sanctions Committee as the information did not meet its technical criteria. These proposals were aimed at maligning Pakistan and the legitimate struggle of the people of Indian occupied Kashmir…and were thus rejected by Pakistan,". All this while, Pakistani media chose to be silent on the issue, but after the final judgement, it is ready to savour the success and take credit.
The News International, a Pakistani news portal, mentioned, "Past governments had proscribed him under Pakistan's Anti-Terrorism Act for some time, even before his case for listing was taken up by the Sanctions Committee. Neither Pakistan nor China as in the past objected to the India-sponsored proposal at the United Nations on Wednesday." Pakistan Observer, English news daily in Pakistan quoted Mohammad Faisal who claimed that Masood's listing was only based on Pulwama attack and it aimed at under mining the "legitimate" freedom movement in Kashmir. However, the Pakistani diplomat is incorrect as ban on Masood Azhar's was also raised by India in 2016 and 2017.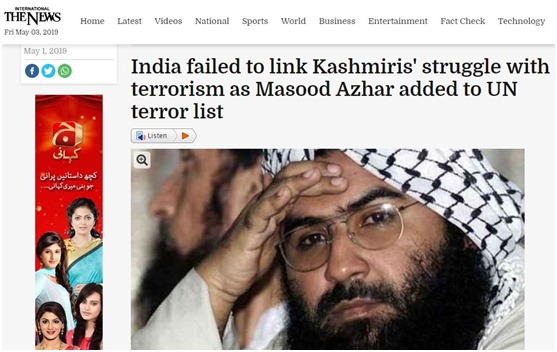 Pakistan is satisfying its need of false pride by spinning the facts of the issue. The facts show that the country never achieved its target of removing terrorism from its soil. In an interview the former military commander Pervez Musharraf accepted that his government failed to weed out the terrorist groups, despite banning the JeM in the backdrop of 9/11. The Pakistani media is terming the listing of JeM chief an embarrassment for India, and said that it would in no way affect Pakistan. A country like Pakistan is expected to form a wrong narrative when its failure at its part is reflected through decisions of global entities like the UN. A country with least amount of press freedom, lack of true facts and highly biased media, is bound to spin true narratives. It is however proven that the sanctions on Masood Azhar are a clear diplomatic win for India, and a step towards removing terrorism across the globe.