The stock markets are driven by sentiment and the stock prices of NDTV after the exit poll results were announced is the best example of this theory. The poll of exit polls by NDTV gave 302 seats to BJP led NDA, 122 to Congress-led UPA, and 119 seats to others. ThePrint, a web portal led by veteran journalist Shekhar Gupta gave 305 seats to NDA, 117 seats to UPA, 16 seats to Mahagathbandhan, and 105 others in the poll of exit polls. The massive NDA victory did not go well for the company and the investors sold the shares of the company.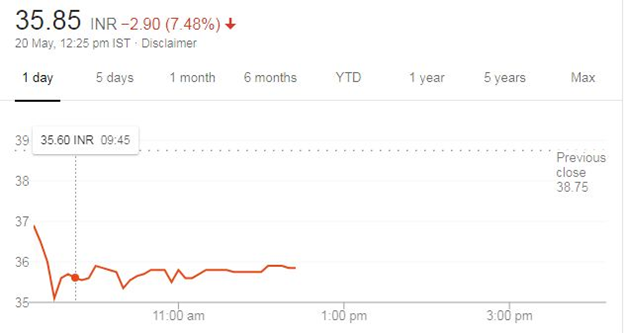 The value of NDTV share fell by 2.9 rupees or 7.48 percent to 35.75 rupees in the first few hours of trading after the announcement of exit polls yesterday. The performance of NDTV stocks after NDA is opposite to the 2018 assembly election results when BJP lost to Congress in MP, Rajasthan, and Chhattisgarh. In the week, assembly election results were announced, the stocks of NDTV gained 1.7 rupees or around 4 percent. It is very clear that the stocks market performance of NDTV is directly proportional to the electoral victory/loss of Congress party.
The relationship between NDTV and Congress party is an open secret. Previously, Sanjay Kumar Srivastava, an Information Tax Commissioner who is whistleblower of financial irregularities in company dealing has informed Central Bureau of Investigation (CBI) that senior Congress leader P Chidambaram has put 40 million dollars (200 crore rupees) in NDTV. "NDTV Ltd. needs to be investigated over parking of bribe of US $40 million by Maxis and its owner T. Ananda Krishnan (accused in the Aircel-Maxis case) on behalf of P Chidambaram and Karti P. Chidambaram for obtaining FIPB approval in Rs.3500 crores Aircel-Maxis deal fraudulently claiming the proposal for Rs.180 crores only when gross value of the proposal was to be considered and which has been hushed up by certain IRS officers in lieu of bribe paid by NDTV Ltd," said Srivastava in a 88-page letter to CBI.
Recently, a post written by a former journalist of NDTV, Samarendra Singh, has revealed that in 2005 during the Congress led-UPA government in 2005, NDTV removed a story under the pressure of the then Prime Minister Manmohan Singh. In 2017, CBI raided houses of Prannoy and Radhika Roy for financial irregularities in dealings of the company. A Congress victory could have saved the media house given the cozy relationship. But the NDA victory prediction vanished the hopes of the channel as well as of investors.
The fact that the company is in deep trouble is not hidden from anyone and its problem are getting worse with each passing day and its political patronage is also not in power to help out. It is in a sad state today because of its agenda-driven journalism, prioritizing agenda over truth and vicious hatred for one particular party. Because of all these biases, its viewership has drastically decreased but still, they didn't learn their lesson and carried own with their anti-India and anti-Hindu propaganda. The alienation of viewers is clearly visible in their TRP ratings where it is on the last spot. If NDTV does not get its house in order, financially as well as qualitatively, the end might not be very far.