Gone are the days when one could expect journalists to be unbiased, or were they ever here? Regardless, during the heat of the elections, several prominent journalists' political biases have come out quite strongly. While there were few such as Sagarika Ghosh, Rajdeep Sardesai and Barkha Dutt, whose political affiliations were well known; some have recently entered the fray. A striking name to appear in the list of such journalists is that of Bhupendra Chaubey, an executive editor at CNN-News18.
Bhupendra Chaubey was regarded as a balanced journalist by few, especially when he was working alongside anchors such as Rajdeep Sardesai. Nevertheless, these days, his Twitter feed is full of updates from Aam Aadmi Party and in particular, Atishi- the AAP candidate from East Delhi. A further dig into his fascination with Atishi reveals familial connections. It has been unearthed that he has been married to Atishi's elder sister, Rosa Basanti.
This familial relation has led to a biased perception of Chaubey, which is the reason why he has been so forthcoming towards AAP and is rooting for them to form the government. Some of his re-tweets include:
"One of AAP's candidates in Delhi is a woman who has worked assiduously on the capital's government schools. As you head to polling date Dilliwallahs you should listen to her."
One of AAP's candidates in Delhi is a woman who has worked assiduously on the capital's government schools. As you head to polling date Dilliwallahs you should listen to her. https://t.co/lVM2q6rdbK From #OffCentre last year. Hear how @AtishiAAP thinks and works.

— Anuradha SenGupta (@anuradhasays) May 9, 2019
This is clearly stemming from his personal biases as the 'reforms' which Atishi has worked on, are widely disputed with critics suggesting that Atishi has led to a further downfall in Delhi's education system. Besides, even if her reforms actually did some good, it is not the job of a neutral journalist to urge people to look into it before they go and vote.
Even in light of the pamphlet controversy, an incident which has been made a controversy by AAP themselves; Chaubey has joined the league of Barkha Dutt and Swati Chaturvedi and picked sides. Keeping the family loyalty in mind, Bhupendra Chaubey has re-tweeted that character assassination and sexual innuendos are the only way "they" can counter a strong candidate such as Atishi who is responsible for an education revolution in Delhi schools.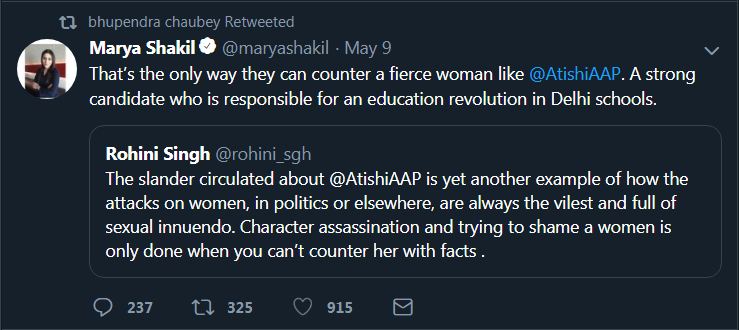 By this re-tweet, it is clear what Chaubey is trying to portray. By use of the term "they" he has directly stated that BJP led by Gautam Gambhir is the one that has slandered Atishi's reputation to gain electoral benefits. Moreover, he has done so because he could not counter her with facts.
He also re-tweeted, that this character assassination of Atishi is a way to discredit her work and create hurdles, which is the oldest trick in the book of politics. Thereby, not wanting to sound openly biased, he feebly added on if the citizens will ever find out the publisher of these pamphlets.
Ridiculous. But these r oldest tricks in the book of politics. Question is will we ever find out who is the publisher of these pamphlets ?? https://t.co/IltLwml8uE

— bhupendra chaubey (@bhupendrachaube) May 9, 2019
This openly portrayed his thoughts behind the controversy, implying that BJP wanted to assassinate her character in order to create hurdles because according to the narrative, it is only BJP that wanted to 'discredit her work' and couldn't do so through fair elections.
In light of the controversy, Gautam Gambhir is as disgusted as anyone and has even declared that he is ready to withdraw his candidature if it is proved that he had anything to do with the vile act. Moreover, several leaders have come out to state that it is AAP who is responsible for the pamphlet distribution and is now trying to garner electoral support through it. In order to follow the due process of law, Gambhir has even filed a defamation notice against AAP for maligning his name. Without investigation of any sorts, Chaubey has declared the perpetrators.
In journalism, one has to understand that one holds immense power over the masses. The journalists are often the medium between the citizens and the politicians and through them; the people understand their leaders and political parties. By being biased, a journalist is influencing a mass of people who tend to believe whatever the journalist tells them, having no other source of information. The perception of Bhupendra Chaubey isn't his own but is actually affecting a mass of people who may form wrong opinions about their leaders.