Priyanka Chaturvedi, recently, had shown her resentment over the unfair decision of UPCC. The former National Spokesperson was hurt by the ignorance shown by the Party. Priyanka Chaturvedi has now resigned from the Congress Party.  Furthermore, according to media reports, Priyanka Chaturvedi might be joining the Shiv Sena. 
#JustIn | Congress leader Priyanka Chaturvedi resigned from the party last night

(File photo) pic.twitter.com/WfClTHnvYq

— NDTV (@ndtv) April 19, 2019
The rumors of resignation and joining Shiv Sena were fuelled by change in her twitter bio as well. She has removed the designations she held in Congress from her twitter profile.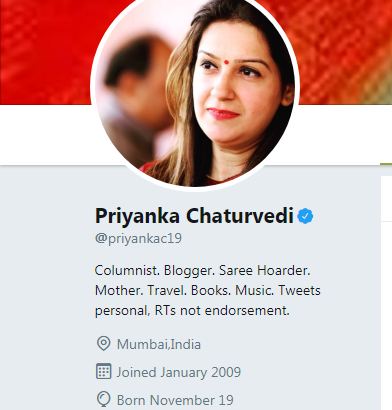 Priyanka Chaturvedi had tweeted, "Deeply saddened that lumpen goons get preference in @incindia over those who have given their sweat&blood. Having faced brickbats&abuse across board for the party but yet those who threatened me within the party getting away with not even a rap on their knuckles is unfortunate."
Priyanka Chaturvedi's disappointment was not limited to this matter alone. As she says in her statement, despite being a hard working Congress worker, her efforts and dedication were ignored but those who brought shame to the party were promptly rewarded. The lamentation was justified as Priyanka Chaturvedi was also denied a Lok Sabha ticket. 
The Congress has had a shoddy history in terms of dealing with harassment of their female workers. In fact, Congress IT cell chief Divya Spandana had circulated a petition in defense of a male member of the IT cell accused of sexual harassment by one his female co-workers. After the shameful incident came to light, the Congress IT Cell has run a signature campaign attempting to underplay what happened, to dismiss the victim's version and to whitewash the accused and give him the benefit of doubt.
Priyanka Chaturvedi's harasser being rehabilitated by the Congress party is disgraceful but expected as the precedent suggests. In addition, Congress has also been blatant in disowning dedicated workers of the party who went to great lengths to defend the party's often undefensible positions. The case of the humiliating exit of Alpesh Thakur is the most recent example of Congress' such behavior. The party initiated proceedings against the MLA to discredit him and strip him of the membership of the assembly.
Thakor has also been replaced by ex-Congress MLA from Uttar Pradesh Ajay Kapoor as the AICC Secretary for Bihar. Ajay Kapoor has been marred by several serious charges like money laundering and has been under investigation by the Enforcement Directorate for allegedly using various fake accounts to convert crores of black money during Demonetisation.