Priyanka Chaturvedi, the former AICC spokesperson, joined Shiv Sena today. She had resigned from the post and the Congress party alleging that the party was apathetic and had rewarded the people who had harassed her in a recent rally. Reportedly, Priyanka Chaturvedi's disenchantment also was exacerbated because she was denied ticket for Lok Sabha elections.
After the news of her joining the Shiv Sena came, CNN-News 18's senior political editor, Pallavi Ghosh, tweeted a screenshot of AICC whatsapp group purportedly showing that Priyanka Chaturvedi has been removed from the group.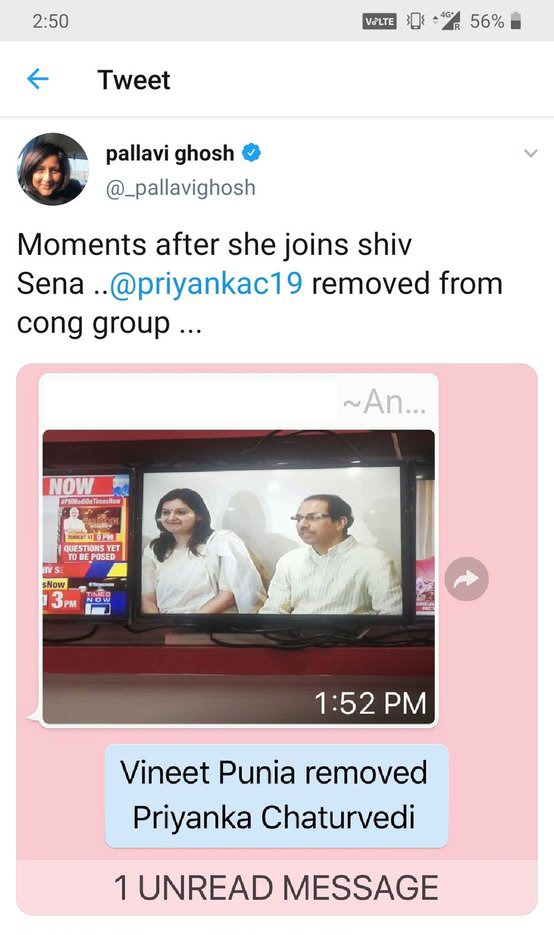 Pallavi Ghosh has in the past also been called out for her proximity with the Congress party and the Nehru-Gandhi family, in contrast to her claims of being a neutral journalist.
The screenshot that she shared on twitter again demonstrated the very close proximity of Pallavi Ghosh with the Congress party. In addition, the screenshot also included an un-redacted number of a female member of the AICC whatsaapp group, effectively making her number public for everyone to see. Pallavi Ghosh promptly sharing the screenshot also raised questions of why a journalist from a reputed organisation was in the AICC whatsapp group in the first place? Is it not against the ethics of journalism?
The Frustrated Indian (TFI) quoted her tweet, tagging her employer, asked the same question. TFI tweeted, "Will @CNNnews18 sack this unbiased journalist after this sensation self-goal?"
Will @CNNnews18 sack this unbiased journalist after this sensation self-goal? https://t.co/9tgiKPEv6m

— Chowkidar TFI (@FrustIndian) April 19, 2019
However, instead of responding to the tweet, Pallavi Ghosh promptly deleted the screenshot along with the tweet.
The loyalties of Pallavi Ghosh has been an open secret but with the kind of brazenness, she is demonstrating her proximity with the dynasty casts serious doubts on her employers. CNN-News 18 prides itself on being a neutral platform but its 'star journalist' is part of a political party's official WhatsApp group. Isn't this in clear contradiction to the media group's stand on neutrality? Will the channel address this blatant and brazen abuse of journalistic ethics? The onus is now on CNN-News 18 to prove that they are serious about upholding the values of journalism and maintaining their stand on neutrality.