India has become the 4th largest military spender in the world in 2018. India overtook Russia which held the fourth position in 2017.  As per Stockholm International Peace Research Institute (SIPRI) data, the United States has maintained its position as top defense spender with 649 billion dollars in 2018. The United States is followed by rival China, which spends 250 billion dollars. Saudi Arabia was a distant third with 67.6 billion dollars followed by India and France – the other two countries in the top 5 highest military spenders. Surprisingly, Russia slid at sixth position from fourth in 2017.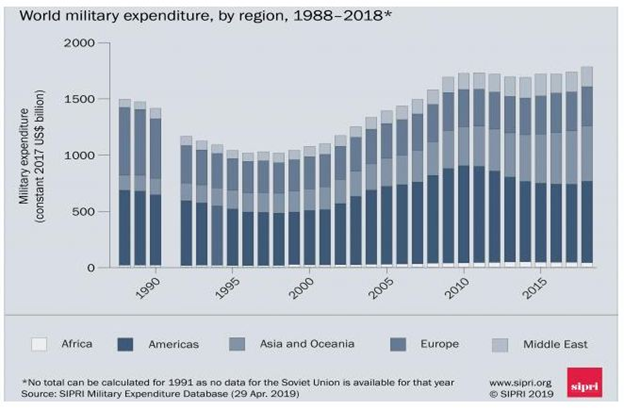 The global military expenditure rose by 2.6 percent to 1822 billion dollars in 2018. The expenditure increased for the second year in a row to reach 2.1 percent of GDP which is highest since cold war levels. The United States and China account for 50 percent of global military spending. The military spending of the United States is equal to the next eight spenders combined and accounts for 36 percent of global military spending. The military spending of the US rose for the first time since 2010 but was lower than the 2010 level.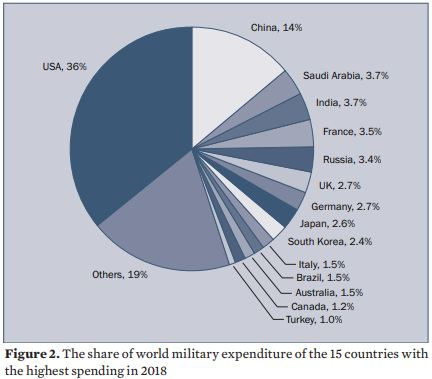 China allotted 250 billion dollars on the military which is 14 percent of global spending. In the last few years, China has aggressively expanded its defense capacities financed by increasing economy. Its defense spending grew for the 24th consecutive year and in 2018 it is 10 times more than that of 1994. However, in 2018 the spending increased by only 5 percent which is the lowest in decades. The spending by China is expected to decrease in upcoming years because the country linked the defense expenditure growth with GDP growth which is slowing down every year.
India's military has increased every year under the Modi government. In 2018, the spending grew by 3.1 percent compared to 2017 to reach 66.5 billion dollars. The spending has increased by 29 percent compared to a decade back. However, the defense spending GDP ratio of the country decreased over the years. "Despite this rise, India's military burden in 2018 was at one of its lowest levels since the early 1960s: 2.4 per cent of GDP compared with 2.9 per cent in 2009. Increases in Indian military expenditure are largely motivated by tensions and rivalry with Pakistan and China," read the SIPRI report.
The neighboring country of Pakistan has increased defense spending to a new high of 4 percent of GDP in 2018. This is the highest spending since 2004 when former army General Pervez Musharraf was at the helm of state affairs. Pakistan's defense spending in 4 percent of GDP compared to 2.4 percent of India but given the small size of the Pakistani economy, the total spending by Pakistan is 11.4 billion dollars 66.5 billion dollars of India. Pakistan's military spending rose by 73 percent compared to 2009 levels and 11 percent compared to 2017.
Despite spending a higher percentage of GDP on defense, Pakistan is 20th largest spender globally compared to the 4th position held by India. It's defense spending in a paltry 20 percent of India and therefore there is no comparison between military capabilities of both countries.
The major takeaways of SIPRI reports are that global military spending is rising given the heightened tensions across the globe. The United States has once again started increasing defense budget under Trump administration while its rival China is trying to catch up but still far away. India has become one most powerful nation in terms of military capabilities and Pakistan stands nowhere near it.