As per a report by Federation of Indian Chambers of Commerce and Industry (FICCI) in consultation with Ernst & Young (EY), titled, 'A billion screens of opportunity', Indian Media & Entertainment (M&E) Industry grew by 13.4 percent to 1.67 lakh crore 2018. The growth has been powered by the surge in digital media platforms that grew by 42 percent to 16,900 crore rupees. The digital media market is expected to overtake Films Market by next year. Another sector which registered exponential growth is online gaming as it grew by 56.4 percent.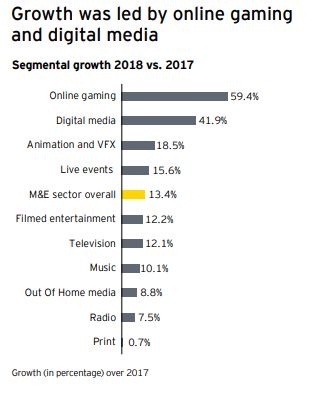 Television, the largest segment in M&E industry with a revenue of 74,000 crore rupees grew by 12.1 percent. The Film segment registered a growth of 12.2 percent. Print, having the second largest share in the media market grew by 0.7 percent with magazines notching negative growth. The Radio sector witnessed revival with PM Modi popularizing the medium with much popular 'Mann Ki Baat'. With the increasing use in Indian movies, Animation and VFX grew by 18.5 percent.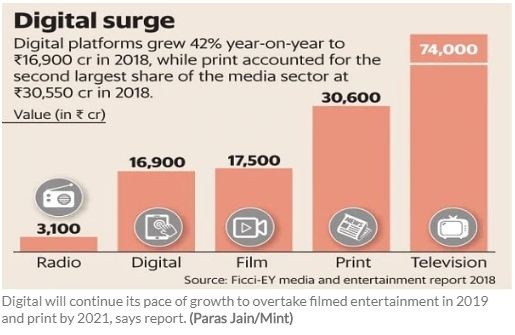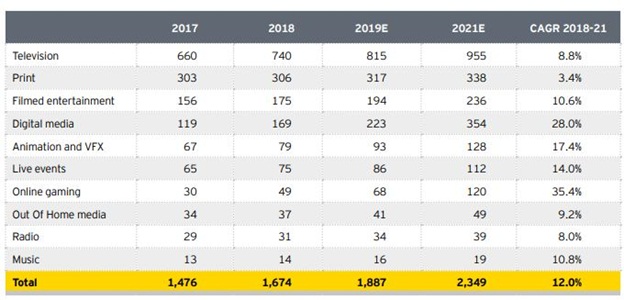 The Indian M&E industry is expected to touch a total revenue of 2.35 lakh crore rupees by 2021 with Compound Annual Growth Rate (CAGR) of 12 percent. The digital media and online gaming will lead the industry over the next three years with CAGR of 12 percent and 35.4 percent respectively.  "The M&E sector has a significant opportunity, given India's young demographics. The growth of digital infrastructure is further enabling Indians to fulfill the need for personal content consumption, across languages and genre. There is a large shift in consumer behaviour from mass produced content to specific content defined for audience segments. The sector has an opportunity to serve a billion screens in India and globally," said Ashish Pherwani, Partner and Media & Entertainment Leader, EY India.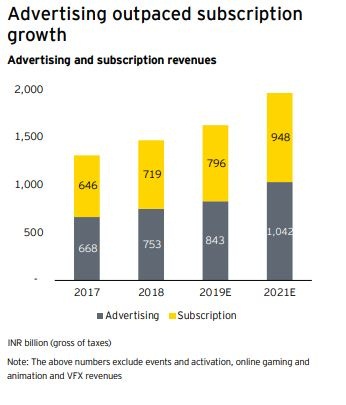 Moreover, the maximum revenue in M&E industry was generated by advertising sector which grew by 12.7 percent in 2018 while subscription grew at 11.2 percent. The revenue through advertising is set to outpace the subscription revenue in upcoming years. The advertising revenue comprised 51.2 percent in 2018 and is expected to grow to 52.4 percent in 2021. The growing consumption of mass media in India has put the industry on a growth pedestal. The industry grew by 13.4 percent in 2018 which is 3.2 percent more than the nominal GDP growth of the country for (10.2 percent) the same year. The Indian M&E sector is entering a phase of accelerated growth. "The status quo is being shattered by digital disruptions and that's unshackling the creative economy in India like never before," said Uday Shankar, vice president – FICCI and Chair, FICCI Media and Entertainment Division.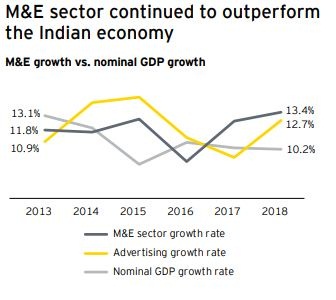 Although, the M&E industry does not form a large part of the Indian economy, it is crucial to project the soft power of the country. The impact of Bollywood and Cricket is enormous in many countries across the globe. The foreign market of Indian film accounts for more than 6,000 crore rupees with even countries like Pakistan airing the Indian content.