The Modi government has approved a capital infusion of another 48,239 crore rupees as part of its recapitalization drive. The 12 public sector banks (PSU banks) will get 48,239 crore rupees with the largest amount flowing into Allahabad Bank and Corporation Bank to help them to come out of Prompt Corrective Action (PCA) forced by Reserve Bank of India on them.
Modi government had announced 2.1 lakh crore rupees recapitalization drive in October 2017 to accelerate the lending and bring the Indian PSU banks on par with Basel III norms in terms of capital. The new capital will be infused in the PSU banks in form of bonds.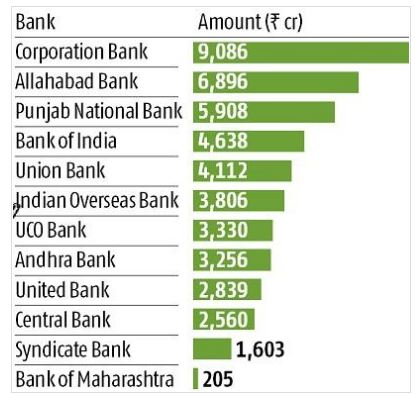 "We have looked at the entire PSB universe, and this round of recapitalisation takes care of every bank's needs, besides rewarding better-performing PCA banks and enabling them to stay above all the PCA triggers," said Financial Services Secretary Rajiv Kumar. The government has also kept 5,000 crore rupees for "any last-minute contingency", this amount might go to merged entity of Bank of Baroda, Dena Bank and Vijaya Bank, said a finance ministry official.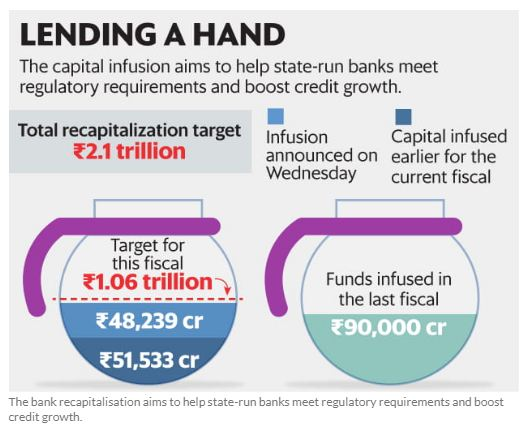 The government infused 90,000 crore rupees in the last fiscal year as part of its recapitalization drive. In the current fiscal year, 51,533 crore rupees has been infused so far. The banks' health is also improving due to the implementation of Insolvency and Bankruptcy Code. Various public and private sector banks have recovered at least 3 lakh crore rupees of Non-Performing Assets due to insolvency law brought by the Modi government two years back.
Indian economy was suffering from the capital shortage. The banks in the country could not lend due to capital shortage and companies did not apply for loans because they were not able to pay back the money borrowed earlier. This was termed as 'twin balance sheet (TBS)' problem by the former Chief Economic Advisor, Arvind Subramanian in the Economic Survey. The 'twin balance sheet' problem, identified as the major reason behind low economic growth in the Economic Survey could be solved through capital infusion.
Modi government solved the twin balance sheet problem by the implementation of different measures to resolve the NPA crisis and revive credit. The government decided to pump money in undercapitalized public sector banks from its own coffers to revive the credit growth. So, the banks were helped in two ways – first, they got money from resolutions under Insolvency and Bankruptcy Code (IBC) and secondly, from the capital infusion programme of government.
In October last year, the finance ministry announced that it will put 2.11 trillion rupees in PSU banks to spur lending and end the capital shortage. This is the largest bank recapitalization plan in the country ever. The 2.11 trillion rupees is almost 70 percent of the total assets of the country's banking industry consisting of 21 PSU banks, 26 private sector banks, 43 foreign banks and 56 regional rural banks (RRBs) or 1.3 percent India's GDP. As per the central government plan, 1.35 trillion rupees was expected to come from recapitalization bonds and 56,000 crores through market borrowings by selling government stakes in these banks while 180 billion rupees through budgetary provisions.