The Foreign Direct Investment (FDI) in India grew by 18 percent in 2017-18. As per the RBI data on 'Census on Foreign Liabilities and Assets of Indian Direct Investment Companies, the country received FDI of 28.25 lakh crore rupees in FY 18 which exceeds the previous year's mark by 4, 33,300 crore rupees. "FDI companies witnessed a substantial increase in other investment liabilities, largely due to the increase in trade credit," said RBI. A total of 23,065 companies responded to the latest census by the RBI, of which, 20,732 had received FDI or Overseas direct investment (ODI). The Overseas direct investment received by companies increased by 5 percent to 5.28 lakh crore rupees.
As per the census, Mauritius remained the largest source of Foreign Direct Investment in India and accounted for almost one-fifth (19.7 percent) of the total FDI followed by the US, the UK, Singapore, and Japan. The Indian companies invested the most in Singapore (17.5 percent) followed by Netherlands, Mauritius and the US. Manufacturing sector bagged the majority of the FDI shares followed by 'Information and communication services' and 'financial and insurance activities'.
Modi government has majorly focused on the manufacturing sector. To give a boost to manufacturing, the government launched the 'Make in India' programme on 25th September 2014, just 4 months after coming to power. Under the 'Make in India' initiative, FDI policy was liberalized with 100% Foreign Direct Investment (FDI) being permitted in all 25 sectors, except for space (74%), defense (49%) and news media (26%). As a result, India emerged as the top destination globally in 2015 for foreign direct investment (FDI), surpassing USA and China.
The greater inflow of investment has helped India to become a hub of manufacturing which is crucial for the growth of a country with such a large population. China, having a massive population like India, depends on manufacturing to employ the majority of its population as jobs in the service sector are limited. India has been growing into a big manufacturing hub of mobile phones as there were only two mobile phone manufacturing factories in India in 2014, while currently, there are 120 factories operating in the country.
The FDI inflow in India surpassed that of China in 2018 with some mega deals like Walmart-Flipkart, and acquisitions by Unilever and Schneider Electric. Walmart's $16 billion acquisition of the majority of stakes in an Indian e-commerce company, Flipkart, has been the best so far in pushing the total FDI. Mergers and acquisitions (M&A) deals by the end of the last fiscal year totaled to around 39.5 billion dollars while for China it was 33 billion dollars. The M&A deals in India witnessed an exponential growth with deals in 2017 amounting to 18.6 billion dollars. China, on the other hand, recorded deals worth 32.5 billion dollars which is 80 percent of India's total deal in 2017.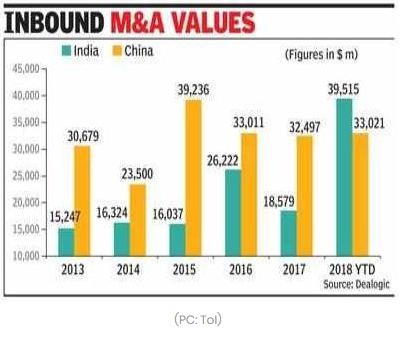 If the relationship between FDI growth rate with that of GDP is compared, one comes across the fact that 'Every 1% increase in 'Foreign Direct Investment'  results in about 0.4-0.5% increase in GDP, though it depends on country's development stage heavily'.