2019 is a new India- an entire new generation of 100 million+ first-time voters, voters that grew up with Facebook, voters that care about technological and sociological development in the country, voters that remain impassive to a family's last name or facial similarity to an ex-PM. These new age voters are the future of India and it is the onus on all of us to elect a government that brings maximum value to India and does justice to the aspirations of generations that follow.
Let us look beyond the farcical politics of the Gandhi family run business called the Congress Party, and get right into the nitty-gritty of why we need Prime Minister Modi to dedicate another term in service of the country.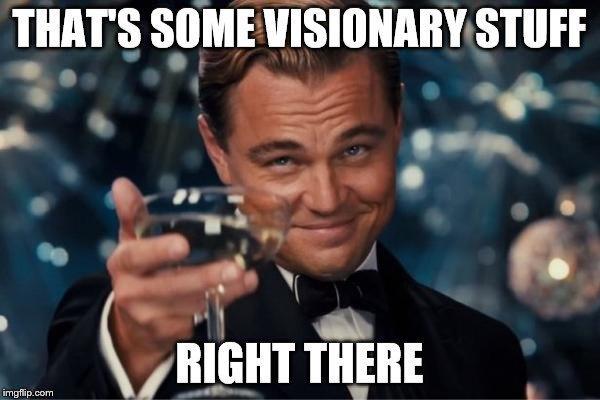 PM Modi is looking at the India picture in ways no one has approached before. We are, for the first time since Independence, talking about something so basic and essential to our well being- a clean nation under the Swacch Bharat Abhiyan. A Bharat that is clean by a collaborative effort between relevant authorities and citizens, a Bharat rid of filthy roads and polluted rivers, ensuring a healthy and safe environment for all its citizens and for our children to grow up in. Sanitation and waste management are also crucial parts of the mission, helping improve the quality of life by promoting cleanliness, hygiene and eliminating open defecation. In just four years, India's total sanitation coverage shot up from 38.70 percent to 96 percent. We have a long way to go along this Abhiyan and this is where we all pull up our socks and we work toward making this vision a reality.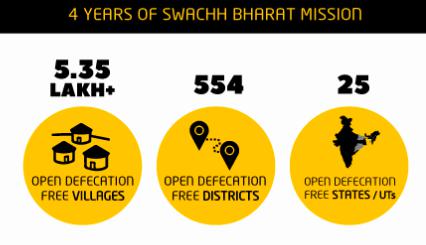 Youth and Real Women Empowerment
We now have initiatives like StartUp India and StandUp India, which encourage youth initiative and enable women empowerment in the actual sense of the word. This is very unlike Congress President Rahul Gandhi who treats youth and women empowerment as gimmicky buzzwords.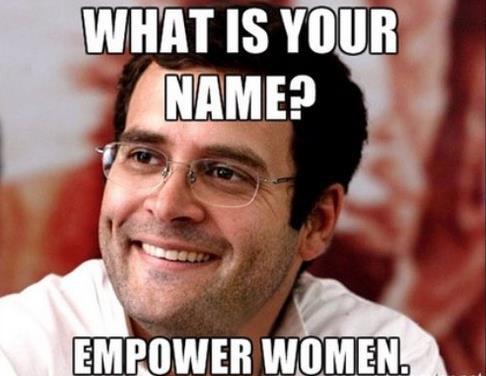 We have moved beyond the days of draconian business laws and this government functions as an enabler by providing an encouraging ecosystem rather than remain a bureaucratic meddle maker. While around 4,000 patents were granted in 2013 and 2014, more than 13,000 patents were granted in 2017-18. Similarly, the number of trademarks registered has also gone up from around 68,000 in 2013-14 to around 2.5 lakh in 2016-17. Overall funding for startups has shot up year-on-year from $1.6 billion in 2013 to around $13 billion in 2017.
Narendra Modi's goal is to facilitate the switch from women development to women-led development. Mudra Yojana has given 14 crore loans out of which close to 10 crores are to women entrepreneurs. Under the Stand-up India programme, each bank is lending to at least 1 woman entrepreneur. A Prime Minster who proactively works for the youth, the future and towards equal opportunities? Take my vote already!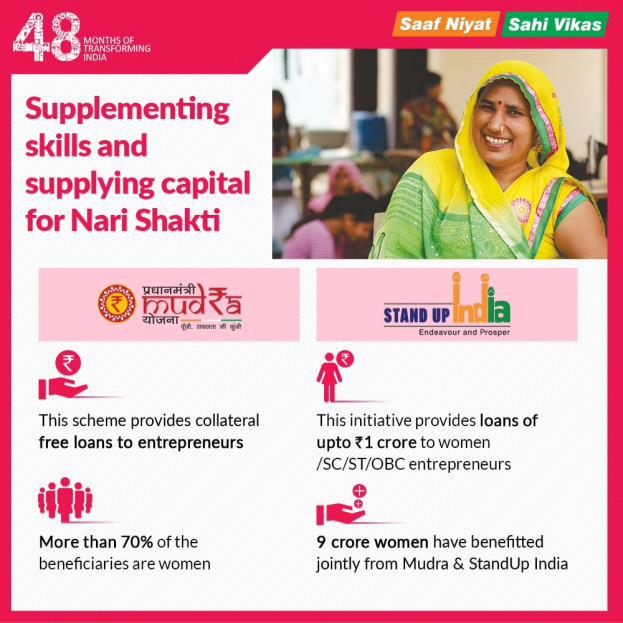 Living Free and Without Fear
In a historic moment, Baramulla has become the first district of Kashmir with no surviving militant as on date. Last month, the NIA busted a suspected ISIS-inspired terror group and arresting 10 suspects, who were planning suicide attacks and serial blasts targeting in Delhi and other parts of north India. Let us not forget the zero terror tolerance policy and the hard stance on avenging the Uri attacks via a surgical strike- another first in India's history. During the Sonia Gandhi led the government's tenure, there were frequent terror attacks in cities and civilians were at risk. India has largely been free from any terror-related incident targeting civilians in the tenure of the Modi government. We have also witnessed immense success in containing Naxalism, stopping its spread and also bringing down separatist and insurgency movements in the northeastern states. Paraphrasing Tagore, the head is now held high and the mind is indeed without fear!
PM Modi's philosophy is driving growth but not at the cost of the environment. Quoting the Prime Minister verbatim, " People in India have waited too long for access to modern amenities and means of development. We have committed to complete this task sooner than anticipated. However, we have also said that we will do all this in a cleaner and greener way."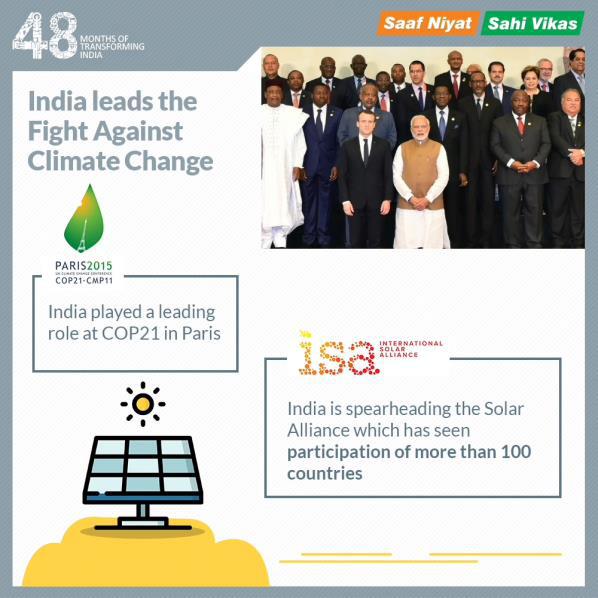 India is now the fifth largest producer of solar energy in the world. Not only this, but we are also the sixth largest producer of renewable energy. Access to electricity and clean cooking solutions are basics that most of India is only able to access after 70 years of independence.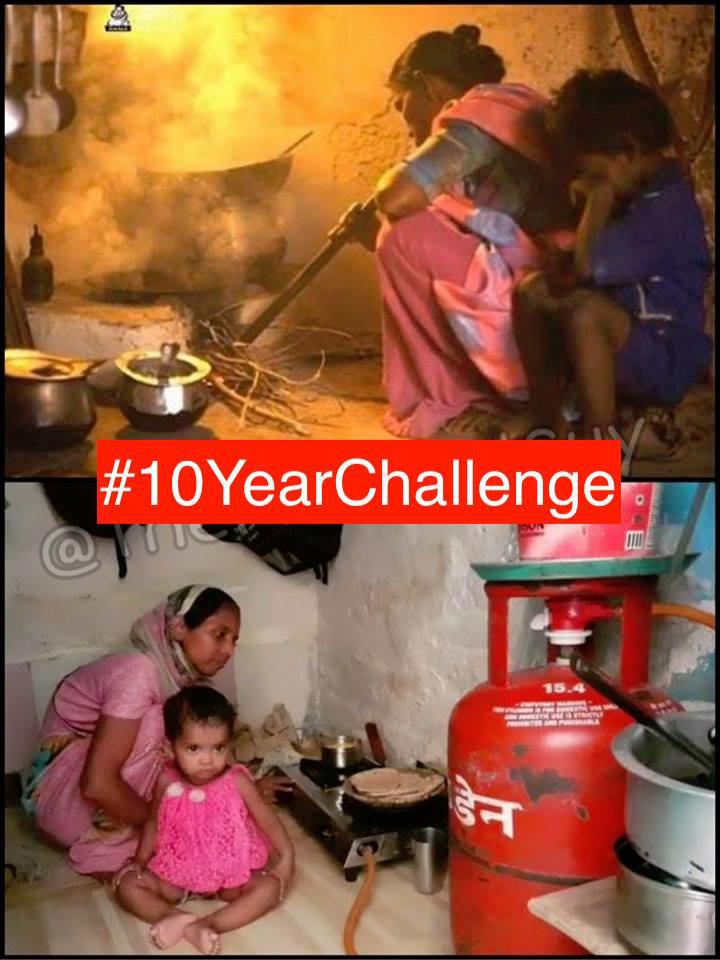 Execution, Execution, Execution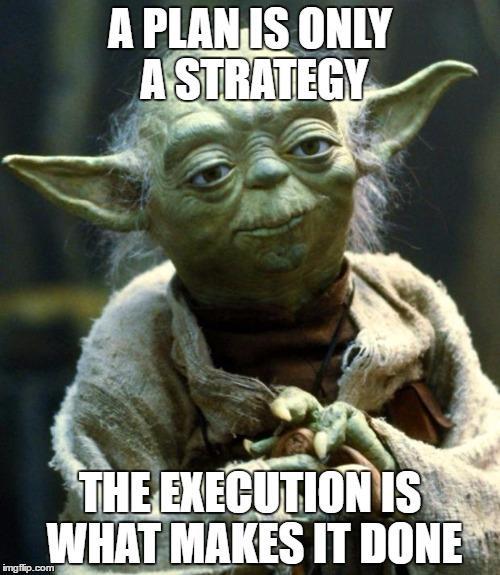 Narendra Modi is the man who delivers. An idea is only as good as it's execution. Modi takes along all stakeholders and instills a drive to execute amongst his team.
He is extremely hands-on with all initiatives taken by his government. No one performs in an abyss and every team is expected to deliver. This new age professionalism is what I expect from my government. I expect the system to be rid of past hiccups and function seamlessly for the benefit of the nation and its citizens. I will not be voting for a clueless dynast or his inefficient counterparts in the Mahagathbandhan. I will choose the experienced, hard-working, diligent visionary in 2019- for India, for my fellow citizens, and for myself. I will be voting NaMo 2019, because he is the hero we most definitely need and deserve.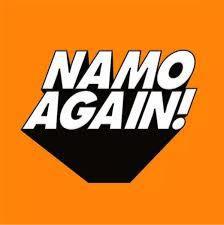 Written by Mandira Popat.