In a recent move, the Modi government has simplified the process for startups seeking exemption from 'angel tax'. The government eliminated the need of certification from an inter-ministerial body for the process of tax exemption. Now, such applications are set to be routed through the department of industrial policy and promotion (DIPP) and processed by Central Board of Direct Taxes (CBDT) within 45 days. "No committee, no certificate of valuation needed. All previous and future investments are covered. Startups incorporated before April 2016 are also covered," said DIPP official.
Earlier, startups complained about them getting bullied from government's taxation body and finally ministry had to feature in to solve the dispute. Commerce Minister took action over the matter and brought it to the cognizance of finance minister Arun Jaitley. Following the complaint, an expert panel with experts from IITs and IIMs was constituted to look after the matter.
The government granted tax exemption to the startups recognized under Startup India initiative. The investment received from angel investors, or high net worth individuals were also exempted. Earlier, tax exemptions were bound to certain riders that omitted only a small part of the investment ecosystem. The experts advised the startups to get registered with the relevant ministry to avoid IT notices. "The startups are advised to get themselves registered with DIPP vide ministry of commerce and industry notification dated April 11 to avoid scrutiny from the tax department and ministry of corporate affairs in the light of the recent notices sent by MCA as well," said Amit Maheshwari, partner, Ashok Maheshwary & Associates LLP.
Modi government is one of the most startup friendly governments that India has ever seen. The Modi government launched two programmes named Startup India and Standup India to encourage young entrepreneurship in the country. There are three pillars of Startup India which include simplification and hand-holding, funding support and incentives, industry-academia partnership and incubation. The government launched Pradhan Mantri Mudra Yojana to give low-interest loans to entrepreneurs from underprivileged backgrounds. The other programme, Standup India is similar to Startup India but it is more focused to support entrepreneurship among women and SC & ST communities. Startup India was launched in August 2015 while Standup India was launched in April 2016. The government also mulls to set up a mechanism called SETU (Self-utilization and Talent Utilization) to provide technical assistance and incubation to startups. Apart from this, it is planning to ease out the existing regulatory regime for startups and to extend tax incentives to them.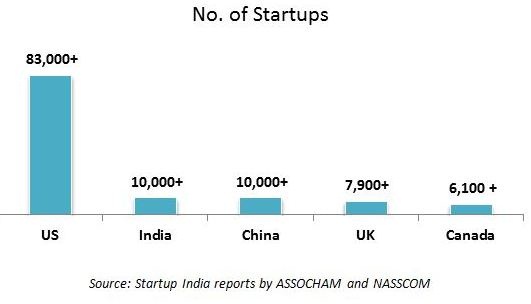 In terms of total number of Startups, comprising tech and non-tech areas, India is among the five largest hosts in the world along with China and the US. The number of Startups in both India and China stand at 10,000 each. The US has the most number of total 83,000 budding entrepreneurs. In recent years, the Indian startup ecosystem has also taken off and has matured. Factors such as availability of funding, consolidation activities by a number of firms, evolving technology space and a burgeoning demand within the domestic market have led to the emergence of startups.