The days of the 2019 Lok Sabha election are closing in and the anti-BJP parties have joined hands to form an anti-BJP alliance to defeat BJP. The foundation stone of the alliance was laid in June 2014, just within a month of Narendra Modi becoming the PM of India, when Mamata Banerjee invited CPI(M)'s state secretary Biman Bose to her office to discuss the growing popularity of BJP in the state and why CPIM workers were joining Bengal BJP. After four and a half years, most of the major parties officially declared their support to the Mahagathbandhan cause during Kumaraswamy's swearing-in ceremony as the CM of Karnataka.
During the Brigade rally of Mamata Banerjee on 19th January 2019, all the parties announced the so-called "death-bell" for the BJP. Most of the parties, including Mamata Banerjee herself, anticipated a huge crowd. But the truth is far away from reality.
On 19th January, daily passengers, office-goers, school and college students, etc. faced severe difficulties on their way to their destinations in Kolkata. Both the government and private buses on various routes were reduced; the buses were used to carry the crowd to the Brigade ground. Not only in Kolkata and the adjacent towns, but buses from distant rural areas were also used for carrying people to the rally. This resulted in a severe shortage of buses which caused excessive pressure on other public transport services like auto, cabs, shuttles, etc. In many cases, the private buses, auto-rickshaws and cabs were seen charging double or triple amount of fare from the passengers. Also at the same time, public transport and traffic were severely disrupted due to crowd moving towards the ground and the inefficient traffic management of the region.
According to local daily Anandabazar Patrika, most buses were engaged in the service of the TMC party since 18th January – a day before the rally. Many passengers even had to stay at the bus terminuses in the night due to severe shortage of buses. The most critical situation was in Siliguri region. More than 20 buses from Siliguri alone were taken by the ruling party. More than 30 buses were taken from the rest of the district. Regions like Barasat, Madhyamgram, etc were in a total mess.
Shortage of public transport wasn't the only problem that the TMC rally caused. Even TMC supporters caused huge hindrance to passengers in local trains, passenger trains and express trains.
On 18th January, TMC supporters even forcefully occupied reserved train seats to travel to Kolkata. When rightful owners of the seats protested, the supporters said, "We don't care about reservation. We are going to attend minister's meeting, we won't leave the seats".
When asked about the hindrance caused by TMC supporters and workers, North Bengal Welfare Minister Mr. Rabindranath Ghosh defended the miscreants by saying, "A lot of people travel to attend such rallies. Everybody is travelling with a ticket". On the other hand, an anonymous TMC leader said, "Not all of them can afford a ticket. These issues will last only for a couple of days. Why bother?"
Though a lot of hype was created by trying to mobilize a lot of people, most of the audiences were actually politically unaware. In fact, the TMC top brass themselves expected, or rather knew, that most of the crowd they are drawing would hardly have any clue about the political updates. If we are to believe the rumors, TMC supremo was even worried whether the lack of a huge crowd would diminish her political stature in front of the Mahagathbandhan.
Mamata knows very well how it feels to stand on a stage with very few people to listen to her. In March 2015, she had organized a joint rally with Anna Hazare at Ramlila ground, Delhi. The crowd hardly exceeded 2500 odd people. Even Anna Hazare ditched the event seeing such a small gathering.
If Mamata's rally can't draw a huge crowd in the state where she is in power, it's an utter humiliation for her. To maintain her political stature by showing people participating in her rallies in huge numbers, her party workers lured people from distant areas by promising them free food, free transport, free tour of Kolkata, etc. In fact, after Martyr's Day rally in July 2018, there was massive egg crisis in Kolkata because TMC party workers had purchased all the eggs to feed the people during the rally. This time too, people were lured with free food. In Central Park alone, more than 3 lakh eggs have been cooked for people since January 17th. In Karunamoyee Fair Ground alone, more than 45 thousand people were living for three days before the rally. Even the wall graffiti by TMC workers mentioned the menu at the rally.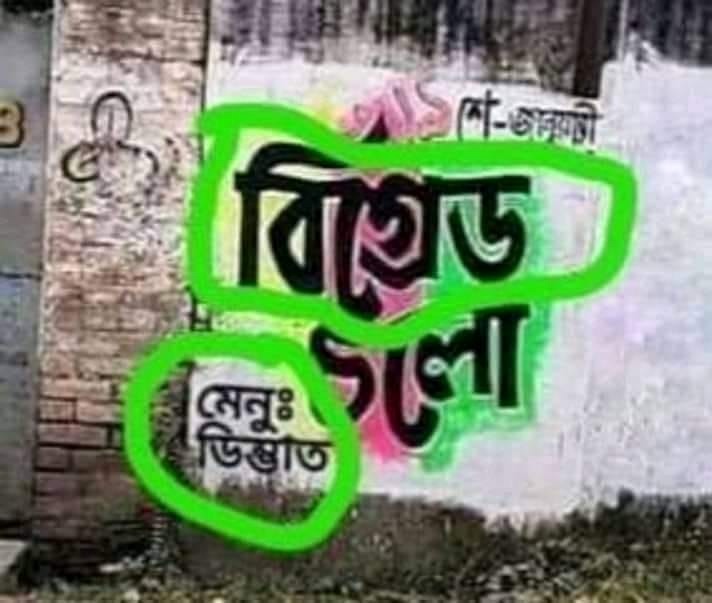 To a huge fraction of the crowd, the mega rally was nothing more than a picnic. It was a Saturday after all. Most people didn't even know the name of Jignesh Mewani and recognized Shatrughan Sinha as a former Bollywood superstar. Free food and entertainment aplenty and hence the picnic like feel. Places like Victoria Memorial and Alipore Zoo were also not so far away.
After having free lunch, many people even tried to leave the venue and move towards the Alipore Zoo. To stop them from leaving, TMC party leaders even had to lie on mike – "Please, don't leave the ground. Don't go towards the zoo. Zoo is closed today. Go to the ground to attend the meeting, for which you all came."
Many attenders even sold dresses, belt, shoes, sandals, etc at the venue to make a few bucks.
The rally was also a free licence to litter anywhere and everywhere. The ground was literally covered with used plastic bottles, plastic plates, papers, etc. If we are to believe the reports by Bengali dailies Ebela, Eenadu India Bengali, Sangbad Pratidin, a portion of the Brigade ground towards the Maidan Metro Station in Kolkata literally changed into a public urinal. An otherwise clean Public Park like Eliot Park wasn't also spared. Due to lack of bio-toilets, these places turned into overflowing urinals.
Even after so many tricks and mismanagement, Mamata Banerjee could have been a happy leader, had the rally been a success. Though many TMC leaders and Mamata Banerjee herself anticipated a crowd of 50 lakh people, the actual number was less than 20% of what they expected. No matter whatever TMC and Mamata Banerjee claim, political pundits will say this rally in Kolkata was a big flop. Even the Mahagathbandhan politicians who shared the stage know that their presence has actually faded away.