British-Pakistani singer Zayn Malik recently revealed in an interview with British Vogue that he would not consider himself a Muslim anymore. When asked whether he would call himself a Muslim, the ex-member of One Direction band said, "No I wouldn't". He said, "To be honest, I've never spoken publicly about what my religious beliefs are. I'm not professed to be a Muslim." Malik also went on to add that his religious belief is a personal matter and added that he wouldn't like to talk about it as it may get him in trouble.
The social media reacted on expected lines. Malik was right when he said that he would not like to talk about his religious beliefs because that would get him in trouble. His innocuous remarks about his religious beliefs did not go down well with the extremist Muslim and Pakistani elements on Twitter. Malik seems to have freely chosen his religious inclination but that was taken with great contempt by irrational and radical Pakistani Muslims on the Social Media. They started circulating defamatory and derogatory comments about Zayn Malik and ridiculed the choice he made. Many of them commented negatively about his habits and choices and opined that he never had faith in Islam. This decision by Malik, as they try to show, has not come as a surprise for them because he actually never followed the tenets of the religion. Yet, some of them openly voiced that this was a monstrous mistake on his part and it will not contribute in any positive way.
One such Twitter user sought to justify unreasonable Islamic beliefs of considering things like alcohol and music as haraam. Taking Zayn as an example, the twitterati claimed that these things (music and others) distance one from religion. It also claimed that Zayn was done in as fame got to his head.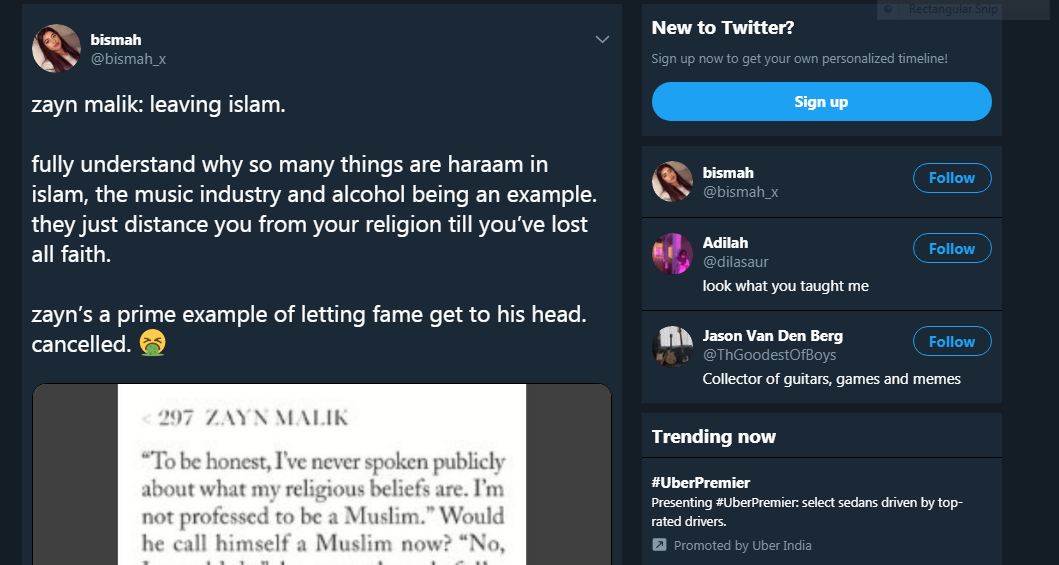 Another such radical Twitter user went on to claim that Zayn should not have left Islam. He said that by leaving Islam, Malik has left everything that was for his own betterment and now the hard-earned fame will also leave him. This signifies the highly illogical point of view that just because Malik exercised his right to choose his own religious beliefs, he will fail in his life.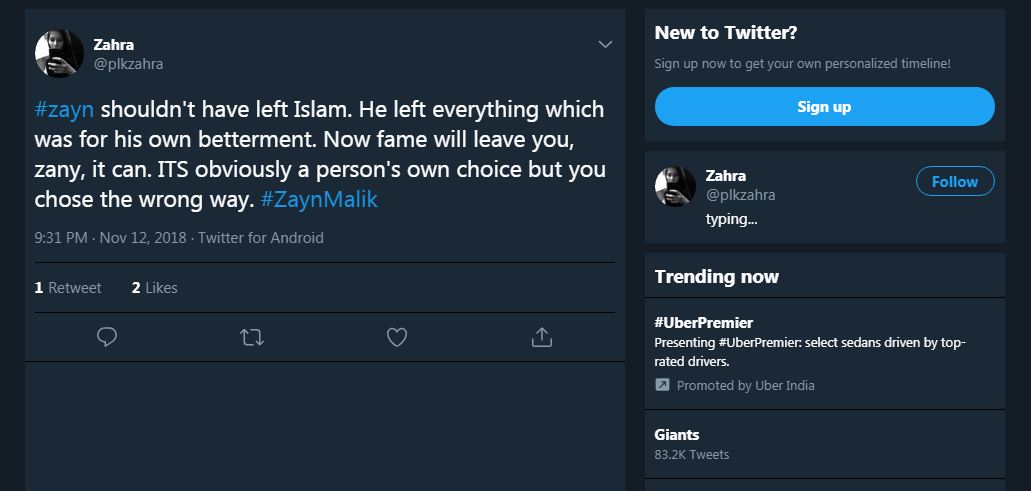 Yet another tweet came down heavily on Zayn for daring to speak his mind about his religious beliefs. This Twitter user made a very judgmental opinion about Malik's religious beliefs and said that Malik is a Muslim by birth and he cannot change this fact. He further opined that Zayn should accept his Muslim identity instead of being ashamed of it. This yet again manifests the radical Muslim propaganda against Zayn Malik that has picked up ever since he talked about his religious beliefs. This goes on to show the stubbornness of the Islamic fringe that simply is unable to accept the fact that every individual has the right to choose his/her religious belief and shape himself/ herself accordingly.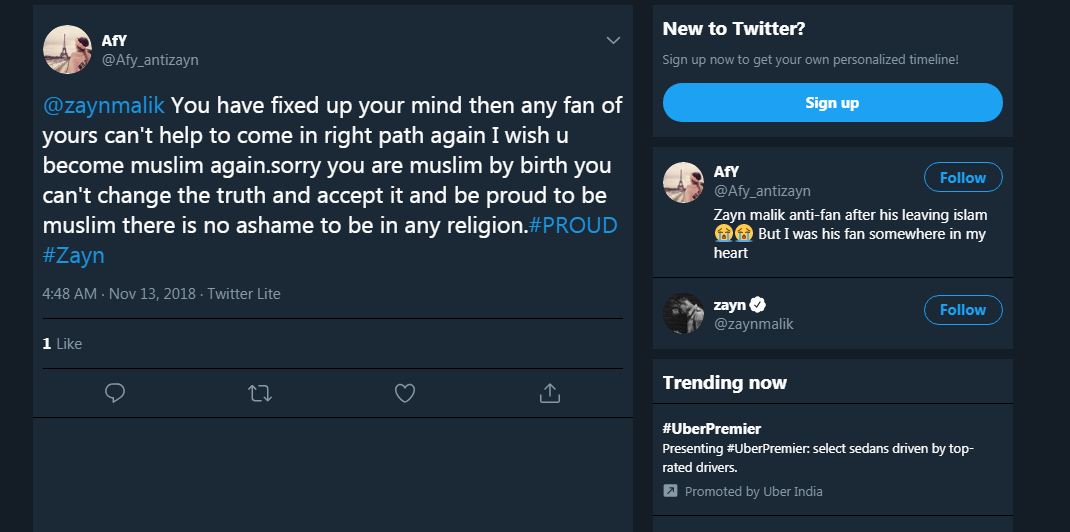 The pathetic attitude of a fringe was yet again on display when the user spoke in a highly contemptible language about Malik's life choices. This user claimed that since Zayn had been smoking, drinking, getting tattoos and happened to have a girlfriend, his leaving Islam does not come as a surprise.
It is flummoxing how these self-acclaimed protectors of Islam believe in total denial of individual liberty and freedom and the way these users have judged him represents their pathetic thought process.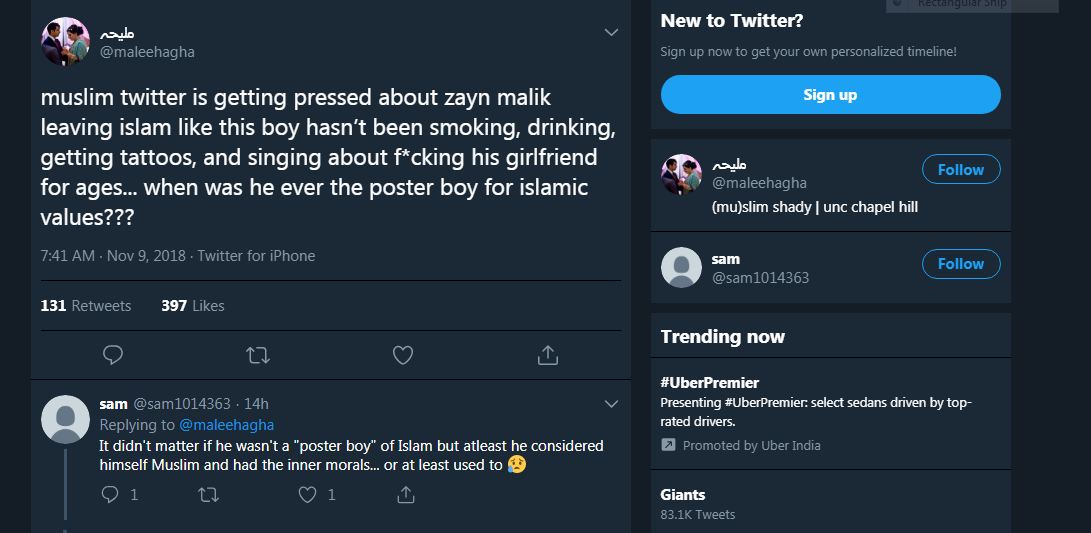 The outburst by a radical Pakistani mob on Twitter does not come as surprise. The moment Zayn Malik dared to speak up about his religious beliefs; one knew that he was in for some ridiculous slander on the Social Media.