The left-liberal media establishment of India is the epitome of hypocrisy. The people in this establishment never miss a chance to take the 'high moral road' in front of the camera. They are seen waxing eloquent about women empowerment, transparency in businesses, crackdown on black money so on and so forth. But when it comes adhering to these principals in personal or professional capacities, they flout norms like they never ever existed. The Wire, a web portal launched in May, 2015 is one of the leading left-liberal media organizations in India. The portal was founded by three well known journalists of Lutyens' media. The portal is owned by Foundation for Independent Journalism (FIJ), a non-profit Indian company. FIJ is primarily funded by Independent and Public Spirited Media Foundation (IPSMF), a Bangalore based trust which granted 3.7 crore rupees to the  company in two tranches.
Over the period of last three years, the Wire has become 'lender of last resort' for 'irrelevant' people ousted from mainstream media organizations. The people associated with this media portal are part of 'old establishment' with controversial pasts. MK Venu, one of three founders, was embroiled in the Niira Radia tapes Controversy which came out in 2008-09. According to the tapes, he was among the alleged power brokers of the UPA government and a part of the government-corporate-media nexus. Despite his name in the controversy, MK Venu was roped in for the Rajya Sabha TV to host a show named 'State of The Economy'. Appointment in RSTV comes under the discretion of the Vice President, who is a part of the government for all practical reasons. The macroeconomic condition of the country was strained in the second term of UPA era and India was a part of 'fragile five economies' in 2012. The show was part of Public Relations (PR) exercise by the government to propagate the view that 'the things are not very bad and situation is under control'. The UPA government paid lakhs of rupees to MK Venu for this PR exercise.
Vinod Dua, consulting editor of The Wire is another member of 'old establishment' who rose to prominence at the time of state controlled media by singing laurels for the government. He was awarded with Padma Shri for journalism in 2008 when UPA-I was in power. He became irrelevant as the media became independent and came out of the clutches of the government. But the Wire gave him opportunity to host a show named "Jan Gan Man Ki Baat' in which he bashes the current government for issues like municipal waste management to not handling relations with Russia properly. He has been accused of sexual assault by documentary filmmaker Nistha Jain. A few days before his own deeds came out, he hosted an episode in support of the #Metoo movement. These people in establishment are responsible for informing the public, if their personal dealing are full of allegations of scams and biases, how it could be expected that they would tell the 'right' story to the people of the country. The interesting thing is they cry hoarse about 'political witch hunt' when some legal action is taken against them. People like Vinod Dua plead for freedom of the press whenever their wrongdoing is exposed but the question is how objectivity is expected from these wolves in sheep's clothing.
Rohini Singh is another member of The Wire team who happens to be a disciple of MK Venu. In the Niira Radia case, Venu was heard asking Niira Radia to introduce Rohini Singh to people in the establishment because she was to report on policies of finance minsitry. "Just wanted her to be introduced to people in your system" said Venu to Radia about Rohini Singh. She was later booted out from the Economic Times group for writing articles supportive of economic policies of Akhilesh Yadav with a blind eye and blatantly campaigning for him, disregarding every aspect of ethical journalism, in the UP assembly elections. When no one gave a job to her due to her tainted past, she joined The Wire and has done many 'fake news stories', accusing Jay Shah, son of Amit Shah in one along with a host of other 'stories' against Union Minister Piyush Goyal. All her stories 'misrepresented the facts' and were thoroughly debunked by tfipost.com as well many other media organizations. Independent analysts found that the stories were published only to defame these people and the government.
And then there is Karan Thapar or rather The Karan Thapar, a well established member of Lutyens' cabal who publishes interviews with eminent personalities for The Wire. His family has close links with Nehru-Gandhi family and he has been a part of the power structure for decades. He was a close associate and schoolmate of Sanjay Gandhi's. "I first got to know Sanjay as my sister Shobha's friend. It was the early 1960s, Daddy was army chief and we were living in Army House on what was still called King George's Avenue (now Rajaji Marg) in Delhi. At the time, Sanjay was the prime minister's grandson and studying at St Columba's School," wrote Thapar in his biography. He is well known for having pro-Gandhi family stance and vehement opposition to PM Modi.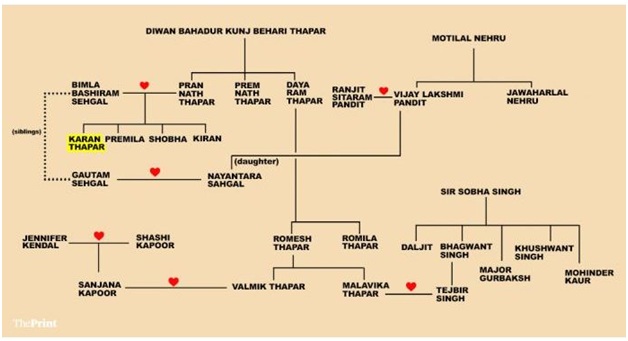 The Wire 's romance with people associated with Rajya Sabha TV during UPA government continues in the case of Urmilesh Singh as well. He was executive director of RSTV from 2010 to 2012, now he hosts a show named 'Media Bol' for The Wire. Another pick from RSTV for The Wire is Arfa Khanum Sherwani, she joined RSTV in the second term of UPA government and was senior anchor there for more than 6 years. As per her Twitter profile she is Nehruvian and not followed by PM Modi. She hosts a show named 'Hum Bhi Bharat' for The Wire.
Two more journalists, Punya Prasun Vajpayee and Abhishar Sharma started writing for The Wire after being fired from ABP News. PP Vajpayee wrote his post-ABP exit outburst in The Wire and the portal gave extensive coverage to his exit. Abhishar Sharma, a guy well known for stupidity, most popularly for not being able to differentiate between Gehu and Dhaan also joined The Wire after exit from ABP news. Recently he peddled fake news about Amritsar Ramlila tragedy in a video which was later removed by the news portal.
So, majority of the journalists at The Wire are part of 'old establishment' and have close association with governments of Congress party or Nehru-Gandhi family. They are united by 'Anti-BJP' ideology, like Pakistan establishment is based on We are not India rhetoric, The Wire's only stance is We oppose BJP.