This fiscal year has started on a positive note. The 8.2 percent growth in first quarter is above most of the estimates by government and international organizations. Most of the economists estimated that growth will be around 7 to 7.5 percent but 8.2 percent is above expectations. The surge in growth rate also suggests that economy has fully recovered from twin shocks of demonetization and GST implementation. These steps created hiccups in initial days but now are ready to pay. The businesses have adopted GST and as expected it could spur economic growth by 1-2 years for next few years. The combined influence of GST and demonetization has helped in broadening tax to GDP ratio of centre to 11.6 percent. The increased collection of taxes enabled government spending which proved helpful for GDP growth.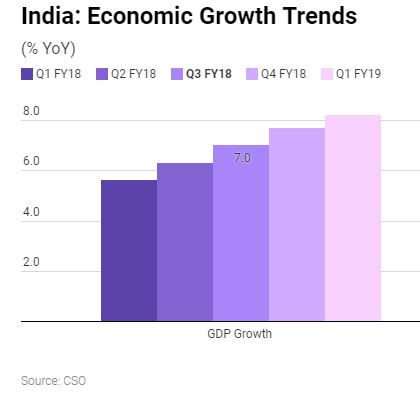 The economic recovery was evident since last quarter of previous fiscal year. GDP growth was 7.7 percent for last quarter of previous fiscal year. Now the 8.2 percent growth in first quarter and strong Gross Fixed Capital Formation (GFCF) suggests that economy is poised to grow further. The economic growth has been consistent for last five quarters- 5.6 in first quarter of last fiscal year, 6.3 in second, 7 in third, 7.7 in fourth and 8.2 in first quarter of this fiscal year. This sustainable growth indicates that economic reforms initiated by the government and sound macroeconomic conditions have been helpful in consistent economic growth.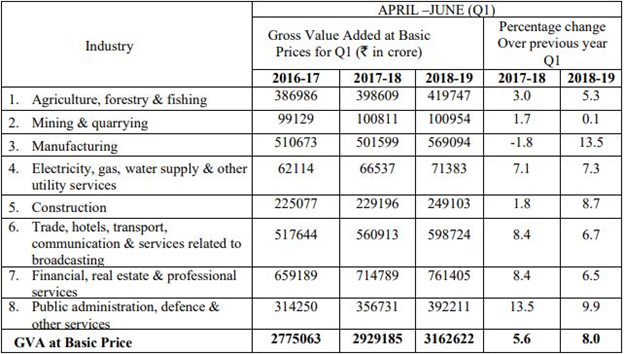 What is more important in GDP growth of this quarter is that it was widespread across all sectors. Some sectors performed above expectation but all sectors performed well. Manufacturing sector grew at 13.5 percent compared to -1.8 percent last year, construction grew at 8.7 percent compared to 1.8 percent last year, agriculture, forestry and fishing sector grew at 5.3 percent compared to 3 percent last year, and financial services sector grew at 6.5 percent compared to 8.4 percent last year.
The silver lining here is that agriculture, manufacturing and construction are job intensive sectors. The sound growth in these sectors suggests that jobs have grown at very fast rate. Opposition has consistently attacked the government about jobless growth and unemployment. The government still does not have sound indicator to measure job growth after seven decades of independence. But the Employees' Provident Fund Organization data and the growth in labor intensive sectors suggest that job creation is very sound.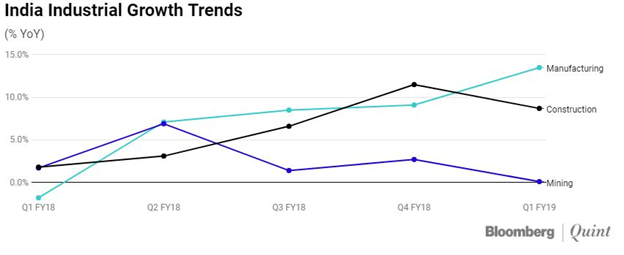 The manufacturing sector has grown at a rate of 13.5% in this quarter due to the steady growth of the corporate sector. The corporate sector which contributes a significant part of this sector has grown at more than 17% in real terms. The Construction sector has witnessed a growth of 8.7% due to the good performance of the steel and cement industry. The production of cement increased by 14.2% and steel consumption went up by 8.4% percent. The growth in manufacturing and construction indicates towards healthy industrial growth and infrastructure growth.
The agricultural sector growth suggests that governments plan to double farmers income through various schemes is producing results. Agriculture is expected to grow further given good monsoon this year and increase in MSPs. "The encouraging growth rates in agriculture, manufacturing and construction show that the growth momentum continues to be broad-based. In addition, one also expects favorable monsoons to further boost agricultural output and rural consumption in the coming quarters," said Bibek Debroy, Chairman of the Economic Advisory Council to Prime Minister.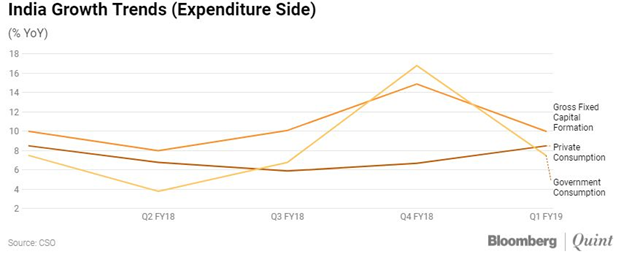 The 10 percent growth in fixed capital formation suggests towards increased urban as well as rural investment. The RBI report released last month said that household savings are at highest for last seven years. The increased household saving was evident in expenditure on vehicles. In the transport sector, there has been an increase in the sales of commercial vehicles by 51% in this quarter while the sales of passenger cars went up by 18% over the last quarter. Private final consumption expenditure (PFCE) grew at 8.6 percent after 6.7 percent growth in the last quarter while government final consumption expenditure (GFCE) rose 7.5 percent compared to 16.8 percent in the last quarter. The trend in PFCE and GFCE shows that as with growth in private expenditure, government is now focused on fiscal deficits and reducing its expenditure. This is good for upcoming quarters because growth could not be sustained on government spending, ultimately private spending has to grow for long term sustainable growth.