Farmers operate within the realm of uncertainty, confronted with daily decisions that wield significant influence over their agricultural ventures. These decisions, crucial to the success of their farming operations, are subject to an array of factors that resist precise prediction with absolute certainty. The capriciousness of weather conditions, the potential for price fluctuations at harvest time, the unpredictable availability of hired labor during peak periods, the untimely breakdown of essential machinery, the vulnerability of draught animals, and the ever-shifting landscape of government policies all contribute to the intricate tapestry of risks inherent in agriculture. These uncertainties, in turn, exert a direct and profound impact on the profitability of farms.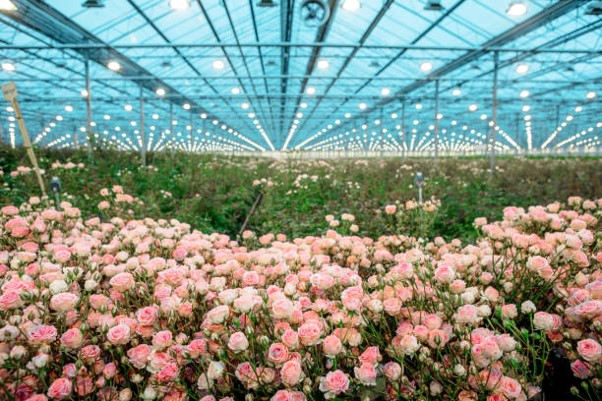 In navigating this dynamic landscape, farmers and nursery business owners seek strategic tools to mitigate risks and enhance crop yields like botanical garden greenhouse. Greenhouses emerge as a pivotal solution in this quest for stability and productivity. By providing a controlled environment shielded from the vagaries of weather, greenhouses offer a consistent and optimized setting for crop growth. This safeguarded space becomes an invaluable asset, allowing farmers to fortify their operations against the unpredictable forces that pose threats to farm profitability. 
In the face of climate uncertainties, market fluctuations, and operational challenges, the adoption of greenhouses stands as a proactive and transformative measure, empowering farmers to navigate the complexities of agriculture with resilience and increased predictability. As farmers embrace greenhouses, they not only protect their crops but also cultivate a more secure and prosperous future for their agricultural endeavors.
Why Are Greenhouses So Important?
For farmers and burgeoning growers, greenhouses stand as transformative solutions to an array of challenges encountered in traditional open-field cultivation. These controlled environments provide a shield against unpredictable weather patterns, ensuring a stable climate conducive to optimal plant growth. Imagine sidestepping the whims of nature and cultivating crops year-round, irrespective of external conditions. Greenhouses offer precisely that – a dependable haven that extends growing seasons, mitigates the risks associated with adverse weather, and safeguards against crop-damaging elements.
Moreover, greenhouses empower farmers with precise control over factors like temperature, humidity, and light exposure. This precision translates into increased crop predictability, enabling strategic planning and reducing the uncertainties that often plague traditional farming. From shielding against unexpected pests to minimizing the impact of market fluctuations, greenhouses emerge as a strategic ally for farmers navigating the intricacies of modern agriculture.
Embracing greenhouse technology isn't merely an investment in infrastructure; it's an investment in the resilience and sustainability of agricultural operations. As you consider the journey of cultivation, envision greenhouses not just as structures but as resilient guardians, offering a pathway to consistent yields, reduced risks, and a more secure and prosperous future for both seasoned farmers and those embarking on the exciting path of cultivation.
Complete Guide And Things-To-Know About Greenhouses
Building a greenhouse is an exciting venture that can significantly enhance your ability to cultivate a wide range of plants, extend growing seasons, and create a controlled environment for optimal yields. However, before you embark on this endeavor, there are several crucial considerations to ensure a successful and productive greenhouse. Here are eight key things to know before building a greenhouse:
Purpose and Goals
Clearly define the purpose and goals of your greenhouse. Are you growing vegetables, flowers, or both? Do you aim to extend the growing season or create an environment for specific plants? Understanding your objectives will guide the design, size, and features of your greenhouse.
Location and Orientation
Select a location with abundant sunlight and proper drainage. South-facing orientations typically receive the most sunlight throughout the day, maximizing solar exposure. Consider wind patterns, proximity to water sources, and accessibility for utilities and maintenance.
Greenhouse Design
Choose a greenhouse design that aligns with your goals and climate. Options include traditional hoop houses, gable-roofed structures, or even more advanced high tunnel designs. Consider factors such as ventilation, insulation, and the ability to accommodate future expansion.
Materials and Construction
Evaluate the materials for the frame and covering of your greenhouse. Common frame materials include galvanized steel, aluminum, or wood. Covering materials range from polyethylene film to polycarbonate panels. Each material has its advantages, impacting factors such as durability, insulation, and cost.
Ventilation and Cooling Systems
Adequate ventilation is crucial to regulate temperature and humidity. Louvered side vents, roof vents, or automated ventilation systems can help prevent overheating. Additionally, consider cooling systems like shade cloth or evaporative cooling for warmer climates.
Heating Systems
Depending on your location and the types of plants you intend to grow, a heating system may be necessary to maintain optimal temperatures during colder months. Options include gas, electric, or wood-burning heaters. Evaluate the energy efficiency and cost-effectiveness of each.
Irrigation Systems
Implement an efficient irrigation system to ensure consistent watering. Drip irrigation, soaker hoses, or misting systems can be tailored to your specific crops. Water management is crucial to prevent overwatering or underwatering, which can adversely affect plant health.
Budget and Operating Costs
Develop a comprehensive budget that includes construction costs, equipment, and ongoing operational expenses. Consider factors such as utility costs, maintenance, and potential upgrades. A realistic budget will guide your decisions and ensure the financial sustainability of your greenhouse operations to ensure that everything runs like a well-oiled machine. 
Conclusion:
In the pursuit of food security, the unwavering dedication of hardworking farmers remains the bedrock of our sustenance. Acknowledging their pivotal role in society, it becomes imperative to equip them with the tools that enhance productivity and resilience. Greenhouses emerge as a beacon of support, offering farmers a shield against unpredictable environmental challenges and extending the growing season. 
As climate uncertainties loom and the demand for reliable food sources intensifies, investing in greenhouses becomes a strategic imperative. It's a symbiotic relationship where the nurturing hands of farmers meet the protective embrace of controlled environments. Society owes much to these stewards of the land, and in their best interest, promoting the widespread adoption of greenhouses ensures not only the continuity of agricultural success but also bolsters the foundation of global food security.