A woman, Lois Sofia (23), was arrested for shouting and causing disturbance in a domestic flight and the entire cabal, without losing a moment, made a crusader of freedom of speech and expression out of her. According to reports, Sofia is a research scholar. On her flight back home, she was sitting near BJP's Tamil Nadu state unit chief, Tamilisai Soundararajan. All of a sudden, Sofia got up and started shouting "down with BJP – RSS fascist government" slogans in the flight. Sofia was arrested by the police and later on released on bail once the flight landed in Tuticorin.
Tamilisai had filed a complaint against her. She said, "She was not an ordinary passenger; I suspect some extremist organisation is behind her." She also said, "It (inside of a flight) is not a public forum….how can you expect me to keep mum when she shouts 'down with BJP's fascist government' looking at me? Is it freedom of expression?" Tamilisai also maintained that a flight is not a place to raise slogans. Many other people endorsed views similar to Tamilisai.
Intrigued by a student shouting protest slogans on a plane/in security zone at a fellow passenger becoming a 'freedom-of-speech' issue. Global aviation conduct rules post-9/11 are stiff & this is a serious offence world over. This is criminal behaviour, I'm afraid

— Shekhar Gupta (@ShekharGupta) September 4, 2018
Sofia's unruly behavior goes against the Indian Air Safety Law.
Indian Air Safety Law. Sofia might indeed be in trouble. Request @DrTamilisaiBJP to please withdraw her complaint; save this young student's career from being ruined by her harmless but stupid mistake. (h/t @failedchef1) https://t.co/bfrWO0sxKc pic.twitter.com/sxlygvOLPD

— Anand Ranganathan (@ARanganathan72) September 4, 2018
The BJP leader and Rajya Sabha MP, Subramanian Swamy also made apprehensions that Sofia might be having some links with LTTE and also said police should investigate about the lady. Speaking to ANI, he said, "Because of she is coming from Canada, she could very well be LTTE. Because a lot of Tamils in Canada are LTTE people and they use this word 'fascist' for the BJP." Swamy also justified her arrest as the girl violated the code of conduct for passengers.
Shouting anti-BJP slogans is not an offence. However, creating ruckus aboard a flight is an offence and a serious threat to public security and safety the Police did the right thing by arresting her on the ground of a serious offence.
However, Sofia does not have any regret over her act. According to Deccan Chronicle, Sofia justified her act without any remorse by saying that she has the freedom of speech. Sophia showed a very arrogant attitude and also refused to apologize for her unruly behavior.
It also looks like a deliberate attempt to gain public attention. According to Sofia's Twitter account, when she saw Tamilisai Soundararajan is also travelling with her in the flight, she tweeted that "I am on a flight with Tamilisai Soundararajan and really want to shout "Modi-BJP-RSS' fascist government, down, down". Will I be kicked off the flight?" However, now the tweet has been deleted from her account.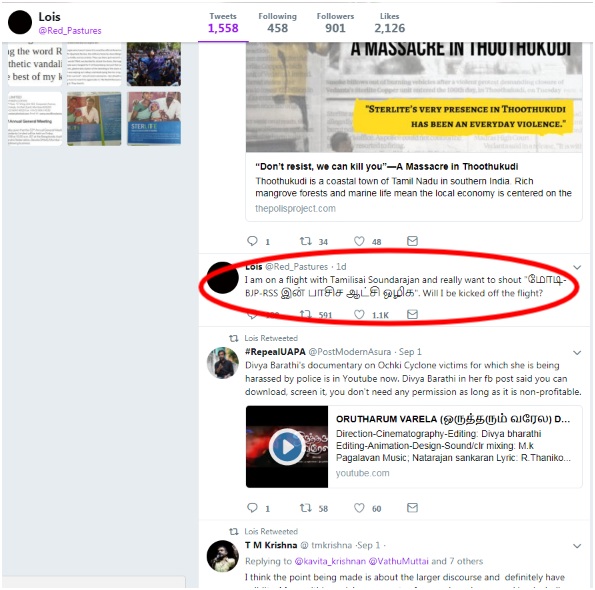 Sofia's twitter activity is full of rants against the Central government that's why police is also not ruling possibility of her act being politically motivated. The Deccan Chronicle reported, "As the accused is a Dalit (from Devendra Kula Vellala community), her act might have been to direct the Dalits' ire against the BJP and its state president, Dr Tamilisai, who was on her way to participate in a party function at Tenkasi where about 1,000 Dalits from various parties joined the BJP." Sofia even tweeted in solidarity against the recent arrest of five alleged Urban Naxals by Pune police.
Whatever, the real angle is, one thing is very clear that it is not the case of suppressing freedom of speech and expression as the mainstream media is trying to portray. Their 'emergency' narrative has fallen flat with another manufactured 'hero of dissent' getting exposed.