The above expectation GDP growth in the first quarter of this fiscal year has brought positive vibes across the industry. A poll among 71 CEOs by Confederation of India Industry (CII) concluded that 70 percent of them plan to hire more people in this fiscal year while 44 percent will increase investment. The poll was conducted just a day after the release of GDP data and it included names like Rakesh Bharti Mittal, vice-chairman, Bharti Enterprises; Satish Reddy, chairman, Dr Reddy's Lab; Uday Kotak, CEO, Kotak Mahindra Bank; Raghupati Singhania, chairman of JK Tyre; Tulsi Tanti, CMD, Suzlon; TV Narendran, CEO, Tata Steel and Bharat Puri, managing director, Pidilite, among others.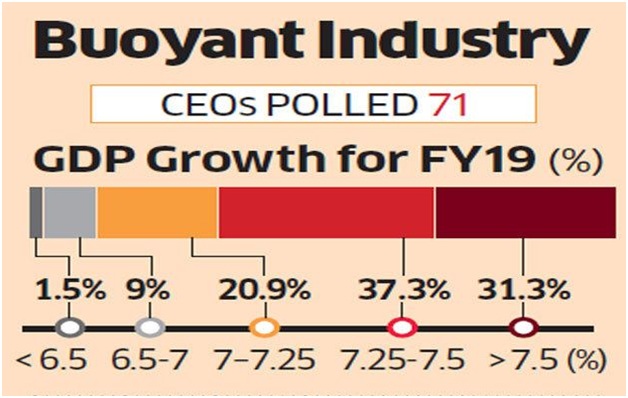 Nearly 70 percent of the CEOs expect GDP growth for this fiscal year to be in excess of 7.25% in FY19 while 31.3% expect it to cross 7.5% percent. GDP growth was 7.1 percent in FY 17 while it was 6.7 percent in the previous fiscal year. The CEOs also expressed confidence that economic indicators like consumer demand, private investment, employment and exports to improve in upcoming quarters. The CEOs also expect push in capacity utilization (the extent to which an enterprise or a nation uses its installed productive capacity), with nearly 60% of manufacturing companies polled seeing this in excess of 80% and 19.5% at over 90 % .
In terms of Industry wide performance 43.3% of those polled expect their respective industry to grow over 12% in the current year. A survey done by Care ratings on 3,292 companies has revealed that the net sale in first quarter of FY 18 has grown by 12.8 percent. The operating profits of companies went up 20.4 percent despite the fact that expenditure rising 10.9 percent. In the upcoming months, a quarter of CEOs expect revenue growth exceeding 20% and another 47.1% see it in the 10-20% growth range. Over a third sees profit growth in excess of 15% while only 18.8% see an increase of less than 10%.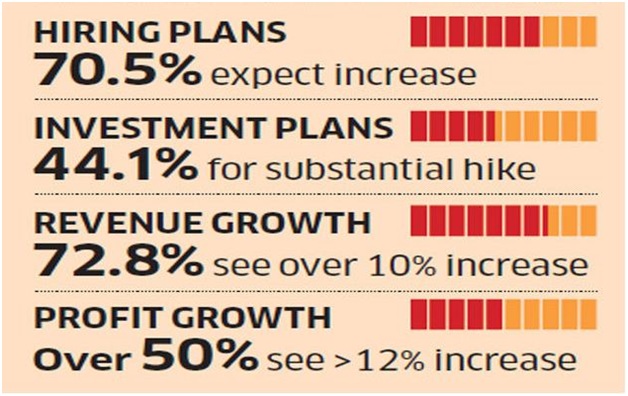 The positive sentiment could solve two major problems of Indian economy- job creation and private investment. The silver lining of GDP data for first quarter was the high growth in agriculture, manufacturing and construction sector. The sound growth in these sectors suggests that jobs have grown at very fast rate. Opposition has consistently attacked the government about jobless growth and unemployment. The government still does not have sound indicator to measure job growth after seven decades of independence. But the Employees' Provident Fund Organization data and the growth in labor intensive sectors suggest that job creation is very sound.
The economic growth in the country was driven by consumer spending and public investment in previous quarters. But growth through public investment is not sustainable due to its limited capacity. The rise in oil prices also put constraint on increase in public investment. Ultimately private sector must step in for long term sustainable growth. 10 percent growth in fixed capital formation in previous quarter suggests towards increased urban as well as rural investment. The RBI report released last month said that household savings are at highest for last seven years. The increased private spending will result in good growth in upcoming quarters while job growth will help the Modi government which will be seeking reelection in less than a year.