Clickbait journalism is nothing new to India. In order to gain more clicks and attention for their brand, some journalists resort to gossips and atrocious headlines in order to gain more publicity for their newspaper or agency, and do not hesitate in throwing work ethics to the winds.
Here's another one
In the latest incident of such atrocious journalism, the entertainment section of Dainik Bhaskar, popular Hindi news daily, posted the following:-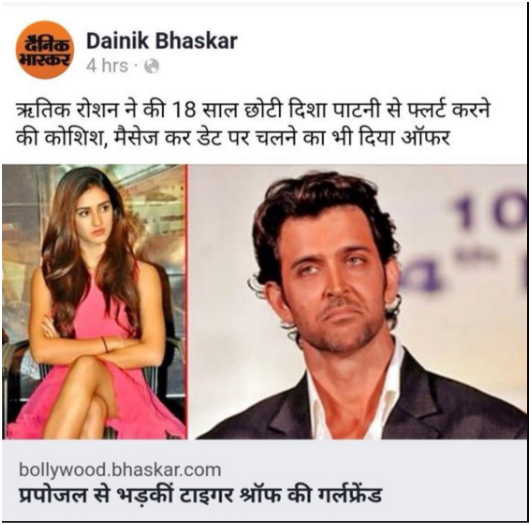 So according to this post, actor Hrithik Roshan seems to have moved on and is now pursuing the Bollywood newbie and two film old actress, Disha Patani. Well, this is nothing new for the gossip mongers in our Indian media.  However, atrocious this might seem, this is just another feather to their ignominious cap.
We don't need to go very far, only a few days ago, wrestler Vinesh Phogat, who created history with the first ever women's wrestling gold medal at the Asian Games, had to clarify her stance on Twitter, just because Ashwin Fero, reporter of Dainik Jagran's English version Mid Day, posted an article which suggested a bizarre link between her and famous javelin thrower, Naib Subedar Neeraj Chopra, who had come to attend her match out of sheer admiration:-
Really sad to see that a simple gesture of being present when one athlete is chasing glory for #India is painted in the wrong light ? Myself and @Neeraj_chopra1 and every other Indian athlete will support each other to ALWAYS make ?? proud, nothing more! Thank you ? pic.twitter.com/LnQAQIGcwu

— Vinesh Phogat (@Phogat_Vinesh) August 22, 2018
We are no strangers to the levels such clickbait journalists can stoop to in order to get more attention. Everyone knows what actress Deepika Padukone had to suffer when the Times of India posted a really objectionable video of hers. Even after her smart comeback, followed by massive backlash, the clickbait journalists are far from giving up. However, this time around, the actor in question, Hrithik Roshan, would not take this insult lying down.
One of the very few actors who maintained his dignity against all odds, Hrithik Roshan came out with this brilliant retort:-
'भास्कर bhaisaab? कहाँ हो? हाल चाल सब? सब ठीक? देखिए, आपकी दुकान ki प्रगति के लिए मेरी तरफ़ से यह ट्वीट. Next time सीधे बोल देना की help चाहिए। pic.twitter.com/f92izpXh1v

— Hrithik Roshan (@iHrithik) August 28, 2018
So according to this tweet, Hrithik suggests Dainik Bhaskar should just request him for help with the latest clickbait news. Now that is what you call giving a taste of one's own medicine. However, this wasn't his first takedown. Only a couple of hours before this tweet, he took down another gossip monger magazine going by the name 'Patrika' in a royal fashion:-
मेरे प्यारे मित्र 'पत्रिका जी", कसरत करते हो? थोड़ा gym जाओ। mind से सारा कचरा निकल जाएगा! ख़ासकर बीस donkey किक्स, बीस monkey रोल & 2 dog jumps आप के लिए सही रहेगा। ज़रूर कीजिएगा। गुड luck. गुड day. And लव you टू :) pic.twitter.com/ikuNWmie21

— Hrithik Roshan (@iHrithik) August 28, 2018
Controversy is nothing new to this actor. Having had to suffer the ignominy of divorce from Sussanne Khan in 2014, things turned worse for him when actress Kangana Ranaut accused him of indulging in an adulterous relationship with her, followed by a vicious defamation campaign, which blowed the issue out of proportions, deciding to play judge and jury. Despite such problems, it is to the credit of this actor that he didn't give in and maintained his class, for which he is well known.
We can't assure that the media won't do this gaffe again, but we know that people like Hrithik Roshan won't take this nonsense lying down!