In June, the arrest of five Urban Naxals by Maharashtra police in relation to Bhima-Koregaon violence led to many shocking revelations. In the police investigation, it has been found that Maoists were planning to assassinate PM Modi in Rajiv Gandhi type of assassination. Rajiv Gandhi was killed in 1991 by a suicide bomber.
Let's take a look:-
In connection with the conspiracy to assassinate PM Modi, special teams of the police have carried out raids at the residence of several high-profile names from academia, lawyers, media and so-called social activists. Police conducted searches at the homes of Arun Ferriera, Susan Abraham and Vernon Gonsalvez in Mumbai. The police carried out raids at the houses of Anand Teltumbde in Goa, Father Stan Swamy in Jharkhand, and Gautam Navlakha and Sudha Bhardwaj in Delhi. In Hyderabad, police raided the residence of Maoist ideologue writer, Varavara Rao. A case had previously been registered against Rao in Pune. The police also raided the house of his daughter. Rao's name surfaced after the arrest of Surender Gadling from Nagpur in June in relation to Elgaar Parishad case. A letter was recovered in which Rao had appreciated Gadling for the successes of attacks carried out by Naxalites in Gadhchiroli. The houses of several other leading journalists and professors in leading universities of the country were also raided including Kranthi Tekula who is a journalist with Namaste Telangana.
Following the arrests of these alleged Urban Naxals, their coteries in Media, film industry and politics went into an overdrive to defend them.
Urban Naxal Defence League activated.
Expect protest march & award wapsi to take place soon. And yes, they may even approach UN for this. pic.twitter.com/u5jYPmKHxv

— Un-bhadralok bangali (@goonereol) August 28, 2018
According to the support system of the Urban Naxals, freedom of speech and expression is in danger and calling it an undeclared emergency. In their opinion blogs and editorials they are painting a rosy picture of all the arrested alleged Urban Naxals, they are pointing out the miniscule amount of good works done by them with all exaggeration but these sympathizers of Naxalites, Maoists, Separatists and Urban Naxals masquerading as journalists are not writing anything about the sins committed by the arrested Urban Naxals. They are only writing those things which suit their agenda. For example they are not telling people that left-wing activists Varavara Rao and Vernon G. were already once arrested during the UPA government under Unlawful Activities (Prevention) Act in 2007. Vernon Gonsalves was charged in around 20 cases and had spent six years in jail. His wife Susan Abraham is also arrested by the police. She is a civil rights lawyer. Susan Abraham represented many of those arrested during the June raids by the police in connection with the infamous Elgar Parishad event. She wrote extensively in the support Maoist sympathizer and Delhi University professor G.N Saibaba. She has written extensively against the rigorous sentences awarded to him.
Vernon Gonsalves was arrested by Mumbai ATS in 2007. 20 detonators & 9 gelatin sticks were found.

Nagpur court sentenced him to 5 years in jail on April 11, 2014.

How does a 'convicted naxal' in Sonia's India become a 'human rights activist' in Modi's India? https://t.co/hqKW35sDZP

— Nitin Gupta (@Nitin_Rivaldo) August 29, 2018
Varavara Rao was also arrested in 1973 under the Maintenance of Internal Security Act. He was thrown behind the bars many times between 1975 and 1986, in different cases including the 1986 Ramnagar conspiracy case. In Ramnagar conspiracy case he was acquitted after 17 years in 2003. He was again thrown behind the bars in 2005 under the Andhra Pradesh Public Security Act. Arun Ferreira had been also arrested in the past as well. He had spent five years in jail. He is a Mumbai based activists. He was claimed to be the leader of the propaganda and communications wing of the banned Communist Party of India (Maoist) in 2007.
Such fake outrage by a section of media over the arrest of Vernon Gonsalves, Arun Ferreira, Varavara Rao etc. Nothing unprecedented. These deadly Maoist operatives have been arrested before and even imprisoned by Congress governments for waging a war on the nation.

— Prasanna Viswanathan (@prasannavishy) August 28, 2018
According to the sympathizers of Urban Naxals, all the people arrested by the police are poor people who are fighting for the rights of poor, tribals and other marginalized sections of the society. Again, this is a blatant lie. One of the arrested, Gautam Navlakha, has two palatial bungalows. The Police raided his residence in Greater Kailash IV in South Delhi and Nehru Enclave. In 2011, he was denied entry at the Srinagar airport and was made to return to Delhi. The Government of Jammu and Kashmir strongly believed that his presence in the valley could disturb the peace. Farooq Abdullah had gone to extent of saying "what does that writer want – to burn Kashmir? Let them burn some other place in India."
Gautam Navlakha, one of those arrested has two bungalows. Poor indeed. https://t.co/JHbMjmF8qb

— Divya (@divya_16_) August 29, 2018
Sudha Bharadwaj is a trade unionist, a civil rights activist and currently working and living in Chhattisgarh.  Sudha Bharadwaj was arrested at her flat in Charmwood Village in Sector 39. She is a patron of a legal cell of Naxalism called JagLAG. Local people call her as ''Naxaliyon ki vakeel'?'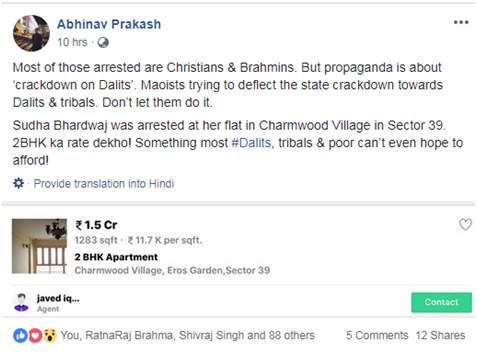 These questions need to be answered. Why is Sudha Bharadwaj found fighting Only cases of Naxals in HC?
Why do local Adivasis call her 'Naxaliyon ki vakeel'? If she is working for Adivasis, she should be on their side. Why Naxals?

— Vivek Agnihotri (@vivekagnihotri) August 29, 2018
JagLAG in a petition to UNHRC says "Bastar is 'worse than many militarized zones in the world'. If true, how did they manage to stay safe for years in Bastar inspite of performing suspicious activities at the peak of Maoist conflict? Isn't this a clear case of logical fallacy.

— Vivek Agnihotri (@vivekagnihotri) August 29, 2018
Father Stan Swamy was among the 20 people against whom a sedition case was filed in July. He posted statement against the Jharkhand government for inciting over the infamous Pathalgadi movement. Amol V Homkar, DIG, Ranchi police said, "Some literature of objectionable nature has been seized by the team of Pune Police during a raid at Father Stan Swamy's residence in Ranchi, today morning. A laptop, CDs, a camera and mobile phone of Swamy has also been taken into custody by the team. Swamy was questioned at his house and let off." Some of those arrested in Elagar Parishad had named Swamy  during the interrogation.
The liberal-leftist lobby and Urban Naxals sympathizers citing the good work done by all the arrested alleged Urban Naxals is eerily similar to what followers of Asaram and Ram Rahim do. In order to hide the dark side of their masters' people highlights their bright side. The government's recent crackdown on alleged Urban Naxals has rattled the entire cabal and that's why they all are ranting against the Modi government. The Cabal has made lots of money by exploiting the poverty of Tribals and Dalits. They used Tribals and Dalits to peddle their nefarious agenda. The Cabal is not fighting for the rights and empowerment of tribal and Dalits but for their own interests. Many of these crusaders of Dalits and Tribal rights have their bungalows and houses at posh locations of the country. They have milked a lot of money from their so-called revolutions. These people mushroomed under the previous regimes. It allowed them to carry on their nefarious activities but Modi government has stopped this trend and now showing Urban Naxals, Maoists, Naxalites and all other anti-India forces their right place.