As per Reserve Bank of India (RBI) annual report, 99.3 percent of the demonetized currency is back to the central bank. The total value of demonetized 500 and 100 rupees notes was Rs 15,417.93 billion and now after more than a year of hectic counting RBI found that currency worth Rs 15,310.73 billion was returned to them. Almost all the newspapers, news websites, and TV channels have declared that demonetization failed drastically. In fact, some of them declared demonetization as the biggest mistake of Modi government in four years. The whole point is being presented with one-sided facts without taking a look at the flip side.
Here we are not defending demonetization or claim to have solved the debate. But the other side of the story needs to be told.
The objective of demonetization was to crack down on black money. This was not a single step taken to curb black money. Demonetization was one step in the whole gamut of structural reforms like GST, Real Estate (Regulation and Development) Act, lakhs of shell companies' closure, Benami properties act so on and so forth. The aim of all these steps was a formalization of the economy, curb on black money and an increase in tax to GDP ratio. So, we need to analyze the success or failure of demonetization on variables like formalization and digitalization of economy and increase in tax to GDP ratio.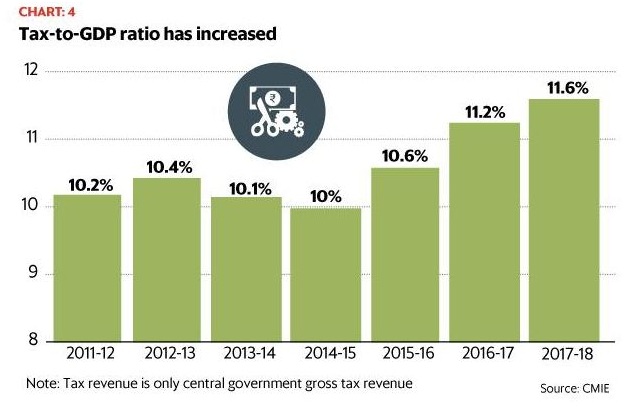 The ratio of central government's taxes to GDP was 10 percent in the fiscal year 2014-15. In subsequent fiscal years of 2015-16, 2016-17, and 2017-18, the steps like RERA, Jan Dhan accounts, demonetization, GST implementation, shell companies' closure and amendment in Benami properties act were taken. Now, if we take a look at central government's taxes to GDP ratio has gone up from 10 percent to 11.6 percent. This is a whopping 15 percent increase in tax to GDP ratio.  According to Economic Survey 2018, 10.1 million people filed income tax returns in the year following demonetization (November 2016- November 2017), while the average for the last six years has been 6.2 million. This shows an increase of over 1.5 times the previous number of income tax returns filed. So, the point is crackdown on black money has been successful because tax collection increased dramatically. The simplest definition of black money is 'an income on which taxes are not paid', so if people paid taxes or started paying taxes after demonetization, that simply means it achieved the primary goal.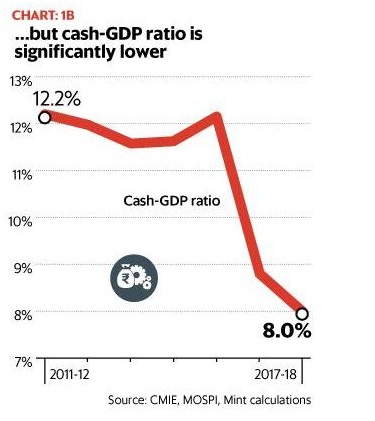 Now let us examine whether formalization and digitalization of economy happened in last three year or not. The cash to GDP ratio has come down as low as 8 percent in recent years. This simply means that that cash (which is easier for black money parking and illegal transaction) circulation in the economy is lower in the post-demonetization period. If we take a look at the rise in 'value' and 'number' of the digital transaction in post demonetization period, they have grown at an explosive rate. So, the promise of formalization and digitalization of economy has also been achieved in the post-demonetization period.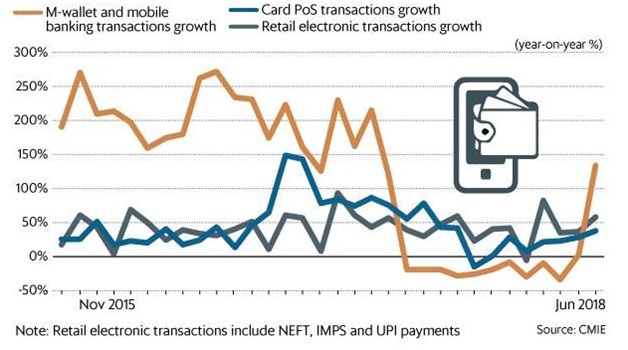 The government has been able to achieve two primary goals of demonetization which were 'crackdown on black money' and 'digitalization and formalization' of the economy. There have been some negative spillover effects of demonetization, no one is denying that. But presenting one side of the story is completely wrong. The government is scrutinizing the 'suspect accounts' which are expected to have deposits of black money. That part is yet to complete. So, the so-called mainstream media should be more responsible in the analysis of demonetization.