Former Prime Minister Atal Bihari Vajpayee will be remembered not just as an astute politician but also the driving force behind the Bharatiya Janata Party which is in power today. His death on 16th August, 2018 is a great loss to the nation not just of a skilled politician but as a true son of the land and a great poet. His connection with the masses was reflected in the reception of his literary works such as Meri Ikyavana Kavitaein (1995), Kya Khoya Kya Paya (1999) and other works. His career as a politician too was full of instances where he used poetry and rhymes to disarm the opposition.
His humorous side, as well as his humility, is on full display in a letter written by the then Foreign Minister Atal Bihari Vajpayee in 1977, to the editor of Weekly Hindustan. Atal Ji, in this letter, is seen requesting Manohar Shyam Joshi, the edito,r to publish one of his poems which he had sent to him through an informal channel. Atal Ji begins the poem by stating that the poet is in distress while the editor of 'Weekly Hindustan' is having fun. His poem ends with the words, 'it is difficult to write, but it is far greater to get the pieces published'. The reply by the editor to Atal Bihari Vajpayee builds up on the humour. The editor clarifies that he had received the poem without any sign of it being written by Atal Ji. The editor further goes on to state that the reason for not publishing it, was that he thought some admirer of the great man had written it in Atal Ji's name. He ends the poem by stating that it is impossible to not publish a work of Atal Ji, since it is impossible to dissuade him owing to his name being Atal 'one who cannot be dissuaded'.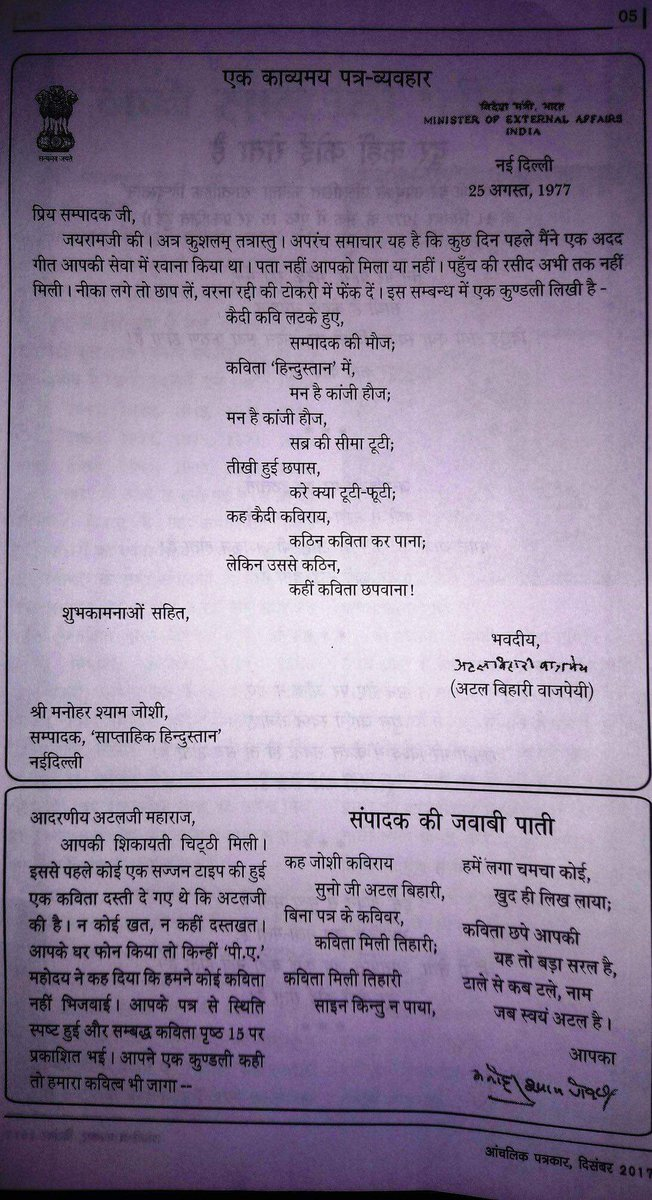 In another public speech while visiting a school, Atal Ji, describing his earlier loss in the elections, said that he was going to donate 1,000 Rs to the school as they had termed him as their 'mama' (maternal uncle). Taking a humorous dig at himself he said that he was aware that it was too small a sum, but he could not manage to part with more considering the lack of funds and he had also recently been 'out of a job'.
There are several instances where he used his wit and humour in poetry and in life to tackle tough questions. An honest individual with an absolutely disarming charm, the politician whom the opposition loved, Atal Ji has left behind a rich legacy of literature and humour for all of us. Salutations to the man who was at home mixing with the common folks, as comfortable he was while delivering a riveting speech in the Parliament, both equally dripping with humour and tickling the funny bone. A true son of the soil and a father figure has left for his heavenly abode today.