It is an accepted science today that pictorial images have a much greater impact on the brain than syllables or alphabets. Academic institutions across the globe use this technique to bolster the understanding of their students either by way of images in their text books or by way of Audio Visuals. This is done to help the student associate events, actions and people with that image. A kid is first shown an apple a 100 times to help him associate the image with the word apple. Henceforth when anyone says apple anywhere at any time, the first image that would come to the kid's brain would be that of a red colored fruit eaten by people to keep diseases away. The child would not imagine an airplane or an elephant when someone says apple. This is the power of pictorial images, that they create a permanent space for themselves in a human brain without any major stress or exercise. The above explanation was given to make the reader understand how representational/pictorial images are exploited by media houses/organisations to subconsciously create a stigma against Hinduism or anything that bears any connection with the Hindu culture. The Times of India on the 23rd July, 2018 published an article titled " 'Godman' held for forcing men into 'unnatural sex'". The article posted on Facebook at about 11 am (approximately) had the representational image of a Sadhu with long hair (tied in a bun/juda) meditating and donning a rudraksh and a prominent tilak/teeka on the forehead.
Upon further reading, it becomes evident that the name of the accused in this case is Asif Noori who is a self proclaimed maulana who claimed to have magical powers. The Muslim godman (we are deliberately writing Muslim here to contradict the title of the article, we do not intend to spread any communal hatred) allegedly had sex with men who came to him with their problems.
Asif Noori is a Hindu Rishi
Akmal Ali is a swami
Deen Mohammed is a tantrik
Times of India is a newspaper. pic.twitter.com/BlQeidTw73

— Ram (@ramprasad_c) July 23, 2018
While the accused 'Asif Noori' is a Muslim, Times of India purposely published an image of a sadhu, along with the misleading title, to drill the idea of Hindus as rapists and impersonators. This is a wonderful way to deceive since most of the readers merely skim through the timeline/newspaper headline without reading the entire article.
Not only was this intentional 'mistake' aimed to tarnish Hinduism, Hindus and Sadhus but also to highlight that it is the Hindus of India that are against any form of sexual intercourse which happens without a man and a woman being involved (reference be drawn to Section 377 of the IPC), while the fact of the matter is that the decriminalization of Section 377 is being opposed by 3 NGOs and all are Christian NGO's (and this is what even the Wire says – link in references). 1. Apostolic Alliance of Churches, 2. the Utkal Christian Council and 3. Trust God Ministries.
The media has continued its onslaught to tarnish Hinduism as regressive and backward while in truth it has always been the Abrahamic faiths which have opposed reformation in the society be it in the form of triple talaq/polygamy in Islam or the decriminalization of Sec. 377 by Christian NGOs.
The above mis-representation is not the first time the Times of India has tried to malign Hindus, we have provided links for a few other incidents where the Times of India has deliberately misrepresented and tried to deceive its readers.
The Times of India on 16th July, 2018 published an article stating that trafficking was prevalent at madrassas and Veda Pathshalas. Although the entire article had zero reference to Veda Pathshalas, the tagline read otherwise. The Times of India deleted the article quietly after a legal notice was served on them for misrepresentation.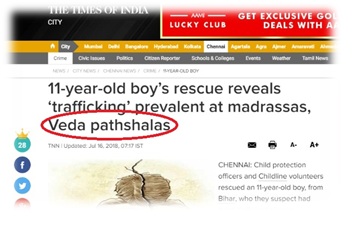 The other incident fresh in memory was the deliberate usage of the word 'priest' and not 'father/cardinal'. In the case, Fr Job Mathew (40) of Panthaplavu, a Father in Orthodox Church allegedly raped a 34 year old woman. While fathers and maulanas otherwise never use the word priest because it is usually used interchangeably with pandits performing poojas in temples.

Another incident is from Kashmir, where the Times of India gave a headline stating Kashmir's self-styled godman arrested for rape of young girl. The accused in this case was Gulzar Ahmad Bhat and he was arrested from his 'religious centre'. What is a religious centre?

The 4th incident is that of the brazen daylight murder of Ankit Saxena because he fell in love with a girl who was Muslim. The headline published was "Girl's father slits her lover's throat on West Delhi street." This article is a prime example of how the Times of India hides the name of the accused when he is not Hindu.
The above reports/articles show that this is not a onetime oversight but a pattern which seeks to create a perception that Hinduism and Hindus are misogynists. Articles bearing any relation to godmen are automatically connected with sadhus.
We are of the opinion that such a picture should not have been put even if the accused was Hindu. Rotten apples are found everywhere be it Islam, Christianity or Hinduism but the deliberate attempt to malign Hindus is unacceptable. We have in the past had people like Teresa (I refuse to call her mother for the sole reason that a mother would wish well for her child unconditionally without the condition of him converting to Christianity) who have duped people and converted Hindus by the lakhs and have also had people like Asaram Bapu and Ram Rahim Singh who have done some very nasty things in the name of religion, but that does not make everyone following that religion savages, does it?
The deliberate attempts by the Times of India to distort reality and to perpetuate propaganda should be dealt with an iron fist. We request the ministry of information and broadcasting and press council of India to take suo moto action against Times of India and award a strict punishment for their gross negligence and misconduct.
We request the authorities to have a front page apology to be published by Times Group and Times of India in particular [in all their editions] for 1 week and make them undertake that any such misrepresenting actions would never be repeated by them or alternatively ban them for 2 days (like a ban on NDTV was proposed) to create a precedence that any fake news propagated by media channels would be dealt with in the harshest manner.
Lastly, we urge all the readers to appropriately rate TIMES OF INDIA and provide your honest feedback to make them realize the potential consequences they could face if they don't fall in line.