Unlike the American context where we used to hear 'Big Three, Big Five, and Big Six' for American entertainment industry, oil and gas industry, steel industry and finance industry, this trend was never there in India as most of the industries in the country were well diversified with many small players operating in the market. The trend has slowly began to change, starting with the software industry where three or four major players operate sidelining all others, the same trend is being followed in the Indian telecom industry. The cutthroat competition and aggressive pricing by big market players has swallowed up smaller players in the industry and the game is being played just between three big private players and a government player.
Since the entry of Jio in the market, competition has risen sharply and smaller players could not survive due to "race to the bottom" pricing by three big players, Airtel, Vodafone- Idea combine, and Jio. Smaller players such as Reliance Communications, Tata Teleservices, Telenor India and Aircel are being shut down or sold off and their subscribers have already moved to larger operators. Now as the user base has consolidated to these big three players, they will try to grab the user base of others through price cuts or any other possible tactics. Sandip Das, Senior Advisor at telecom consulting firm Analysys Mason said, "When the dust settles down and subscribers from beleaguered smaller players have been mopped by the Big Three (Vodafone-Idea combine, Airtel and Jio), the tussle for supremacy will resume and with Jio's ambitions to lead, the market will continue to see aggressive moves."
As per TRAI data for fiscal year 2018, Airtel's customer market share has increased to 25.7% in March this year from 24.3% in October 2016, a month after Jio's launch. Vodafone's customer share went up to 18.8% from 18.7% during the same period while that of Idea rose to 17.9% from 17.2%. Jio, which had a market share of 3.3% in October 2016, has increased that to 15.8% as of March 2018. Therefore, there is a clear indication that all three big players have benefited in terms of user base from the entry of Jio, although their operating profits declined due to aggressive pricing. The top 3 players in the market have 92.5 crore subscribers with a market share of 78.1 percent as of March 2018. The total subscriber base of remaining telecommunication companies has declined from 38.3 crores to 28.87 crores in March 2017 to March 2018. The rating agency ICRA said, "The situation appears even stark when seen in terms of active subscribers, The top four telcos hold 902.3 million active subscribers, or 90.4% market share. This has increased significantly from 73% as on March 2017, indicating gradual waning away of the existing telcos."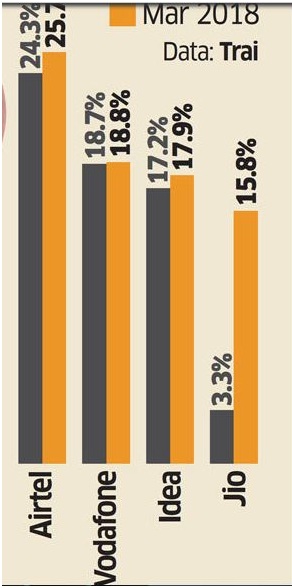 In the Indian telecom industry, the only company except "Big Three" with close to the double-digit share of the user base is the state controlled BSNL, which has 9.35% share of the market. Recently, BSNL launched "Swadeshi Samriddhi" SIM cards in collaboration with Patanjali to compete with other private players. The rate and benefits of the monthly plan were kept closer to Jio and Airtel to make a dent in their user base.
Jio, which is known for its aggressive behavior in the market is expected to make the first move. According to an Indian telecom industry analyst who wished to stay anonymous, the Mukesh Ambani-owned Jio will make its next big move via another drop in price or exclusive content offerings once it has gained about 18-19% of the subscriber market share. The company had earlier said that they will be targeting a 50% revenue market share in a few years, from around the present 19%.