It seems that the move to withdraw the press circular regarding a strict supervision of the news being broadcasted, especially with a view to clamp down on 'fake news', was a bad idea after all. The ones who cried hoarse on it are now using this opportunity to the fullest, spreading absurd lies in order to gain political mileage. From communalizing the Kathua case to alleging horse trading being promoted by BJP post Karnataka elections, there is nothing that the fake news peddlers, promoted chiefly by Congress Party, haven't resorted to.
In their latest attack, Congress now says that BJP has fallen short of majority in the Parliament and that they're reduced to just 271 seats. According to the Congress social media handles, this is after the BJP stalwarts from Karnataka, B S Yeddyurappa and B Sriramulu, resigned from their respective Lok Sabha constituencies.
In a tweet by Congress analyst Praveen Chakravarty, the number of seats won by BJP in Lok Sabha has consistently reduced since May 2014, and according to the analysis, the number of seats of BJP has drastically reduced to 233 seats since Karnataka elections.  The analysis has further predicted that after the elections in MP, Chhattisgarh and Rajasthan, the seat tally shall reduce to 208 seats, requiring a vote of confidence. Following is a view of the same:-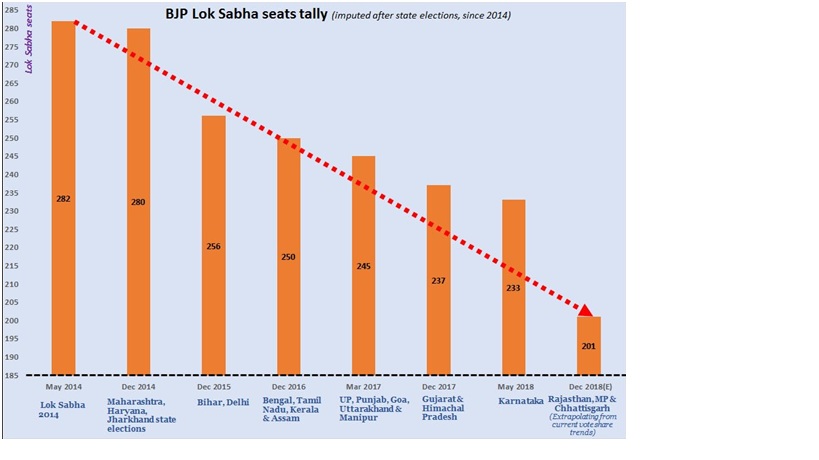 In their over enthusiasm however, Congress failed to take one thing into account: the credibility of data. With no credible source to explain the findings, it didn't take online news portals to bust this lie without delay. Led by news portal One India, they carefully busted the fake news, one by one.
Lie 1: BJP's tally is consistently reducing
Truth: This allegation is more of a half truth than a barefaced lie. Though the Parliament website is yet to update some details, BJP has only lost the following seats in the by-elections held since 2014:-
Phulpur
Gorakhpur
Ajmer
Gurdaspur
However, what Congress has carefully hidden in this analysis that BJP has also compensated for their loss in the following constituencies:-
Lakhimpur Kheri
Shahdol
Beed
Kandhamal
Vadodara
Lie 2 : BJP is short of majority, they've only 233 seats
Truth:-
Now that's one barefaced lie that is only too synonymous with Congress and its fake news factory. Contrary to their claims, BJP is still in the majority, with 272 seats in their hand, enough to maintain a stable government. Apart from that, it has the loyal support of its allies. Their tally stands as follows:-
Lok Janshakti Party – 6 seats
Shiromani Akali Dal – 4 seats
Rashtriya Lok Samta Party – 3 seats
Independents – 2 seats
Janata Dal [United] – 2 seats
Apna Dal – 2 seats
All India N.R. Congress – 1 seat
Sikkim Democratic Front – 1 seat
National People's Party – 1 seat
Naga People's Front – 1 seat
That makes a total of approximately 24 seats, which gives NDA a comfortable majority of 295 seats, well above the majority mark of 273 seats. Though Sumitra Mahajan does not have a casting vote, in case of a tie, she has the final say owing to her position as the Speaker. This keeps the tally of BJP at 272, and certainly not at 233, as Congress is claiming.
Lie 3 :- BJP shall be further reduced to 208 seats and lose all bypolls.
We're quite surprised as to how accurate can the Congress analyst be with his predictions. 208 seats by  the end of 2018? While we agree that 2019 is nothing less than tough for Bharatiya Janata Party, the tally being reduced to 208 is more hilarious than worrying. While it's true that the upcoming bypolls in Kairana, could give BJP a cause to worry, losing all of the four seats will still not affect the tally of the party, given the support it has from the external parties.
In the runup to 2019, it now becomes imperative for both BJP and the masses to take everything with a pinch of salt. Given the levels Congress has resorted to, no one should be surprised if their entire campaign stands for lies, deceits and fake news by the time 2019 elections actually come up.