Freedom of Speech (FoS) and Freedom of Expression (FoE). These two are not just mere phrases but are probably the most powerful representations of highest form of liberty that a democratic country gives to its citizens. FoS and FoE are probably the greatest capital that the capitalism-hating leftists and communists have to used further their propaganda. From anti-India slogans to hailing terrorists like Yakub and Afzal, communists have always justified their vile ideologies by terming it FoS and humanitarian approach.
Indian communists, who call Indian army rapists and oppressors for using pellet guns on stone pelters in Kashmir, term the Indian government a fascist government for taking strong action against separatists and the ones propagating anti-India activities etc. surprisingly remain silent when the Chinese communist government oppresses the Uyghur Muslims to an extent that even their religious freedom stands snatched. Indian communists never criticize the Chinese government for its anti-India stance including the recent Doklam standoff, their obsession with occupying Indian territories, supporting Pakistan in their anti-India activities, blocking India's move to declare Azhar Masood a global terrorist by UN, etc. The Indian leftists, who call US, UK and other European nations imperialists, fail to recognize Chinese aggression as another form of imperialist approach because they adhere to the same ideology- Communism.
The communists who are concerned about FoS & FoE and shun the imperial US for its capitalism, have found a new hero to hail for who, quite contrary to the ideology of communists, doesn't give a damn about his people's FoS and FoE. The North Korean dictator, who has banned internet for the average North Koreans, threatens his athletes to send them to coal mine for work if they fail to win gold in Olympics, restricts people to using only state-approved 15 hair-styles, etc. is the new poster boy of CPI (M). In December 2017, the CPIM local committee of Pampadumpara in Iddukki district used Kim Jong's photo in party's flex boards during CPM's area-level campaign in the region.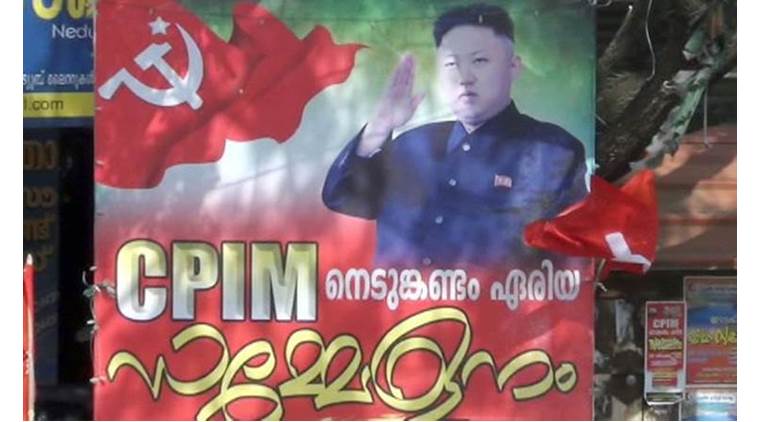 Putting a dictator's photo on a flex board killed his own uncle (by feeding him alive to hungry dogs according to some reports), brought the CPM much embarrassment when BJP's Sambit Patra made a jibe on the ideological bankruptcy of the party.
Kim Jong-un finds place in CPM's posters in Kerala!!
No wonder they have converted Kerala into Killing fields for their opponents!
Hope the left is not planning to launch ? missiles at the RSS,BJP offices as their next gruesome agenda! pic.twitter.com/6LHf1dVtAy

— Sambit Patra (@sambitswaraj) December 17, 2017
In an attempt to defend the this folly, CPM's Idukki district secretary K K Jayachandran said, "Some local leaders wanted to project Kim as they felt he is the only communist leader who challenges the US. However, the party does not attest that stand". He clarified that it was done by mistake.
The statement gives a clear picture. Even if a person becomes the greatest threat to the world, Indian communists will still support him if he is a communist. It is this "world-wide communist brotherhood" philosophy that binds the Indian communists with all the communists of the world. That's why, even though they call the Indian army oppressors, they hail a ruthless dictator like Kim Jong as a hero.
Though Jayachandran said that the party does not attest putting Kim's photo in flex boards, the communist CM of Kerala made it clear that the party indeed has soft corner for the bloody tyrant whose death is secretly desired by many North Koreans themselves.
Addressing a CPI (M) district committee meeting in Kozhikode, he lavishly praised Kim Jong for his "tough-stand" against imperialist force- the US. The CM said that China has been failing to put up a tough fight against imperialist forces of US. While praising the North Korean tyrant, the CM said- "North Korea has been adopting a tough anti-US stand. North Korea has successfully withstood the pressure exerted by the US". I wonder, whether Mr. Jayachandran would say that the CM praised the dictator by mistake. And the party distances itself from the CM's comment?
Earlier, Kim Jong said that North Korea's nuclear weapons can reach anywhere in the US and threatened that he has a nuclear button on his desk. To which, the US President Donald Trump responded by saying that his "nuclear button" is "much bigger and more powerful" than the one controlled by the North Korean maniac. CM Pinarayi Vijayan's statement was in light of this 'heroic' deed of the North Korean Dictator.
The CPI(M), whose members and leaders often criticize and insult Abdul Kalam for making missiles to strengthen India's defense forces, has leaders who hail the North Korean dictator Kim Jong who even detonated a hydrogen bomb which is 16 times more destructive than the bomb that destroyed Hiroshima in 1945.
The hypocrisy of CPI/CPM is clear. They call Indian government fascist, they call Indian soldiers rapist, they insult Abdul Kalam by calling him Bomb-Daddy, but they hail Kim Jong who is all set to mass-produce missiles and nukes and probably is one of the greatest threats in world.