Israeli PM Benjamin Netanyahu's visit to India was historic. It not only strengthened relations between the two countries, but also increased cooperation in many aspects. One area which PM Netanyahu wanted to target on his visit to India was Bollywood. His visit to Mumbai had a certain inclination towards the same.
As a part of enhancing its image abroad, Israel has called upon Bollywood to increase its presence in the Middle East nation. It was also about promoting the Jewish state as a suitable destination to shoot movies. Since the multibillion dollar industry caters to a large audience worldwide, Israelis are keen to warm up to Bollywood.
#Bollywood, we love your films. They are hugely popular in Palestine. Please don't allow Israel to use them to undermine our struggle for freedom, justice and equality. "There are two ways of living, either go along with what's happening, or take responsibility for changing it." pic.twitter.com/Jl46D7OxDf

— PACBI (@PACBI) January 18, 2018
During the same, an outreach program was arranged in Mumbai titled 'Salom Bollywood' where many stars from the fraternity were invited. Whilst biggies such as Amitabh Bachchan graced the occasion with their presence, a few chose to give it a miss.
Will my Bollywood selfie beat @TheEllenShow Hollywood selfie at the Oscars? @SrBachchan @juniorbachchan @rajcheerfull @imbhandarkar @vivek_oberoi @ pic.twitter.com/v1r0GIhKLy

— Benjamin Netanyahu (@netanyahu) January 18, 2018
The Bollywood Khans were conspicuous by their absence and it cannot be a mere co incidence. On the contrary there are many reasons for the Khans to skip the event for the better. But whatever the reasons we discuss, the sheer hypocrisy of these stars is openly displayed.
Firstly, it may be something to do with the ruling dispensation. SRK and Aamir Khan have been quite vocal during the intolerance debate. It was clear they were not happy with the government and had raised this issue on various public platforms several times. Aamir Khan's wife Kiran Rao had infamously remarked about her safety in the country. Somewhere these individuals have a background of taking a position against the Modi govt. It's a well-known fact that PM Modi and PM Netanyahu share a great bonhomie. Somewhere, this acrimonious attitude towards the govt or PM Modi may have spilled over to a close visiting foreign dignitary. It is certainly possible that PM Netanyahu was boycotted as he forms a close association with PM Modi. It was also a way of sending signals of a subtle protest against the government.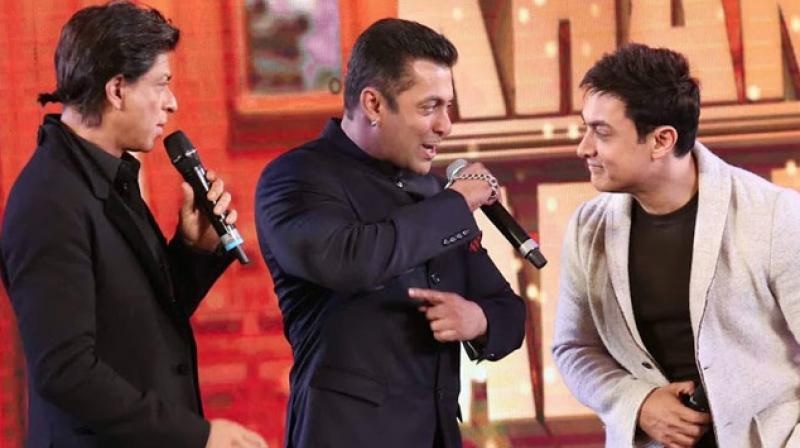 Secondly, it may have been the nationality of the visiting PM. There is no doubt about the fact that there is a considerable amount of support for the Palestinian cause in the country. This mindset is more prevalent amongst the Muslim population. There is a glaring hypocrisy which exists even in Bollywood where issues and causes pertaining to the minority are addressed and considered. Owing to this factor, a strong sense of resentment and anger would have generated in the minorities had they met and clicked pictures with Netanyahu.
Look at actor Azaz Khan's reaction:
Thirdly, it is all about the Fatwas. There have been growing instances where Fatwas have been issued. When Sonu Nigam spoke against loud speakers, he had to undergo a severe backlash from the leaders of the minority community. It's unimaginable for the Fatwa world to see the Khans sharing frame with a Jewish Prime Minister. And the Khan brigade is largely aware of the same. This would have considerable after effects too. Bollywood in particular has remained silent on Fatwa. When Sanjay Leela Bhansali had to undergo massive protests with respect to his latest offering, the entire Bollywood clan was fully in support of him. But when AR Rahman was issued a Fatwa, there was a conspicuous silence regarding the issue.
Fourthly, it may all boil down to business. This is especially true for a movie star like Salman Khan whose recent flick 'Tiger Zinda Hai' raked more than three hundred crores at the box office. A sizable proportion of his fans belong to the minority community. In view of that perspective, talking a selfie with a Jewish PM may have profound implications. As mentioned above, hatred for the state of Israel is tremendously high and the cause of Palestinians is imbibed in the Muslims. This may have resulted in boycott of their movies and protests which may not have been financially feasible for them. Although PM Netanyahu too had met Bollywood personalities for business prospects, the Khan trio had other financial concerns it seems.
This was sheer hypocrisy on the part of the Khans. This duplicity was visible in context with visiting foreign leaders. So, somebody like London Mayor Sadiq Khan (Who tried rationalizing terror attacks in Big cities as part of life) will be welcomed but the Israeli PM Netanyahu may be boycotted for the perils of a Fatwa.
The biased hypocritical stand taken by these Bollywood stars is not just confined to selective issues or a particular political side they take. It also has now crossed boundaries and exceeded to other arenas which is reflected with their attitude towards leaders visiting the country. Perhaps, this was an ideal time to show true secularism but avoiding a Jewish PM has exposed their true colors. The Left and the liberals were protesting on the streets against PM Netanyahu with placards and demonstrations which were wholly visible. However, the three Khans and their subtle protest by boycotting the event certainly made more noise.