Meet These four Sikh achievers. They are Mimpal Singh, Maninder Singh, Mahinder Pal Singh and Harcharan Singh (from left to right).

In 2008, Mimpal Singh became the first Sikh to become an MBBS doctor in Pakistan, Maninder Singh is the first Sikh Bank Manager in Pakistan. Mahinder Pal Singh is the first Sikh Cricketer from Pakistan to secure a place in Pakistan's national cricket academy. This happened last year. Harcharan Singh was the first Sikh to join Pakistan Army in 2005. They became the first Sikh figures in their respective fields after almost 60 years of their nation's birth. On the other hand, the humongous number of Sikh doctors, Sikh cricketers, Sikh bank managers and Sikh soldiers, colonels, brigadiers and generals in India bear testimony to the fact that Pakistani Sikhs are living a miserable life as Indian Sikhs prosper in every walk of their lives.
Less than a month after PM Modi's Canada trip in April 2015, more than 1,50,000 Canadian Sikhs unanimously passed the Punjab Referendum Resolution in Toronto. These Sikhs called for global support to Referendum 2020, the demand of a separate country of Khalistan- ruled and governed by Sikhs only. On the 30th anniversary of the military operation at Golden Temple, Sikh separatists gathered in front of UN and announced a referendum for the Sikh diaspora in 20 countries in the year 2020.
A website called Referendum 2020 reads- "Actively and peacefully advocating the call given by SFJ to hold referendum for Sikhs' right to self determination and to liberate Indian Occupied Punjab". The words "Indian Occupied Punjab" suggest that the main idea of Referendum 2020 is to liberate only the Indian Punjab for the Sikhs, while the Referendum does not show any concern about the Pakistani Punjab or towards Pakistani Sikhs who are evidently living a more miserable life than their Indian brethren.
The pro-Khalistan movement has always been silent about Pakistani Sikhs. The only reason could be- that Pakistan is actively helping the pro-Khalistan movement. The recent developments have have only solidified these claims.
During the last two years, at least 5 Hindu leaders were brutally murdered in Punjab:-
5 Hindu outfit leaders killed in Punjab in 2 years
Image Courtesy: india.com


Apr 23, 2016: Shiv Sena leader Durga Prasad Gupta (28) was shot dead in Khanna.
Aug 6, 2016: RSS leader and retired Brigadier Jagdish Gagneja (70) was shot dead in Jalandhar.
Jan 14, 2017: Shri Hindu Takht district president Amit Sharma (35) was shot dead in Ludhiana.
Oct 17, 2017: RSS leader Ravinder Gosain (58) shot dead in Ludhiana.
Oct 30, 2017: Vipan Sharma (45) of Hindu Sangharsh Sena was shot dead in Amritsar.
The murders left the state administration baffled. The recent murder of Ravinder Gosain led to state-wise protest. Public unrest was rising which led CM Amarinder Singh transferring the murder case of Ravinder Gosain to NIA.
On November 7, 2017, CM Amarinder Singh announced that Punjab Police has solved the murders of Hindu leaders.
Breakthrough in targeted killings with arrest of 4, conspiracy was hatched by #ISI on foreign soil to spread communal disturbances (1/4).

— Capt.Amarinder Singh (@capt_amarinder) November 7, 2017
Ludhiana, Khanna & Jalandhar targeted killing cases solved with their arrest. 1 of the 4 suspects was a gangster lodged in jail (2/4).

— Capt.Amarinder Singh (@capt_amarinder) November 7, 2017
They were using encrypted mobile software/apps for communication with handlers based in Pak, western countries; were trained abroad. (3/4)

— Capt.Amarinder Singh (@capt_amarinder) November 7, 2017
Congratulations to the Punjab Police for their excellent work in nabbing these men and solving the untraced cases (4/4).

— Capt.Amarinder Singh (@capt_amarinder) November 7, 2017
Four of the Hindu leaders namely Durga Prasad Gupta (Shivsena), Amit Sharma (Shri Hindu Takht), Jagdish Gagneja and Ravinder Gosain (both from RSS) were murdered by ISI terror module. The police nabbed the following four persons in connection with the murders:-
Jimmy Singh, a Jammu resident who recently returned to India from UK. He was caught from Delhi airport.
Jagtar Singh Johal (Jaggi), a UK national who got married in Punjab in October this year. He was arrested in Jalandhar.
Dharmender (Guggni), a gangster from Meharban (Ludhiana) who is currently in the high security prison at Nabha. Police believes that he had supplied weapons for the murders.
Ramandeep Singh (Raman Canadian), a resident of Chuharwal, Ludhiyana. He is the main killer.
The interrogation revealed that Ramandeep selected the victims himself and carried out the murders on the behest of ISI and some leaders of Khalistan Liberation Force who have supposedly taken refuge in Pakistan. The prime objective of these murders was to spread communal hatred and distrust among communities to destabilize the state of Punjab. Jimmy and Jagtar are also on the wanted list in connection to an illegal weapons case of Baghapurana registered in 2016. Ramandeep was also involved in the same case.
Last year, Harminder Singh Mintoo, the chief of Khalistan Liberation Force stormed to media limelight, when he was freed from Nabha Jail along with some of his aides and four other gangsters on 27th November 2016. Next day, Delhi Police arrested Mintoo from Nizamuddin railway station.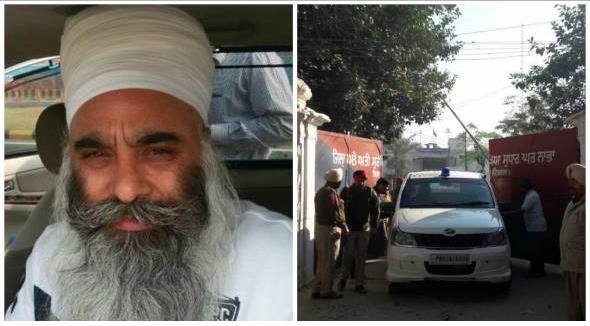 During the interrogation, Jimmy, Jagtar and Ramandeep revealed that Mintoo was involved in the Baghapurana illegal weapons case too.
In his statement, CM Amarinder said that ISI is readily involved in radicalizing the youth to carry out violent activities and there were strong indications of the active involvement of Pakistani intelligence operatives based in Pakistan as well as other countries.
This statement supports what Harminder Singh Mintoo revealed in 2014 when he was interrogated after arrest. Harminder Singh Mintoo and his operative Gurpreet Singh stated that ISI lures gullible Punjabi youths into terrorism by promising glamorous life in foreign nations like Thailand, Malaysia, etc. Mintoo himself was deported from Thailand in November 2017. Mintoo said that ISI had organized a training camp in Thailand where Ranjit Singh Neeta, the chief of Khalistan Zindabad Force played a major role.
On June 4, Punjab police's counterintelligence unit arrested Gurdial Singh, Jagroop Singh and Satwinder Singh, key Khalistani hitmen suspected to be part of a widespread assassination plan in Punjab and Delhi. Since April 2017, 6 Khalistan terror modules have been busted and 23 Khalistani Terrorists have been arrested. Gurdial had connections with both Khalistani terrorists and International Sikh Youth Federation (ISYF). Jagroop and Satwinder were recent recruits, radicalized through extremist propaganda that has flooded social media in the past decade. This again verifies Mintoo'ss claim that ISI is luring Punjab youth into terrorism. Jagroop received four day training with explosives at ISI safe-house located in Lahore cantonment.
There are various pro-Khalistan organizations like International Sikh Youth Federation (ISYF), Khalistan Commando Force (KCF), Khalistan Liberation Force (KLF), Khalistan Liberation Army (KLA), Khalistan Zindabad Force (KZF), Dashmesh Regiment, Shaheed Khalsa Force (SKF) many of which are backed by ISI. However, none of these pro-Khalistan forces ever showed an iota of concern for the pitiable condition of Sikhs in Pakistan. It is very naive to assume that pro-Khalistan movement is aimed for the betterment of Sikhs, It is just another terror module created solely for anti-India activities!