Yogi Adityanath is an enigma, beneath the veneers of a strict disciplinarian, lies an unexplored Ajay Singh Bisht, who left his family at the age of 21 and became a disciple of Mahant Avaidyanath, the then Mahanth of Gorakhnath Mutt. Bisht, then went on to become the Mahanth of the Shrine following the death of Mahant Aavaidyanath in September 2014.
Shantanu Gupta, Author and Political Analyst has tried to peek into the unexplored life of Yogi Adityanath. Aptly titled "The Monk Who Became Chief Minister", The Book sketches the journey of a shy and introverted boy from the serene valleys of Uttarakhand, who had a modern education in the faculties of science from Kotdwar, later took sanyas and went through rigorous training in vedic education. The Monk who then went on to become Chief Minister.
I was one of the fortunate ones to receive an Author's copy of the book. After reading and reviewing his book, I contacted Shantanu Gupta and asked if I could interview him for the readers of tfipost.com, he agreed readily. Though we couldn't meet in person, we had a long discussion over phone.
Read the Book Review of "The Monk who became Chief Minister"
Here are the highlights of the telephonic discussion I had with Shantanu Gupta, The Author of "The Monk who Became Chief Minister"
Atul: Shantanu Ji, Tell us a little bit about yourself?
Shantanu Gupta: I was born and brought up in Uttarakhand (erstwhile Uttar Pradesh). I did my Bachelors in Technology from Govind Ballabh Pant University of Agriculture and Technology (GBPUA&T),Pantnagar, Uttarkhand. I was a merit scholarship holder all through my engineering studies and was a silver medalist in my branch. I passed engineering in year 2000. I worked with a couple of companies and then completed my Post-Graduate Certificate in Business Management from Xavier's Labour Research Institute (XLRI), Jamshedpur. After Post Graduation, I went on to work as a business consultant in India, Cyprus, Switzerland, Israel and Hungary. And then one fine day, I left it all.
Atul: Why? Why did you leave a well-settled corporate life?
Shantanu Gupta: There are no clear-cut answers to it. I was a young achiever. I landed in Europe at the age of 25, stayed there for 3 years. Got into consulting very early on in my career. I was handling high worth accounts like Mercedes at such a young age. I worked in the mad confusing corporate world for 7-8 years and at the peak of my career, I quit my job. There was no immediate factor as such, I guess I just got bored with the mundaneness of the routine life. People around me were obsessed with brands of their watches and makes of their car and cricket and football matches. Frankly speaking I never wanted to be a member of elite corporate gossip groups. Guess that's what pushed me. I moved to UK to do Masters in Political Science. Since then I have been active in Social and Political Public Space.
Atul: Quite a Decision. So How did you find time to compile such a massive work along with the different things you do?
Shantanu Gupta: Yogi Adityanath swore in as the 21st chief minister of Uttar Pradesh on Sunday, 19th of March and I started working on his biography on 24th. Praveen Tiwari, my Publisher at Bloomsbury, another Hindi Writer Sandeep Deo and I, were in Uttarakhand on 24th of March for research. We stayed there for about 15 Days. Yogi Adityanath has studied in as many as 7 Schools. So, we had to be at all those places, talk to concerned people, take down notes. It was hectic, but enjoyable nonetheless. We took notes, collected Audio and Video records. And then started the writing part. My wrists still throb because of the continuous writing that I did. Writing 3000-5000 words for 2 months straight was very challenging but I wanted to be the first biographer of Yogi and that was one thing that kept me going. And as the cliché goes, once you start working towards a goal with all your heart and soul, the universe conspires to make it happen.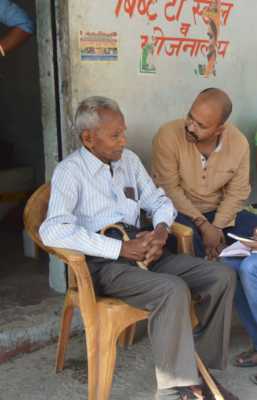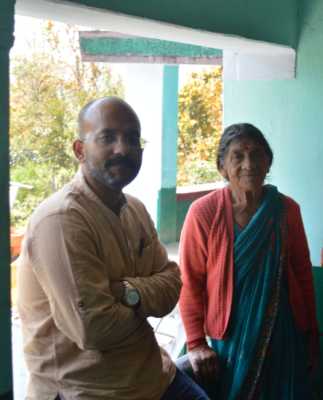 Atul: So Why Yogi? Why not some other leader?
Shantanu Gupta: I have always found Yogi a very inspiring figure. He has been one of the youngest parliamentarians ever. He has won from Gorakhpur for 5 terms straight so there had to be something very charismatic about him. And he has such a rigorous lifestyle. No contemporary politician can even come close to the kind of life he leads. Then Yogi stood as the epitome of Political Incorrectness when Media fries you for the slightest slips of tongue. His rise was almost like that of PM Modi. There was a lot of public speculation and media gossip about him. Plus, I have a long association with the State of Uttar Pradesh. I understand Uttar Pradesh, its complex caste dynamics, its aspirations and its shortcomings better than most people I know.
Atul: So, did you meet Yogi while writing the book, was he cooperative? Is he a firebrand in real life too?
Shantanu Gupta: No, he is not a firebrand. It's a title invented by Media. He is simply assertive. If he needs to say something, he'll say it. Most people around us are not assertive, they'll have their opinions, alright, but, they are also susceptible to the people around them. With Yogi, this is not an issue. While he is attentive, and allows everyone to speak but he doesn't let them affect his way of thinking, judging or speaking. All Strong Leaders are assertive, take for example Narendra Modi or Amit Shah for that matter. I have been a part of many of his Janata Durbars, while researching for the book. His Janata Durbar sees participation from people of all religions and castes. He is very cool, calm and absolutely unbiased in terms of discussing the problems of people.
And yes, he was very cooperative. He couldn't dedicate a lot of time himself because of his hectic schedule, but introduced us to people who helped us throughout the research stage of the book.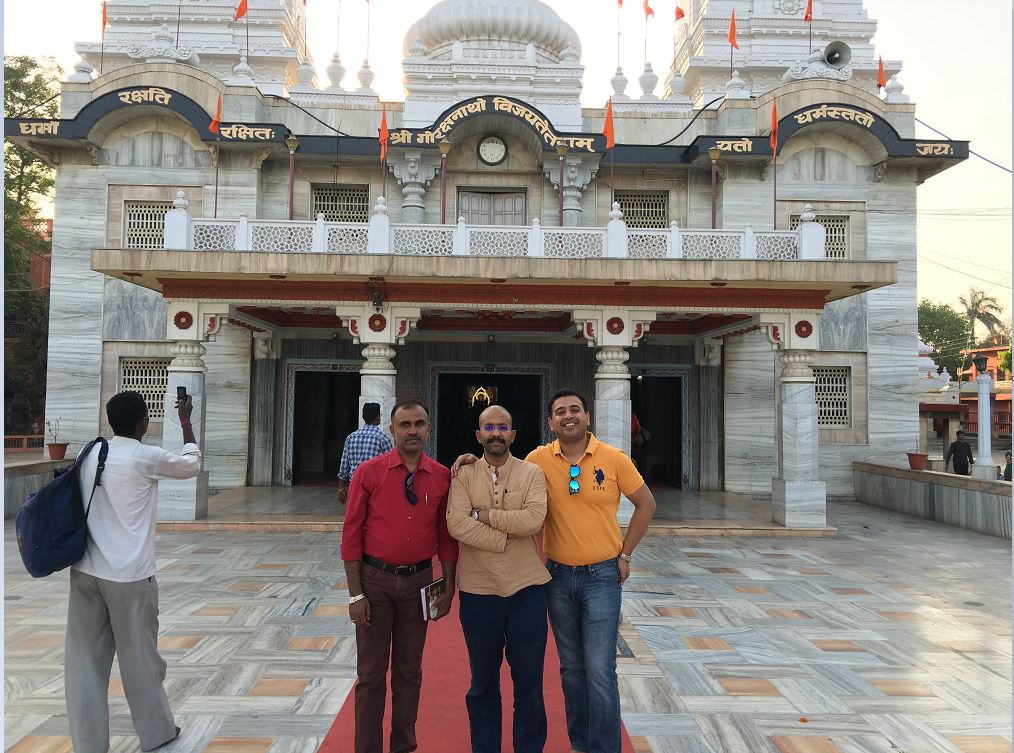 Atul: So, he doesn't come across as a Hindu Hardliners as Media projects him to be?
Shantanu Gupta: There is no such thing as Yogi Adityanath being a Hindu Hardliner! He sees things and reacts according to it. So, if he sees that something is wrong, he will voice his opinions about it. He has no qualms in restoring the original name of a place which was plundered by an extremist and then renamed or simply renamed to appease voters. Like I said earlier he is assertive which is sometimes misconstrued as hardline attitude. Also, he was an MP when UP was ruled by BSP and SP alternately and UPA was there at the center for 2 terms straight. So, his pleas went largely unheard and hence brought out the rebellious side of his. He is otherwise a very involved politician.
Atul: Have you written any other books till date?
Shantanu Gupta: Yes, 4 Books including this one. I wrote "Uttar Pradesh Vikas ki Prateeksha mein". After detailed research and travel in the hinterlands of the state, talking to bureaucrats, leaders and shooting a barrage of RTIs, I wrote this book in Hindi detailing the developmental challenges of Uttar Pradesh, in the area of education, health, business, roads, power, agriculture, law and order etc.
I have written a Hindi compilation of Sessions of PM Modi's Radio Communique Man Ki Baat, sorted by headings and sub-headings.
Then I wrote "Education in India: Choice and Incentives". It discusses the distorted Education environment in India where the consumers namely the children and parents have a weak voice and the producers namely the teachers, governments and schools have a strong voice, and none of the stakeholders involved in the system seem to have the right incentive to engage with one another.
Atul: How has been the Book's Response?
Shantanu Gupta: Oh! It has been phenomenal. I think you reviewed it too and liked it. The First Print Run is already Pre-Booked.  Hindustan Times Brunch put it in the list of Five books that should be on everyone's August reading list. As far as reviews are concerned. There have been rave reviews in The Hindu, Asian Age (Which Rated it in top-3 new releases, along with Amish Tripathi's book), Business Standard, The Week and The Statesman. The Book is already in the Top Charts in Amazon's Top New Releases and top biographies.
Atul: If you were to write a book on a Media Personality, who'll you pick? And why?
Shantanu Gupta: Rajat Sharma. He is a go-getter. He has toiled a lot to achieve what he has achieved today. Even at his peak he is doing the 9PM Show. His life is very inspiring.
Atul: If you were to write a book on a Film Personality, who'll you pick? And why?
Shantanu Gupta: I think Anurag Kashyap. Gangs of Wasseypur is my all-time favorite movie. Although his political viewpoint is the polar opposite of my mine but no one can deny that he is arguably the finest cinematic brain in India. His understanding of Cinema as a medium is superlative.
Atul: If you were to write a book on a Sports Personality, who'll you pick? And why?
Shantanu Gupta: Mahendra Singh Dhoni. Again his is a story of struggles and achievement. He came to the team when Mumbai Cricket lobby was very Strong. And here he was a Ranchi Guy, who goes on to become the most successful captain in all formats of the game. He is not just a gifted cricketer but an exceptional manager too.
Atul: What is your message for the readers of tfipost.com?
 Shantanu Gupta: I believe most of the readers of tfipost.com belong to the right end of the political spectrum. I have noticed a rather obvious shortcoming in people of the aforementioned spectrum. They don't read much and the ones who do, don't socialize much while people from the left end of the spectrum are good in articulation. A Democratic setup cannot be healthy unless people from all spectrum engage in a healthy discussion. Right has a lot of catching up to do, they need to read more about Indian and World History, Indian and World Politics, Public Affairs, and policies. That's all about it. Also, please buy my book (Chuckles) and read it and do let me know if you liked it.
You can get in touch with the author at:
Facebook: www.facebook.com/shantanuguptaindia
Twitter: www.twitter.com/shantanug_
Website: www.shantanugupta.in
Bonus (Book Trailer Video):