"People should unite and struggle against NEET"- Kamal Haasan
Actor Kamal Haasan who has been vociferously raising his voice against the Tamil Nadu State Government on various issues has also been speaking on the NEET issue which is unfortunately one of the reasons for Tamil Nadu medical aspirant Anita's most untimely death.
Kamal Haasan is currently in Kerala where he met the Chief Minister Pinarayi Vjayan for lunch at the latter's official residence. After the meeting, Kamal addressed the press persons from Kerala. When asked about Anita's suicide Kamal Haasan has called for a joint struggle cutting across caste and religious lines against NEET.
Kamal Haasan said he is pained to know about the death of Anita, who is like his daughter. He said everyone, including the leaders like Tirumavalavan should unite and struggle to get justice for the state in the NEET issue. He also said all the people should set aside their religious and caste differences and take part in this struggle. In a clear hint about the alleged inaction of the ruling AIADMK Government in Tamil Nadu, Kamal Haasan said those who were responsible to have involved in talks to safeguard the state from NEET were involved in negotiations to save their party.
A few weeks ago, Union Minister Nirmala Seetharaman said that the Union Government will help the Tamil Nadu Government from getting exempted from NEET for this year. At that time Kamal had tweeted urging the State Government ministers to involve in talks and save the students' rights.
Now I will not debate if NEET should be conducted or should be abandoned.
I will not talk about NEET was introduced in 2012 and governments has time to plan the road map.
I will also not tell you that kid who committed suicide was a minor (17 years).
I will not talk about even the 85% and 15% distribution quota state government wanted between state board & CBSE.
What I will talk about is …………..
Ever since the Government of India launched their website bharatkeveer.gov.in, an initiative conceived by actor Akshay Kumar, it has been the talking point on social media. The digital platform that was launched on April 9, allows anyone to make direct monetary donations to the families of martyred Indian soldiers of paramilitary forces.
Getting updated on a regular basis, the portal shared the details of the next of kin of recently martyred 25 CRPF soldiers in a Naxalite ambush in Chhattisgarh. In a span of less than 12 hours, donations have been flooding in from all parts of the country.
This was supported by Gautam Gambhir, Mohammed Kaif and Anushka Sharma.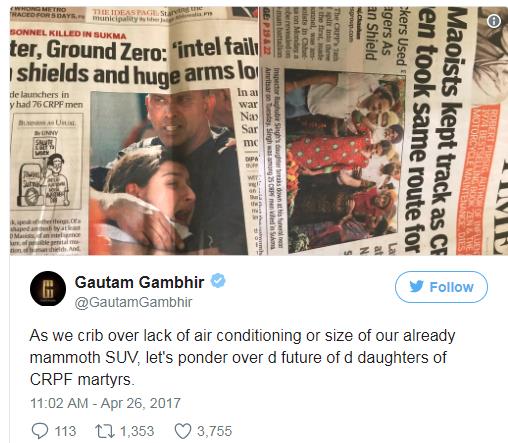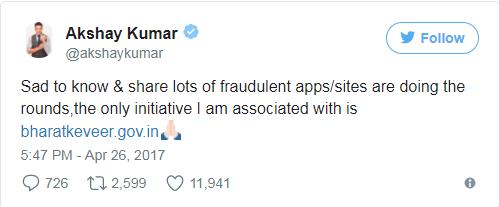 So why I am talking about "Bharat K Veer" ??
Most of you would have understood by now but those who love to read must try co-relating the behaviour of a vetran movie industry actor and another who want to contribute to the society.
Whole India bashed "Aamir & Kiran" for leaving India comment but "Kamal" has done it before and in fact in a grand way.
January 30, 2013 when Vishvroopam was in court as Tamil Nadu government filed an appeal against the interim order of Madras High Court giving clearance for screening of Vishwaroopam. He threatened to leave the country, says has lost faith in Tamil Nadu government.
If he actually cared then how about borrowing this idea from Akshay Kumar !
Develop an app which has all the lectures needed to crack NEET and that too for free of cost. Government of Tamil Nadu has distributed laptops in past and if they can arrange a setup to pool the devices as in when students pass the exams or leave the preparation, so new students can utilize  same resources.
This can be a comprehensive solution and pave a way towards affordable and accessible education system. In fact he could have seeked help from colleagues from same industry.
Likes of Surya who runs Agaram Foundation, Sivakumar Educational Trust – Agaram Foundation by Actor Shivkumar, Actor Vishal bears cost of higher educations of economically poor students, Rajanikanth who donates half of his income to charities. And never the less he himself who donated his body to madras medical college after his death for research, helped donation of 10,000 eyes and he hasn't been doing any brand endorsement till 2012 and started accepting them to raise funds for social causes he supports.
Give it a thought!! How about getting an app developed and naming it Anita?