The Robert Vadra case is a classic case to do a doctorate, by a career counsellor. Allow me to explain. Here is how my theory goes:
If one's father is poor, it is fate. If one's father-in-law is poor, it is foolishness. So, unlike me, the wiser ones choose a wealthy father-in-law. And the wisest, a powerful Mother-in-Law [Why I remember the movie, Monster-in-Law; I don't know].
And the wisest citizen of India had dated the most charming lady and ended up having the most powerful woman in India, his Mother-in-Law. In fact, this is a classic case to do doctorate, by a career counsellor.
Anyway, The Robert Vadra, being a businessman, remained a private citizen, so that the power corridor controlled by his MIL was never in touch with him and his business deeds. Smart guy, why to be in touch, when you could use remote control? Money loves Money to become more Money. So, this wisest Indian, who calls other not so wise Indians as 'Mango Men ruled by his MIL in the Banana Republic, to which his MIL tried to reduce India had chosen the world's biggest realtor to be his business partner. And so few deals with DLF were inked.
Impractical men like Anna Hazare may cry that government gives favors to those businessmen with links to politicians, but there was the economist of the last century, Sharad Pawar, an ex-Congressi who questioned famously "Can't politicians enter business"? Anyway, the wisest man of India was successful in sealing few deals with DLF with a little help from the Congress ruled governments that were more than willing to oblige the 'Rashtriya Damad'.
By the way, there was one Shehzad Poonawala, an ardent Congressi [Any guesses, what would be the Hindi meaning of Congressi in the upcoming English-Hindi dictionary? I can't tell here, for this is a respectable website] defended him two years back listing all those incidents that were clear. Like an obedient worker, she never even touched the black topics.
So, as every other politician in India says, the law started taking its own course, and everyone knows that it would take its own sweet long time to conclude, either way. In fact, the snail pace of trial system in Indian judiciary is the most confident giving aspect that our politicians rely upon. And the Nehru-Gandhi family that guided the depravity of independent India ensured that it is 'not for the culprit to prove innocence, but the other way'. Arguing this illogical logic, Bofors case was confined to files. But, even snails cover some distance. So, the first shock came to the first family of Congress when they were called to be present in the court, in the National Herald case. Since, then the soft spoken sphinx removed the mask and exposed the brutal beauty that was hidden under – 'The Italian Cougar'.
So, when the Augusta Westland scam case was concluded with indicting remarks against the SG, the Cougar roared. And declared to the world that she could not be mellowed down by few remarks by one judge in Italy. Anyway, in a condescending way, she allowed the government to probe the scam further, only after disrupting one parliament session over how UPA government cancelled the order on Westland. One thing neither she nor her 'cleanest' defence minister could not deny was that 'money was paid to someone'. And who could be that someone? And what the then government did to conceal the scam when it was in power, for two years after the scam was exposed? I think they did everything to conceal the scam so that it could not be proved in the coming two to five decades.
Seems the current union government took her advice of probing the scam a bit too seriously. They started pursuing leads that ruffled feathers here and there. Somewhere in the dark some bush shakes only to expose further lead. And sometimes they change the direction of investigation.
Such a track change happened, as was evident in the exposures of the last two days that the same arms dealer who was being investigated related to the choppers' scam also was working as the real estate agent to the 'Rashtriya Damad'. Apparently, few e-mails to and from the wisest Indian had come into the possession of the inquiring agencies.
One thing for sure; after all these scams, the response time of Congress to a latest exposure had reduced to hours and precise. Lawyers of The Robert Vadra denied all allegations of The Robert Vadra being the owner of the house in London. The middle man didn't deny the ownership of The Robert Vadra, but wanted to verify documents before confirming. But, in the mails he very well demands maintenance charges from The Robert Vadra. Straight out of the classic comic – Mr Bean. [This explains his abhorrence of Mango men]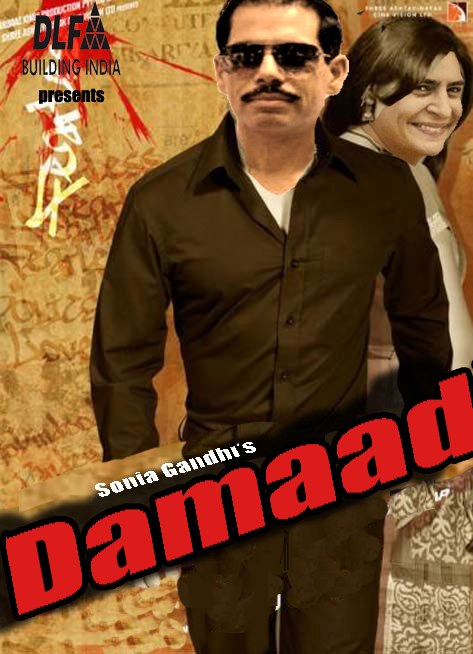 It appears this time there were serious damages and consequences to the inquiries, for the probe would be in UK, and not in India, where they could control, Mr Bean cried hoarsely 'Jaam ka intezar tha, par gam mil gaya; Meri saas ruk rahi hain, ki mera saas ruk gayi'.
That's all folks his 'saas' came out of hibernation – once again. And roared 'Kabhi aisa nahi dekha…ek pradhan mantri hain..shahenshah nahi'.
"Roz…roz ye Congress-mukt Bharat ke liye naya mudda uthate hain. Roz galat ilzaam lagate hain. Agar kuch galat hai to bina bhed bhaav jaanch karo. Doodh ka doodh, paani ka paani karo," She dared the government.
Meanwhile, Shehzad Poonawala came out with a clinching point of 'order' – claiming that one BJP leader Sidharth Nath Singh made 450 calls to the same arms dealer – Sanjay Bhandari. Of course, Mr Singh immediately accepted his social friendship with the dealer and asked the investigations to include him also, as requested by the Congress.
[For those who don't know Shehzad Poonawala, his cousin Tehseen Poonawala recently married Monica Vadra, a cousin of Robert Vadra. And this Tehseen Poonawala, along with Shashi Tharoor went to address a group of Congress workers in Pune, when they shouted him being thrust upon them, from the top. By a marriage, you became our leader? They questioned him. Innocent souls they are, they remain workers.]
When the Sphinx roared at the government hatching conspiracy, she forgot that the master of conspiracies, Dr. Chidambaram is still with Congress. Even if she thought that the Government is trying to probe and prove some wrong doings that didn't happen in real, she should realise it takes the efficiency and creativity of someone like Prof Kapil Sibal. And if there is nothing and the government and its dirty tricks department are creating a castle in UK out of thin air, she should remember only CD Singhvi could do it and at present Mr Doval, who is current NSA is no match to CDS in such imagination.
Truth is stranger than fiction. By the time Sphinx finished her roar and settled to have some grape wine, there was another news bulletin that claimed that the inquiry had reached Virgin Islands, and another property in Dubai, worth ₹24Cr was also added to the list of alleged 'benami' properties of Rashtriya Damad The Robert Vadra.
Even when the party is virtually in shambles, though she leads a pack of jokers, I don't think there is another woman in India more powerful than she. Yes, she is the one who could sacrifice anything that was not hers in the first place. But, it appears the current investigation pulled one raw nerve, and hurt one critical gland in the powerful machinery, that Congress is! And so, the ferocious creature coming out of her den to protect the kith and kin. Last week, twitteratti were discussing the apparent admission of the Prince, into AIIMS due to overdose. Now, the ever charming daughter's husband is under severe threat of another set of 'excess business acumen syndrome'. And her own health is not very pink.
But, I felt, she should have advised her SIN-in-Law that even the wisest cannot fool everyone, forever. Better pack bags, while they can. The villas with venetian blinds over large glass windows were waiting for them in the islands of Mediterranean, where trees are bent with the burden of bunches of olives.
That way, we poor Indians would have some Mangoes to eat. May be that is all that would be left, once they take away their loot from India.
http://indianexpress.com/article/india/india-news-india/robert-vadra-sanjay-bhandari-income-tax-raid-sonia-gandhi-congress-2826510/