India's obsession with beauty is quite intense, rather fatal, to be precise. In a bid to win hearts, the Indian media, nicknamed Democracy's Fourth Estate, mostly forget the fine line between impression and objectification. Whether the lusting males, or the cribbing females (Feminazis for short), each has his/her story to ogle at. Probably India has rarely experienced the example of beauty with brains, which is why whenever some Indian, who is appreciated for his/her pulchritude, as well as his / her skills, is not appreciated for the same, but mostly ogled at. Assamese actor Angurlata Deka and Kerala IPS officer Merin Joseph are the new kids on the block of objectification.
Angurlata Deka, a popular Assamese actress, won the Bardowa seat, in the Assam Legislative Assembly Elections 2016, defeating incumbent Congress stalwart Gautam Bora on a Bharatiya Janata Party Ticket, thereby joining the illustrious league of actor turned politicians, which includes the likes of Telugu superstar N.T. Rama Rao, Tamil 'Anna' Marudhur Gopalan Ramachandran', cine star and 'Amma' of Tamil Nadu Jayaram Jayalalitha, our very own HRD minister Smriti Zubin Irani and the list goes on. Angurlata Deka is known for her pulchritude, as she is known for her new found political skills. What made her win special is that she defeated an experienced leader on debut. However, instead of appreciating her, most of the detractors resorted to what they could do the best: objectify her. This is where they went wrong. Horribly wrong.
A series of pictures went viral, showing Angurlata Deka in rather sensual poses. An array of photos showed the actress allegedly working out at the gym, which made most of the Indians ogle at her.
From the usual lecherous dialogues, most of them drooling at the images, which were actually of a Fitness Guru, Sapna Vyas Patel. If that's enough, some well known personalities have also joined the slugfest, which includes acclaimed filmmaker Ram Gopal Varma, who tweeted on Angurlata Deka as noted below: –
If MLA can look like this, acche din aa gaye hai. Thank you Angurlata ji, thank you Modiji. 1st time I love politics.
That, in a few lines, explains the level of sexism that is ingrained deep in the minds of Indian media. I hope you all remember the TOI slugfest on Deepika Padukone, where the 'famed' news scribe covered rather obscene photos of the actress's cleavage. Even the British Princess Kate Middleton wasn't spared. The same newspaper clicked a rather objectifying photo of her, glorifying it as a Merlin Munro moment.   By the way, what does Ram Gopal Verma mean by 'if MLA can look like this, acche din have come'?  Are politicians with a sense of beauty only made for ogling? However, Angurlata Deka is just not the only lawmaker who has to face the brunt of sexism. A swashbuckling and tough cop from Kerala, ACP Merin Joseph, is facing the brunt too.
Recently, news portal Daily Bhaskar.com published a list of the most beautiful bureaucratic officers, which had this strapping ACP from Munnar, Kerala at the top. Merin, who is objectified by the Indian media from the time she posted one of her training photos on the social media website Facebook, slammed the site for the rampant objectification, indirectly asking a question : why are qualified women just reduced to a pretty face. She expressed her agony in a Facebook post, slamming the Indian media, especially the vernacular ones, for making posts that intend men to ogle at, and not admire. Merin also put up a valid point: why are there no articles on the most handsome males in the bureaucracy?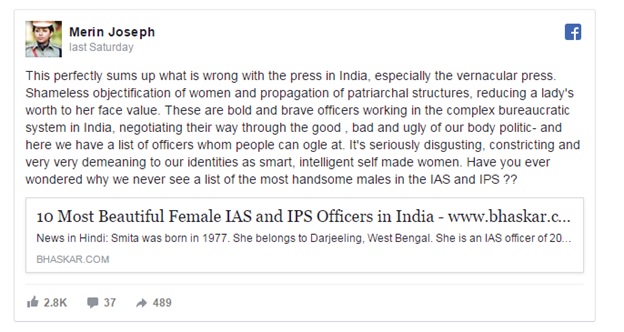 Probably Merin has not heard of Smriti Irani then, who is, in my opinion, probably the most objectified woman in power.  Ever since she joined BJP, each of her move is stalked, objectified, and harangued. I remember, it was one Sanjay Nirupam who mocked at her concern for the Nirbhaya episode, calling her 'TV pe thumke lagane waali'. Even though she is the HRD minister, the so called liberals would look for every opportunity to objectify her in front of the Indian masses. Forget her charming intellect, forget her poised stance on major issues, Smriti Irani would be ogled, just because she is apparently, a right winged politician. Which is why, nobody has created uproar on the issue of Angurlata Deka. Imagine, had the same happened in a BJP bastion, with one of the liberal &'secular' candidates, you can imagine the riots the liberals would have cause, accusing BJP of intolerance, chauvinism, and what not.
What one should learn from Angurlata Deka episode, is that it's rather time, one stop objectifying women in power. Indian journalism is fast becoming a laughing stock all over the world.
Article Sources: –
http://www.bhaskar.com/news-ep/UT-DEL-HMU-NEW-bjp-mla-angurlata-deka-fake-pic-got-viral-on-social-media-5332366-PHO.html
http://scroll.in/article/808804/from-angoorlata-deka-to-merin-joseph-indian-men-cant-stop-objectifying-women-in-power
http://www.deccanchronicle.com/nation/current-affairs/270516/kerala-ips-officer-slams-sexist-article-objectifying-women.html