Uttar Pradesh, the heartland of India, is not only known for its historical significance but also for its rich and diverse culinary heritage. The state's cuisine is a reflection of its vibrant culture, with flavours and techniques influenced by the Mughals, Awadhi traditions, and the rural cuisine of the region. While some dishes from Uttar Pradesh have gained popularity on a global scale, there are still a few hidden culinary wonders waiting to be discovered by the world. Let's delve into the exquisite and lesser-known dishes that Uttar Pradesh has to offer.
Makhan Malai
If you're in Uttar Pradesh during the winter season, you must try the heavenly Makhan Malai. This ethereal dessert is made by churning creamy milk and then topping it with saffron, cardamom, and nuts. The result is a light and airy dessert with a melt-in-your-mouth texture. Makhan Malai is often served in earthen pots, adding to its charm and traditional appeal.
Also read: There is more to Telangana Cuisine than just Biryani
Bedmi Puri and Aloo Sabzi:
A popular breakfast choice in Uttar Pradesh, Bedmi Puri is a deep-fried bread made from a mix of lentils and spices. It is often paired with a flavourful potato curry known as Aloo Sabzi. The puris are crisp on the outside and soft on the inside, and when combined with the aromatic and spicy potato curry, they create a delightful symphony of flavours.
Tahri
Uttar Pradesh's answer to the famous Biryani, Tahri is a fragrant rice dish cooked with a variety of vegetables and aromatic spices. It is often referred to as the vegetarian version of Biryani and is a beloved comfort food for many in the state. The combination of tender rice, vibrant vegetables, and aromatic spices makes Tahri a truly satisfying and flavoursome dish.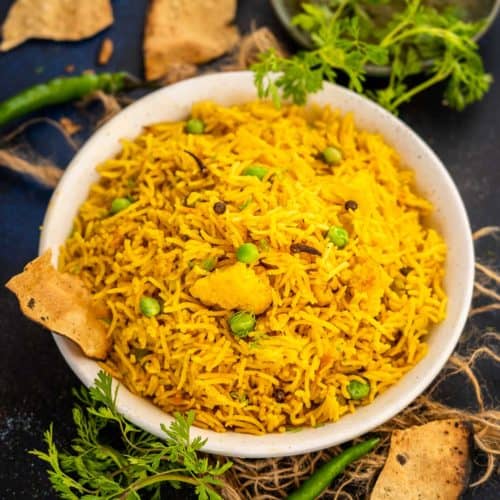 Nimona
Nimona is a unique and delicious curry made from fresh green peas. The peas are ground into a paste and then cooked with spices, resulting in a thick and flavourful gravy. Nimona is typically enjoyed with rice or roti and is a must-try for those seeking to explore the authentic flavours of Uttar Pradesh.
Aloo Ka Halwa
A sweet treat that might surprise you, Aloo Ka Halwa is a dessert made from grated potatoes, ghee (clarified butter), sugar, and aromatic spices such as cardamom and saffron. The potatoes are slow-cooked until they turn golden and release their natural sweetness. The result is a rich and decadent dessert that showcases the culinary creativity of Uttar Pradesh.
Also read: Litti Chokha is Just the Tip of the Iceberg: Bihari Cuisines are LIT!
These are just a few examples of the culinary wonders that await in Uttar Pradesh. The state's cuisine is a treasure trove of flavours, textures, and aromas that deserve to be celebrated and shared with the world. From lip-smacking street food to regal Awadhi delicacies, Uttar Pradesh has something to offer every palate.
As the world becomes more curious about regional Indian cuisines, it's time to put the spotlight on Uttar Pradesh's hidden culinary gems. By experiencing the diverse and authentic dishes of this state, we not only embark on a gastronomic adventure but also gain a deeper appreciation for the rich cultural heritage that Uttar Pradesh has to offer. So, if you find yourself in Uttar Pradesh or have the opportunity to savour its cuisine elsewhere, don't miss the chance to try these five culinary wonders and discover the unique flavours and traditions that make Uttar Pradesh's food so special.
Support TFI:
Support us to strengthen the 'Right' ideology of cultural nationalism by purchasing the best quality garments from TFI-STORE.COM
Also Watch: