Russian Oil trade India: Since the conflict between Russia and Ukraine began, the most notable development has been the consolidation of the western nations. It can now be argued that the prolonged war is between Russia and the collective west. Despite internal conflicts among the members of Europe, the increasing support for Ukraine during a time of economic crisis is a positive stance in itself.
On the ideological front, it is relatively easy to provide financial and arms support, particularly for Europe, which has a history of a robust and stable economy. However, when those economic interests are subsequently affected, sustaining that support becomes challenging. For Europe, energy is a crucial interest, and that is why its commitment to Ukraine appears to have two sides.
EU imports oil from India
The current reports by DGCIS show that India's petroleum product exports to EU countries rose 20.4 percent year-on-year in April–January to 11.6 million metric tons. In January of this year, the exports touched an all-time high of 1.9 million tons.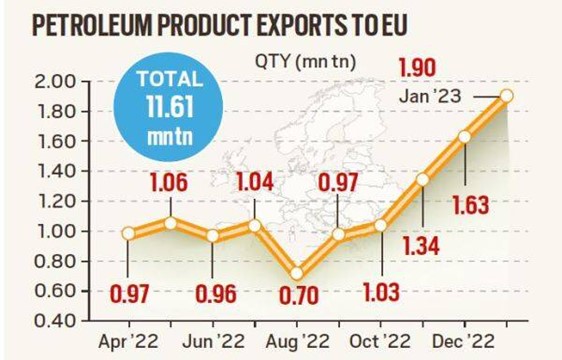 Between April 2022 and January 2023, the EU imported a total of 11.61 million tonnes of petroleum products, which constitutes 15 percent of India's total petroleum product exports of 79 million tonnes. This is a significant increase compared to the same period in the previous year. In April 2021 to January 2022, the EU's share of India's total petroleum exports was only 12 percent, which translates to approximately 9.6 million tonnes.
In the case of petroleum product exports, DGCIS classifies the data by 20 international regions. Europe is made up of three regions: the EU, the European Free Trade Association, and other European countries. Similarly, Asia is divided into six trade regions, while five regions constitute Africa.
If petroleum product exports to the other two European regions listed in the DGCIS data are added to exports to the EU, supplies from India to Europe total 14.5 million metric tons for April-January, up almost 19 percent over the corresponding period of the previous fiscal.
Also read: Nothing. Repeat, nothing can stop India from buying Russian oil
Sanctions and the mechanics behind them
In December 5 of the previous year, the G7 imposed a significant sanction on Russian oil by placing a cap on oil prices at $60 per barrel. As a result, European imports from Russia declined even further. Two months later, on February 5, a ban on oil product imports was implemented, intensifying the conflict over oil. In response to the western sanctions, Russia also imposed sanctions on the west. Following the implementation of the oil price cap, Putin signed a decree that prohibited crude oil exports to countries that had imposed sanctions on Russia, and the ban went into effect on February 1.
But why is the oil embargo so much discussed? Well! The fact is that almost half of Russian revenue comes from oil exports. If the Russian oil trade continues, Russia will not fall in the war. So, Europe wants the Russian oil trade to be reduced to a minimum level. But there are reasons why the west is not outright banning oil trade with Russia. The most important one is to protect the world from an oil shock. Banning oil imports suddenly will create a global shortage without which the global economy will further deteriorate.
Also read: Ahead of Russian oil cap, America has become a slithering lizard
India's increased oil imports from Russia
Let's examine the cause of the rise in Indian oil imports to the EU since we are discussing the EU's higher purchases from India. Even before the announcement of the oil cap, Russia offered India cheaper oil. India took it without a second thought. This led to a surge in Russia's share of New Delhi's oil import sources.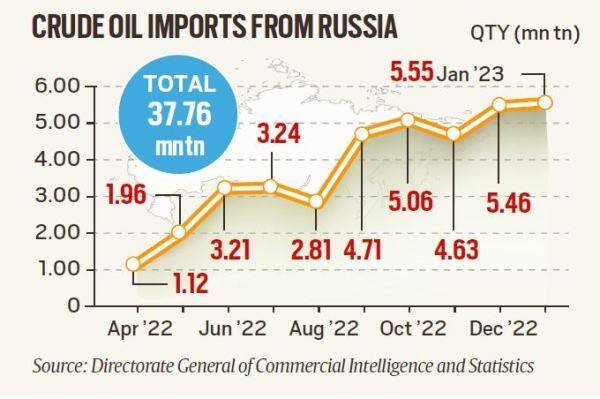 As per the figures by DGCIS, India's import of Russian oil is breaking records with each passing month. In February 2023, India imported 1.62 million barrels of oil from Russia. This is an all-time import. In January too, the imports reached an all-time high of 1.26 million barrels. It has now become the biggest supplier of crude oil to India. Initially, Europe targeted India for procuring cheap oil from Russia, claiming it was financing war. But now a different narrative is floating in the international discourse. India's purchase and refining are considered a balancing move by them.
Also read: Janet Yellen came to convince India on Russian oil, got "convinced herself"
Europe is addicted
After India refused to give up on oil trade with Russia, the motive of the embargo was not fulfilled, and Russia continued to make money out of oil. Even the boundaries of dollars were broken. India procured unprecedented amounts of crude oil from Russia, and due to its low prices, the refined end product became a most suitable oil import for most of the third-world countries. But soon reports came that the US was also importing oil from India. And now the EU's share has increased too. But this shift in the narrative is less about need and more about selfishness.
Europe was actually heavily dependent on Russian sources of energy. And when Europe banned oil imports from Russia, it had to find other sources. To shift its dependence, the EU started to procure from India, and subsequently, the quantity of oil imports increased. So, it will not be wrong to say that the EU is addicted to Russian oil. Some way or another, it wants to maintain the influx of oil so that it can make the crisis a proxy war while sitting in their homes consuming energy.
Also read: US is down to begging India to stop buying Russian oil
India at the center stage
But India's role is very important now. Not simply because it can provide cheap oil to the world but also because the oil trade is witnessing a rerouting. To put it simply, the priorities of oil trade have changed for the countries, and this places India at the center of supply chains. The geo-economics of the world are shifting toward more trade with trusted partners. And in that situation, the Indian way of neutrality is the only way to trade holistically across the world.
Support TFI:
Support us to strengthen the 'Right' ideology of cultural nationalism by purchasing the best quality garments from TFI-STORE.COM
Also Watch: