Recently, several people in Bengaluru reported getting static shocks when they touched metal surfaces. It has become a popular issue among residents of IT City since a woman recently posted about her experience on social media.
Aakanksha Gaur, a local, tweeted earlier this month asking, "Bangalore residents, do you currently experience static shocks when touching metal? It seems like all of my friends are having similar problems. As I turned the doorknob, I noticed a tiny spark." Similar experiences were reported by a number of other Bengalureans, and the topic is still ongoing.
Bangalore folks, are you getting static shocks on touching metal since a few days?
A crazy number of my friends are experiencing this. I saw a real little spark while opening the door knob.

— Aakanksha Gaur (@sia_steel) February 16, 2023
Her tweet received responses from other individuals who shared their own experiences on the subject. Many have been puzzled over the peculiar phenomenon and the cause of the abrupt increase in the second half of February.
Also read: L-DOPA: A Plant's Secret Weapon Against Environmental Stressors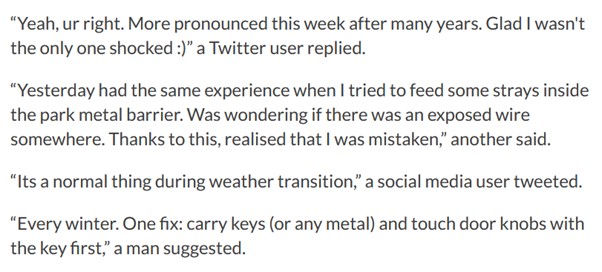 The hidden culprits of static electricity
Scientists and specialists have been keeping an eye on it, and in their opinion, the weather of Bengaluru is primarily to blame for the static shocks. Static shocks, also known as electrostatic discharge (ESD), are believed to occur in dry weather around the end of winter as the weather begins to warm up, despite the fact that experts have not offered a conclusive explanation.
Also read: Science Fiction Comes to Life with E-Bandage
It happens when there is a sudden transfer of electric charge between two items having differing electric potentials, such as when static electricity is present on one object and it comes into contact with another object. Scientists from IISc suggest that the transition from winter to summer in Bengaluru may be responsible for the significant increase in incidence.
Support TFI:
Support us to strengthen the 'Right' ideology of cultural nationalism by purchasing the best quality garments from TFI-STORE.COM
Also Watch: