Wheat is an omnipresent crop in India. Without using a record amount of fertiliser like China, India is the second largest wheat producer of the world. That is why it becomes imminent to quell any negative sentiment regarding the future of wheat.
India: What happened to wheat last year?
In the wake of the Ukraine-Russia war, India had literally turned into the wheat basket of the world. India exported 70 lakh metric tonnes of wheat to the rest of the world as a result of the rising demand for wheat produced in India.
To put things in perspective, India had only exported 21.55 lakh metric tonnes of wheat the year before. It was a whopping increase of more than 300 percent over the previous year. At the same time, India was implementing the Pradhan Mantri Garib Kalyan Yojana, the world's largest free food program. Wheat was one of the free grains distributed to 80 million people in need.
Consequently, demand for more wheat production was there. Farmers were also quite content as export earnings turned into more profit than domestic price realisation. Then suddenly a heat wave struck, and India had to stop exporting wheat as a preemptive measure to secure its own food security. Later, the government's predicament turned out to be true as wheat production witnessed a decline.
Also read: India must donate its wheat to the hungry world. But just the leftovers
Mitigating efforts
There are predictions of record wheat production of 112 million tons. The problem is that wheat reserves have dropped to a new low. It has resulted in wheat and flour being 19 and 20 percent more expensive. Moreover, the chances of a repetition of last year's heat wave have grown. February is warmer than usual, and this casts an intense shadow on March and April, months in which wheat is harvested.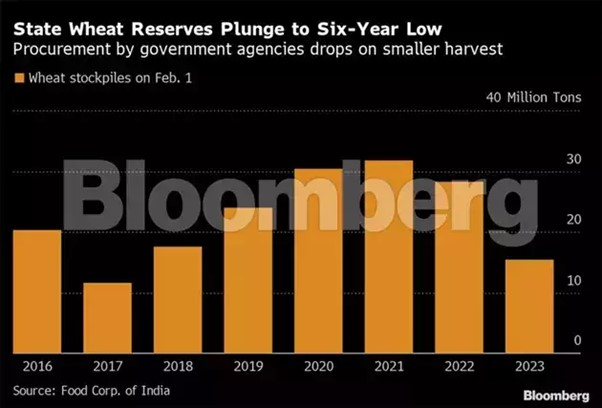 Prices and related risks are the reasons why stakeholders have become extra cautious. Farmers have been advised to constantly water their fields and look for pesticides and diseases that can kill the crop. On its part, the Union government has also decided to release wheat from its stocks. Over 5 lakh metric tonnes of wheat have already been sold to consumers by FCI. The food ministry has decided to release another 20 lakh tonnes, accompanied by a reduction in reserve prices.
Also read: Here's the complete truth behind Turkey 'rejecting' Indian wheat
New crop in town
Meanwhile, refreshing news could alter the situation permanently. The Indian Council of Agriculture Research (ICAR) has developed a new variety of wheat called HD-3385. It is heat-resistant and suitable for sowing in the second week of October.
According to Rajbir Yadav, principal scientist at ICAR, if available breeds of wheat are sown in October, the crop does not get enough time for vegetative growth. Additionally, it is tough to sow wheat just after paddy cultivation. Farmers are forced to burn their stubble.
The latest crop is expected to change that. Moreover, its yield per hectare is 1–1.5 tonnes higher. A private company has already been licenced for seed multiplication and commercialization. In the upcoming years, we need to be export-ready but not at the cost of local inflation. A modulated approach is needed.
Support TFI:
Support us to strengthen the 'Right' ideology of cultural nationalism by purchasing the best quality garments from TFI-STORE.COM
Also Watch: