For a country to go ballistic over others like China is doing, it needs to be Aatmanirbhar in key aspects like food, fuel, energy, electricity and technology. China has little control over all of that.
China's food conundrum
Talking about food, China's stress on food has been tremendous to say the least. It was never one of the most fertile lands to begin with. In fact, it is a famine-prone area. Things changed after Mao's autocracy started to push people towards using the fertile capacity till the last layer. Mao razed forests and replaced them with houses and farms. Though a bit later than Mao wanted, Black soil region started to yield, leading to demand in arable lands.
Today, China is considered a success story when it comes to food security. Rice, wheat, potatoes, tomato, sorghum, peanuts, tea, millet, barley, cotton, oilseed, corn and soybeans are major crops in China. The chart you are now seeing indicates China's share in the global market of few of these crops. Apart from Soy, China's share in every crop is in double digit.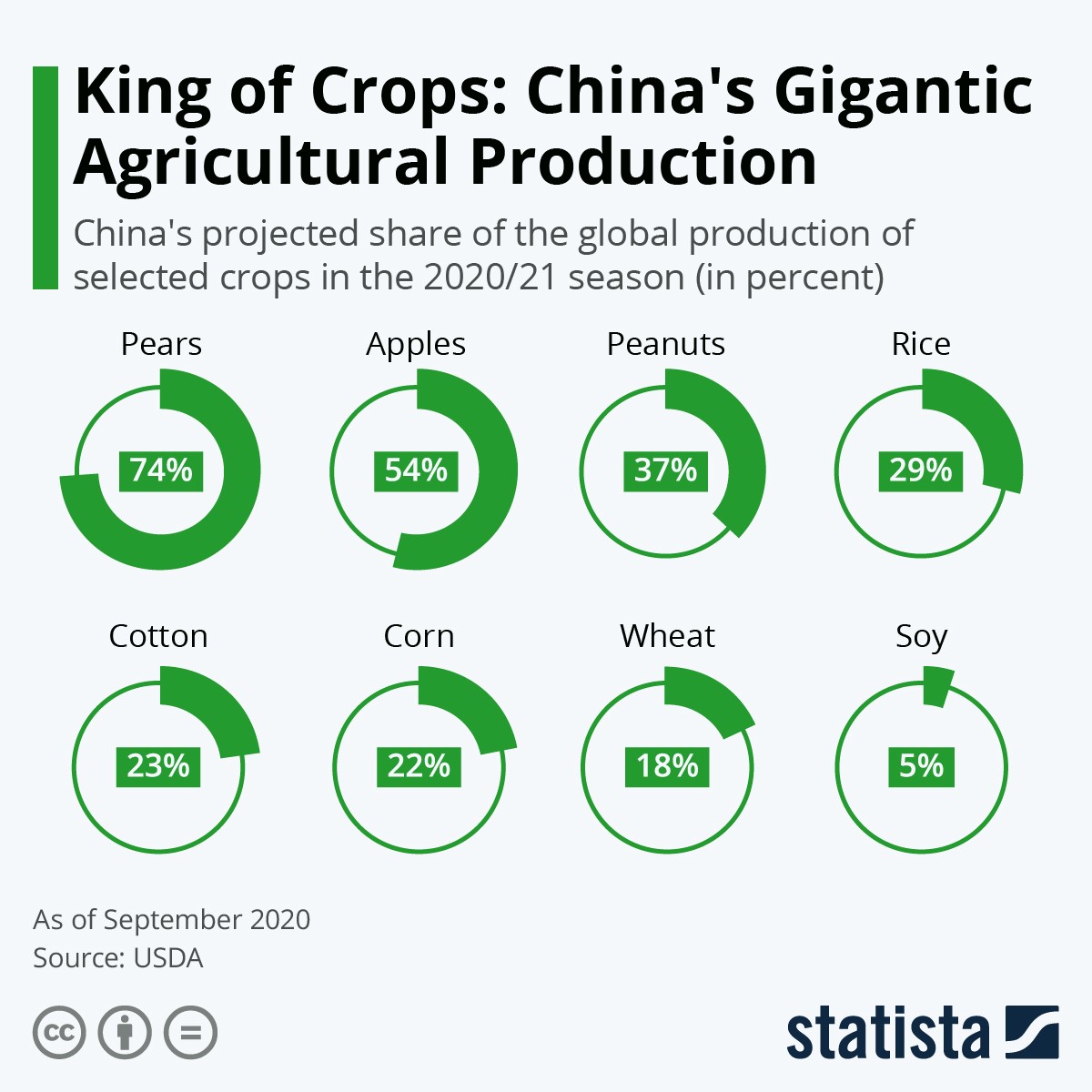 China paid a heavy price for food security
But success has come at a cost. The productivity of China's land has increased but the fertility has been destroyed. Apart from increased exposure to wind and rain leading to erosion, incessant use of biochemicals has been the main reasons behind it. To increase productivity, the Chinese used pesticides and fertilisers in gigantic proportions.
According to Science Journal Nature, China consumes 43 per cent of pesticides produced all across the world. That is too much for a country whose cropland is less than 8 per cent of global arable land. The graph you are seeing on shows the rate at which China increased its pesticide manufacturing in the last 10 years. In FY23, it was worth over $54 billion. Apart from that, it also imports fertilisers worth nearly $1billion on an annual basis. It uses 13.1 kg of pesticide per hectare, which is more than 5 times that of second position USA in overall quantity.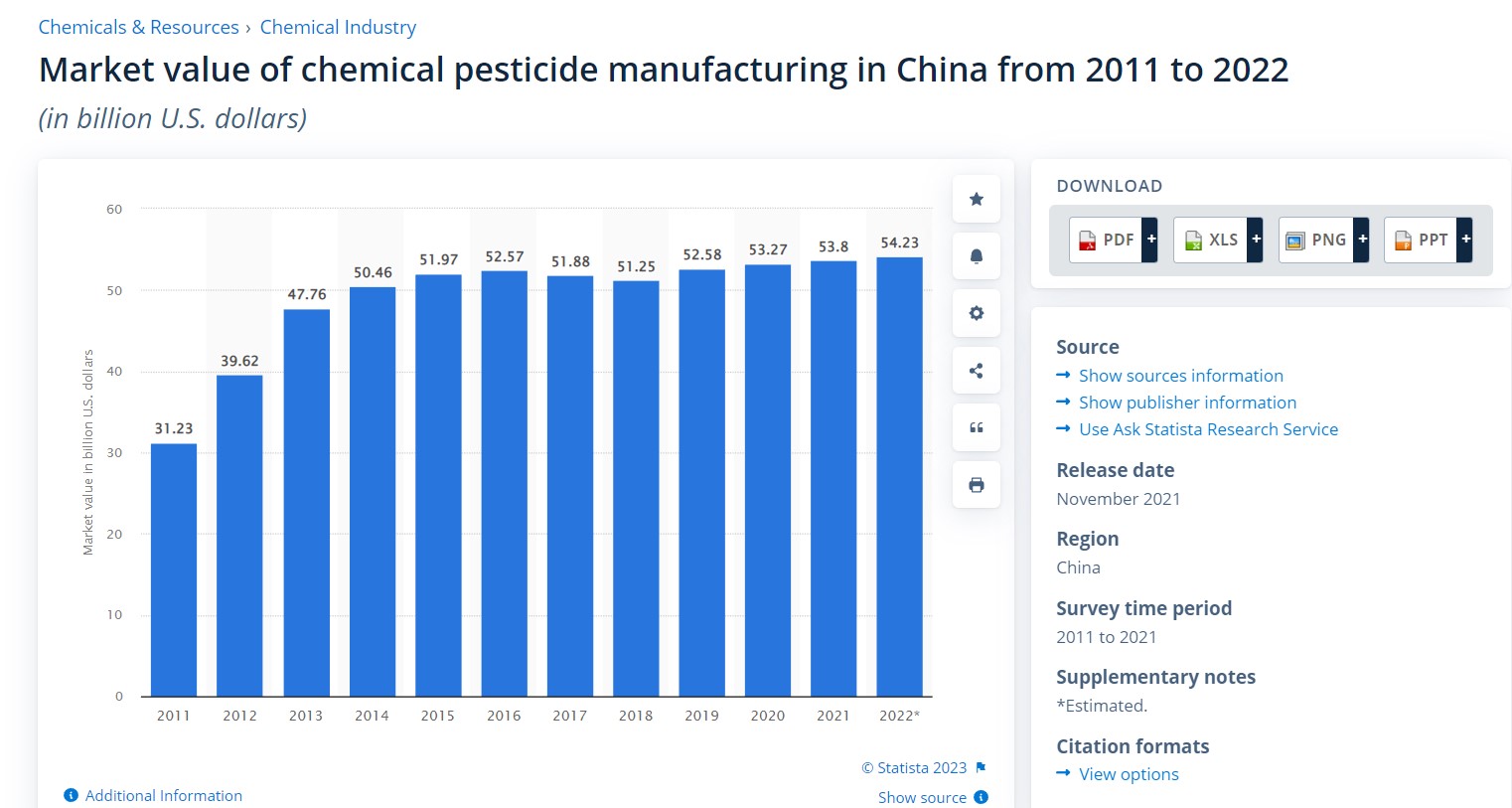 China also uses fertilisers in large quantities. Looking at the graph, between 1990-2000, China's imports fertiliser increased continuously. Only after concerns about its effects on soil started to gain momentum did the import started to decline. Despite that, even in 2021, China was the fifth largest importer of fertilisers in the world, with a total expenditure of over $2.77 billion.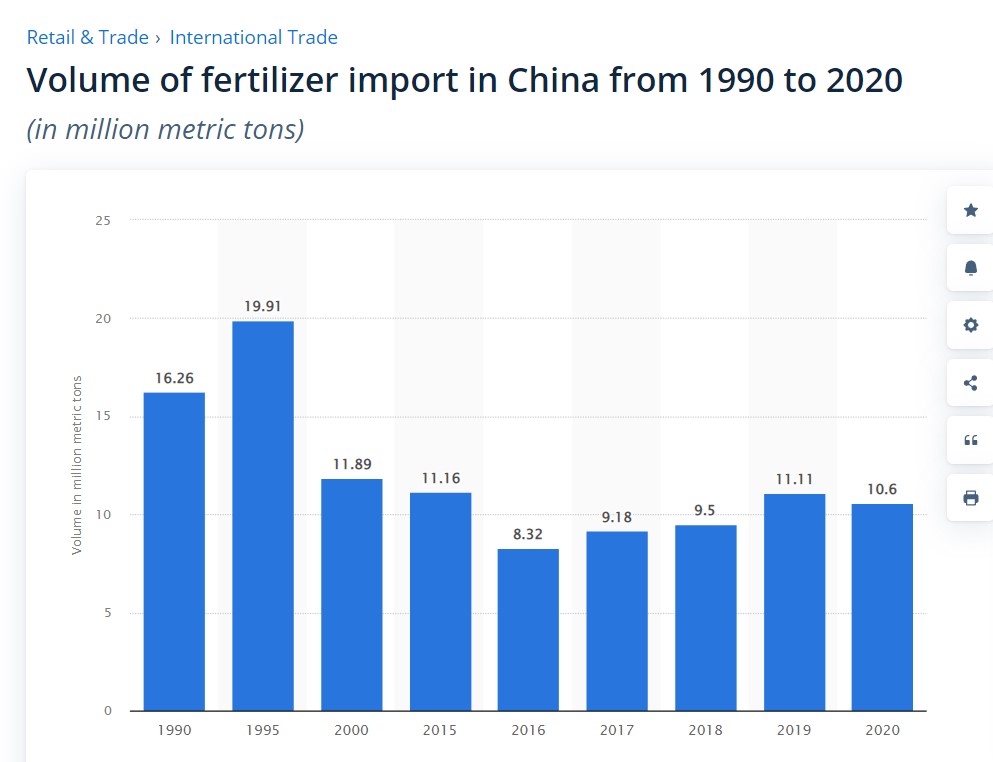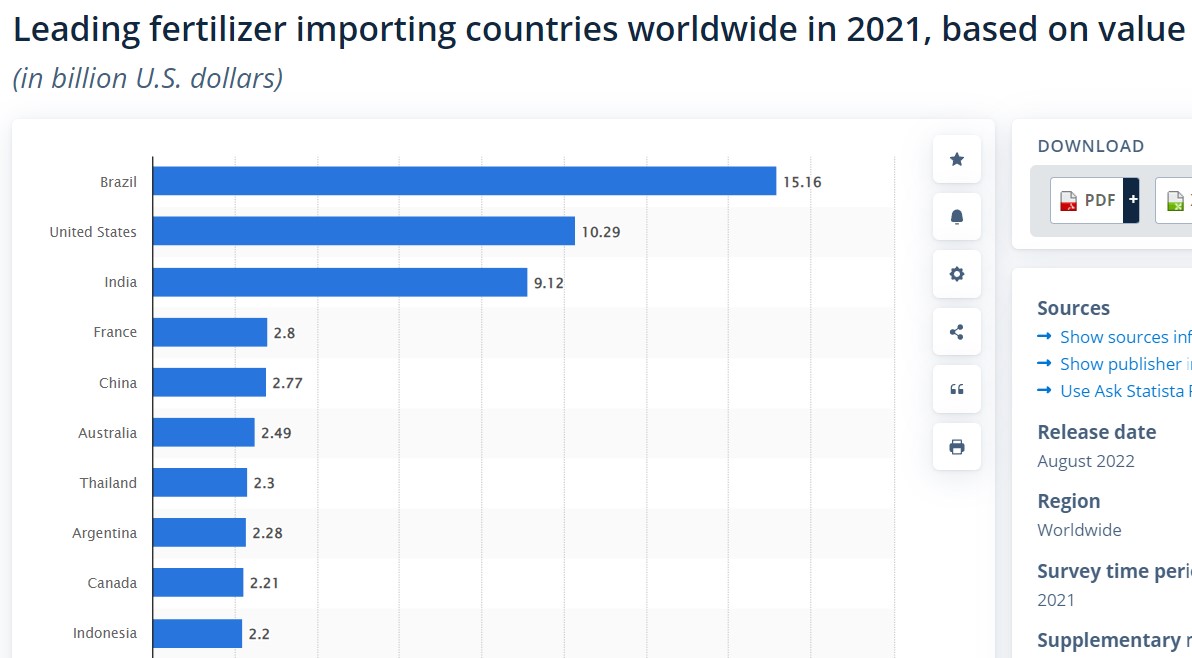 Combinedly, China uses 30 per cent of global agrochemicals. That is huge and this is the reason why China's land has seen a decrease in quality. During the last 73 years, China has lost 20 per cent of its arable land. According to a Bloomberg report, organic content in soil has reduced by as much as 75 per cent.  No wonder, between 1990-2014, China's food imports increased at a rate greater than export. The difference is huge. The trend has continued in the last 8 years too.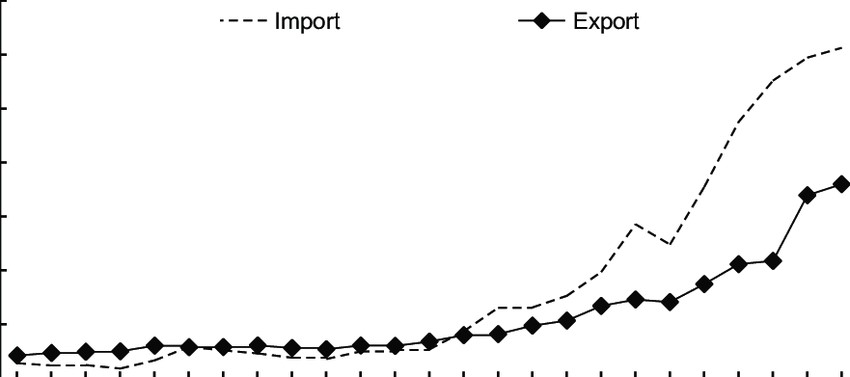 And what is China's solution for it? Well, a typical authoritarian one. Doubling down on the destruction of soil. It is further expanding its fertiliser avenues. China's own fertiliser market is expected to grow at a CAGR of 6.92 per cent till 2028. God only knows the extent to which Jinping will go on for importing Agrochemicals.
Trade prospects are worsening
Definitely, other than using its trademark coercion technique, CCP is going to find it tough to gather money to ensure food security in the long run. China's international relations have been tumultuous in the past 7-8 years, with bilateral trade taking the biggest hit in these circumstances. ASEAN, European Union, United States, South Korea and Japan were the top 5 trading partners of China in 2022.
The problem is that, China has a tumultuous relationship with most of them. The whole of Europe is fed up with China, while their master, the United States, is embroiled in a trade war with the Communist nation. With more than required pressure on Japan and kowtowing to North Korea, China has left no stone unturned in turning neighbours into enemies. Resultantly, China's exports are collapsing and the balance of trade that China is known for has started to reflect it. With competitors like India, Vietnam and self-destructing economic policies by Jinping, a comeback does not look quite possible in the upcoming decade.
Poor on energy frontier too
If decreasing exports is bad news, then the chances of China having enough goods to export are dwindling. Primarily because China is finding it tough to sustain its energy imports. Look at this pie chart of China's energy consumption basket.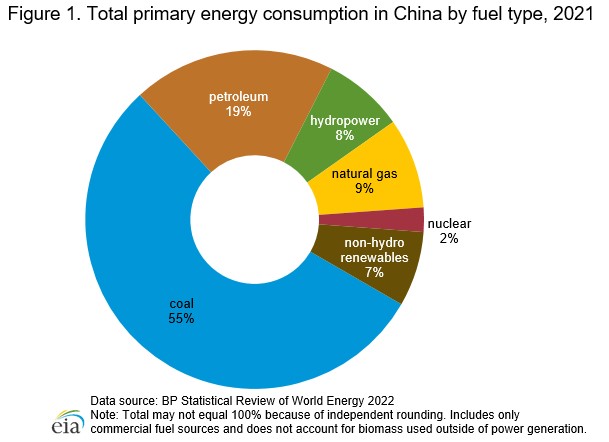 The chart takes a bone out of China's claim of prioritising green energy targets. Energy from coal comprise 55 per cent of total primary energy consumption in the Communist nation. Petroleum comprises 19 per cent while Natural gas comprises 8 per cent. To check the future course of China's energy consumption basket, it is worthwhile to see how China is doing in all 3 of them.
The first is Coal. China's own National Bureau of Statistics told us that in the year 2022, China's coal imports declined 20 basic points faster than its production increased. Same is the case with Natural gas. Despite Russian gas available at doorstep, China's gas imports declined by 9.9 per cent while production could only increase by 6.4 per cent.
With 368.5 bcm of gas, China barely managed to fulfil its demand in 2022. Only crude oil could witness greater change in percentage of production than decline in imports. But it won't bring much change on ground since local production comprises only 33 per cent of China's crude oil sector. 2022 was also the first year since 2021 when China's oil refinery fell.
It is tough to decipher the exact reasons behind it. But, the decline in exports and GDP growth rate coupled with shrinking of energy prospects has created a catch-22 situation. Declining energy is going to produce a damper effect on productivity of the economy and vice-versa.
China is not ready for future
Trade war with the USA is making matters worse for China. The reason why the trade war started is because Trump was aware of Chinese people committing intellectual theft from the USA. 5 years down the line China's tech sector is facing the heat. On top of that, problems have arisen in the semiconductor sector. China's semiconductor dream is getting crushed by high quality semiconductors produced by Americans in the last few years.
Though Americans produce only 12 per cent of semiconductors available all across the world, in value terms, it is 60 per cent, which simply means that they have high grade semiconductors. It shows that despite China containing the lion's share of the sector, it doesn't add value. It is going to hamper the future development of high-tech equipment like military devices. Lack of skilled labour in China's semiconductor sector has created this sub standardisation.
Demographic collapse is near
And let me assure you, the problem is going to be grimmer in future. Even if Jinping uses all the force at his disposal, he can't produce a skilled workforce that will be good enough to maintain the abnormal growth rate seen after 1980. Tell me, what is the median age of China? Its median age is 38.4 years. Life expectancy is 78.1 years. The percentage of people under the age of 20 is 23.3.
Let's track their future life trajectory. People belonging to the median age category are currently serving their parents and kids under 20 years of age. They can't donate time for skilling. Okay, so, kids may be the future. Not really in this case. Almost all of these teenagers are single children and have to care for their parents.
By the time they will develop enough skills for a hyper-technical job, their parents, who are near the median age of China, will be on the verge of retirement. Sure, not everyone will retire, but the majority of them will. Given the fact that China has relaxed its one child policy, the teen kids who will grow up between 2030-35 will have the responsibility of their parents and their own children, which will be greater than 1 in number.
With so much on their plates, they are less likely to replicate that generation of youth which sacrificed its comfort for the CCP in the 20th century. The problem for Jinping gets exacerbated when we find that he won't settle for foreign labours like that of America and other western countries. Jinping desperately wants to not tamper with the image of China being attached to Han Chinese. The question of settling immigrants from other countries for cheap and skilled labour is out of question. He also fears the great replacement.
The population collapse in China is inevitable and only an iron fist resulting in millions of deaths can stop it. Even that is not guaranteed. China is making matters worse by starting new conflicts.
Support TFI:
Support us to strengthen the 'Right' ideology of cultural nationalism by purchasing the best quality garments from TFI-STORE.COM
Also Watch: