If we go by the hyper-optimistic estimates of proponents of the green environment principle, then the days of fossil fuels are numbered. Countries are looking for a way out of this mess. The chase has gained real momentum since 2010. Countries all across the world have tightened their norms regarding pollution. Companies are becoming cognizant of it and using climate-sustainable models for their growth.
On a research and development level, jets are being scrambled with high-tech equipment to look for greener sources of energy. Countries having marine resources in their command are constantly updating their maritime exploration techniques to look for more and more critical minerals like lithium, copper, hafnium, helium, phosphorus, potash, molybdenum, nickel, rhenium, strontium, and uranium. The quest for energy is literally shaking the dimensions of geopolitics.
The Arab world is constantly looking for partners to bail it out of the looming crisis. On the other hand, China does not want to lose its hold on Africa and Latin America because they contain cleaner sources of fuel in large numbers. Green hydrogen is also one of them. It is giving tough competition to lithium-ion batteries, and many believe they are the future. In the midst of all of this, biofuels have received little attention. The main reason behind it is the controversial nature of studies on it.
While it is an established fact that biofuels emit less greenhouse gases than fossil fuels, their overall impact on the environment is still a bone of contention. However, one thing is certain: They can certainly be used as transitory fuel if not as replacement fuel.Any government on a guilt trip for using fossil fuels and not having the money or muscle to extract alternative energy sources will undoubtedly want to use them.and it is happening.
Also read: India's new Biofuel Policy set to reduce import costs and reduce air pollution
Global alliance
The 21st century is a century of alliances. It has to be since globalisation is in its final stage. Multinational alliances for multiple purposes are becoming the norm. In consonance with that, there is a new alliance in town. Uncle Sam and its neighbour Brazil have joined hands with India for a global biofuel alliance. Over the next few months, all three countries will collaborate to assess the viability of expanding the group.
The three main contours of the alliance are bioenergy, bioeconomy, and energy transition fields. The alliance will collaborate with and complement the Clean Energy Ministerial Biofuture Platform, the Mission Innovation Bioenergy initiatives, and the Global Bioenergy Partnership (GBEP). The alliance announced by Hardeep Singh Puri, Minister of Petroleum and Natural Gas, is one of the priorities of India under its G20 Presidency.
A statement released by the Press Information Bureau said, "This Alliance will be aimed at facilitating cooperation and intensifying the use of sustainable biofuels, including in the transportation sector." It will place emphasis on strengthening markets, facilitating global biofuels trade, developing concrete policy lessons, and providing technical support for national biofuels programmes worldwide. It will also emphasise the already-implemented best practises and success stories. "
Also read: E20 Petrol Adoption Unveiled: E20 Petrol has become official in India
Understanding biofuel
Biofuel is currently an underappreciated source of energy in the green corridor. For every litre of gasoline burned, gasoline engines emit 2.3 kilogrammes of CO2. Meanwhile, diesel engines release 2.7 kilogrammes of CO2 per litre of diesel consumed. Biodiesel brings it down by more than 78 percent. Ethanol, another form of biofuel, releases only 25 percent of CO2 as compared to crude oil-based fuel.
This makes it a viable contender for replacing fossil fuels. However, the lithium and hydrogen revolutions have pushed it to the back burner in most parts of the developed and developing world, respectively. Both sources have emerged as strong contenders for the replacement.
But there is a problem with them. Both sources are difficult to access and tough to get your hands on. Lithium is tough to find, while hydrogen, being the most stable element, is tough to cram in a jar. Additionally, extracting hydrogen from sources containing CO2, H20, and H2, one of the most stable molecules, is another upheaval task.
That is what makes biofuel a more pragmatic source of energy. In contrast to the slow nature of other sources of energy, biomass is formed in a short period of time. They can be produced by plants, agricultural, domestic, or industrial biowaste. Bioethanol, one form of biofuel, is formed by fermenting the carbohydrates contained in plants like maize, sugarcane, or sweet sorghum.
Cellulosic biomass, which is derived from non-food sources like trees and grasses, can also be used to create it. Similarly, biodiesel can be produced from fats and oils using transesterification. Transesterification is a chemical reaction in which the ester groups of a compound, usually a fatty acid ester, are swapped with an alcohol to form a new ester.
Also read: Now India controls West's energy supplies
India and biofuel 
Traditionally, India, being an agriculture-based economy, was quick to identify its capability for growth. In terms of fuel, India has mainly earmarked ethanol and biodiesel to increase its production. Among both, it is ethanol that has gotten more attention. And there are pretty good reasons behind it. Its main source is sugarcane. In terms of sugarcane production, India ranks second on the planet, trailing only Brazil, one of our alliance partners.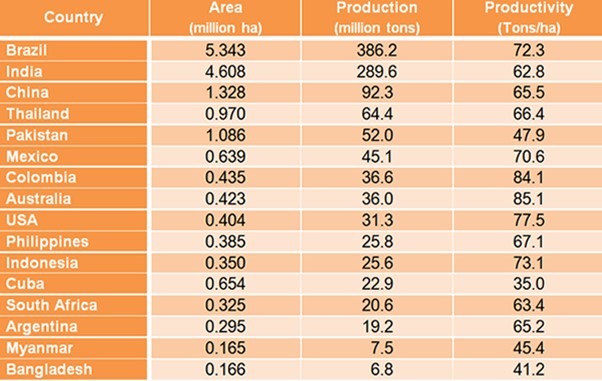 PC: agritech
For the last eight years, the government has taken a multitude of steps to increase the production of ethanol. The main purpose behind it is blending it with gasoline. The finished product is known as ethanol-blended gasoline. For this, a change was effected in the Industries Act of 1951, the administered price mechanism has been reintroduced, an alternate route of ethanol production has been opened up, and even the GST on ethanol meant for blending with gasoline has been slashed from 18 percent to 5 percent.
According to the petroleum ministry, between FY14 and FY19, ethanol procured by public-sector oil marketing companies increased from 38 crore litres to 188.6 crore liters. That is a significant 400 percent jump, which is huge. The change was well reflected in overall numbers as well.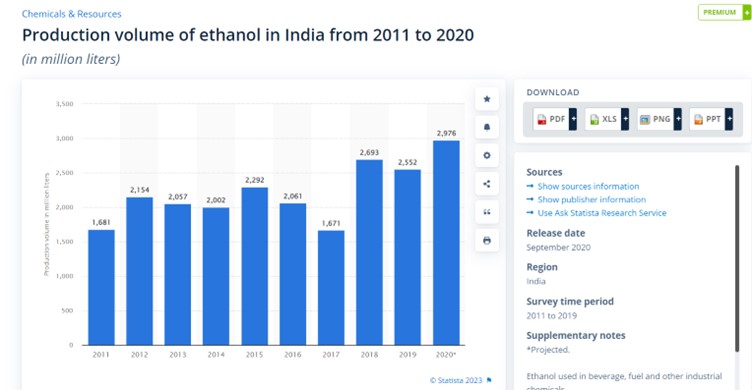 PC: Statista
The humongous upsurge has helped India achieve the target of 10 percent ethanol blending, way ahead of schedule. Here is how PSUs managed to increase it over the years:

                  PC: Orfonline
Looking at the trends, the government of India changed its target to 20 percent blending. According to the 2018 policy, 20 percent ethanol blending in gasoline was slated to be achieved by 2030. In FY22, the government pushed the targeted year back to 2025. Now, surplus rice and maize from FCI are also being used for ethanol.
Despite that, the target is huge. According to an estimate by the Expert Committee on Roadmap for Ethanol Blending in India by 2025, 13.5 billion litres of ethanol will be required in 2025 to achieve this target. 6.8 billion litres of them are slated to be produced from sugarcane, while the rest will be produced from food grains.
It seems as if the government is determined to raise the stakes of biofuels in India's energy sector. Currently, it is lingering at 0.2 percent in primary energy consumption and 0.7 percent in overall transportation.
Also read: India and Russia have made themselves dollar proof
Global dimension
Now, compare that with that of the United States, where biofuels comprise 5 percent of the American energy market. The number is only set to increase. It is helped by the fact that it is currently the world's biggest producer of biofuels.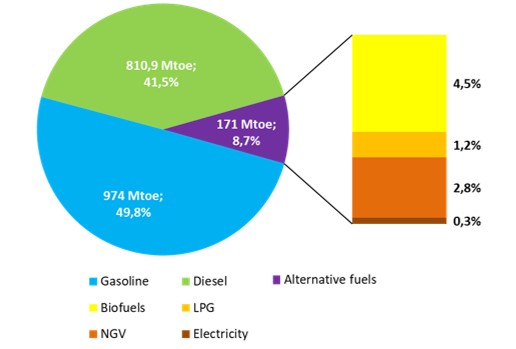 PC: IFPEN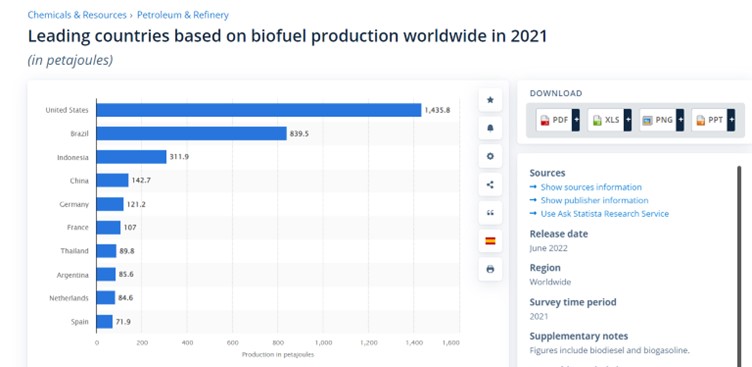 PC: Staista
Apart from the USA, Brazil, China, Indonesia, Germany, and France are other key producers. But the inequality is huge. In 2021, the United States outscored second-place Brazil by more than 40%.That is, the top scorer received 90%, while the second-place holder received 50%. Additionally, China's desire to increase its stake poses another kind of risk.
That is a big problem for India, especially for its ethanol dream. Currently, India's position in the global ethanol market is also not in a healthy state. According to Statista, a data-churning website, in 2012, India produced around 3.5 billion litres of ethanol. Here again, the USA and its neighbour Brazil have outscored India and everyone else. Both countries combined produce more than 82 percent of global ethanol.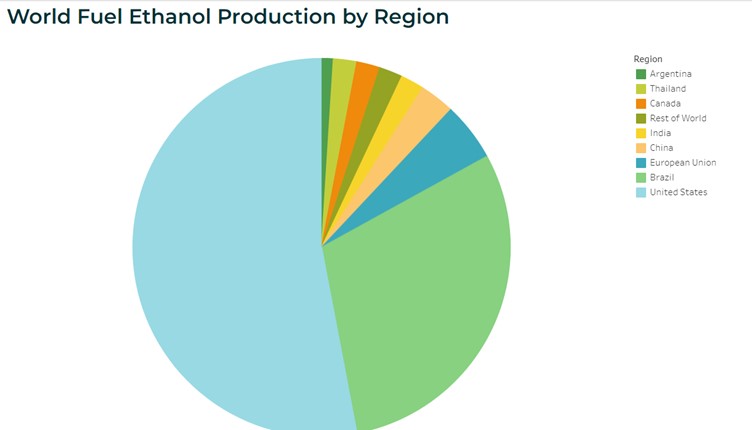 PC: ethanolrfa
Americans mainly use corn for producing ethanol, while Brazilians mainly use sugarcane.
The alliance is crucial for India
This is also one of the reasons why a new global alliance is crucial for India. Both of these countries are crucial for India's ethanol dream. Actually, India's shifting of its 20 percent blend target to 2025 is quite ambitious and would require technical support. Consider this: for the grain part of ethanol production, India will require 17 million metric tonnes of food grains. On the other hand, FCI sold only 78,000 metric tonnes of rice in FY21. FCI has to maintain a buffer stock and also transfer food grains for the needy, which is both an economic and political necessity.
Diverting foodgrains for ethanol is not an option due to obvious reasons. Definitely, technological upgrades resulting in greater efficiency are required. Additionally, the alliance opens the gates for direct imports of ethanol as well as indirect imports through sugarcane and grains.
The alliance will work towards building a global cooperative mechanism for increasing the role of biofuel in the global fuel basket. The International Energy Agency has projected that by 2025, there will be nearly 180 billion dollars' worth of biofuel on the international market.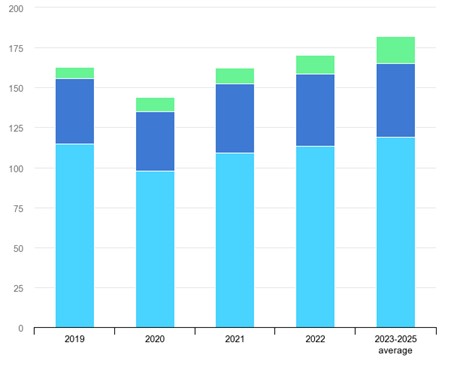 PC: IEA
Strain in ties with Russia and the BRICS?
The alliance also adds to India's increasing clout on the global stage. It also adds a semblance of balance to our swinging pendulum between east and west. The presence of Brazil as a founding partner in the alliance is a shot in the arm for India's commitment towards BRICS and its expansion. In the event of any intra-BRICS conflict brought forward by China and Russia, Brazil's presence in the alliance will strengthen India's position.
The alliance could well be interpreted by Russia as one more step in the direction of pivoting away from it. Recently, India showed its inclination towards taking assistance from the USA for its military upgrade. Russia also came up with a counteroffer as it got the message that old rules no longer apply. In the last few weeks, Russia seems to have gotten a bit jittery over India's increasing ties with America. It is on India to bring both countries to common ground. India needs both, and both need India.
Being President of both the G20 and the SCO in the same year may add weight to India's diplomatic outreach. Additionally, with the kickoff of this alliance, the venues for cooperation with pre-existing ones like the International Solar Alliance have also broadened. This year belongs to India, and India is leaving no stone unturned in doing things its own way.
Support TFI:
Support us to strengthen the 'Right' ideology of cultural nationalism by purchasing the best quality garments from TFI-STORE.COM
Also Watch: