This year's Diwali proved to be a grand success for Indians in more than one way. On one hand, Indians crushed the liberals' spirited attempt to thwart the fest by bursting crackers with full enthusiasm, while on the other hand, India's booming Diwali sales exposed the hollowness of people sceptic of anti-China sentiments in India.
Indians break 10 years of sales record
The Confederation of All India Traders (CAIT), a non-governmental trade association and advocacy group which represents more than 7 crores Indian business personnel reported that Indians' Diwali shopping broke the last 10 years' sales record. According to the body, Indians bought more than 1.25 lakh crore worth of goods from the festival market. Gold jewellery accounted for more than Rs 9,000 crore of sales this year, while Rs 15,000 crores were spent on packaging commodities.
Talking to the media, CAIT National President B C Bhartia and Secretary General Praveen Khandelwal said, "During Diwali this year, there is an estimated business of about Rs 1.25 lakh crore (trillion) in the entire country, which is a record figure in the last decade. In Delhi alone, this business was about Rs 25,000 crore."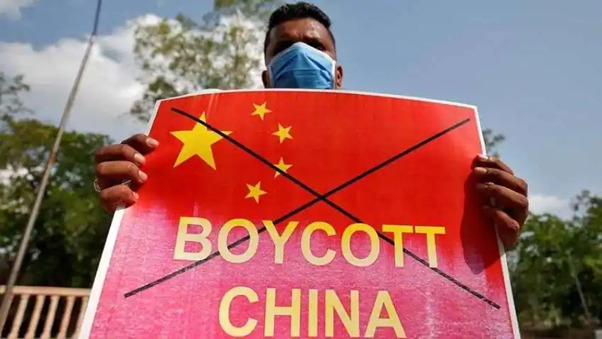 Make-In-India over made in China
Moreover, this time, items such as earthen lamps, candles, paper mache lamps, sweets, dry fruits, footwear, watches, toys, home décor, and fashion clothing saw a huge uptick in their demand. The sale of these products proved to be a boon for Indian small potters, craftsmen, and handicraftsmen who were earlier incurring heavy losses due to huge Chinese imports on Diwali. The huge rise in the sale of made-in-India products made a dent in the Chinese' pockets as Chinese businesses suffered a heavy loss of more than Rs 50,000 crores in this year's festival. The massive increase in circulation of made-in-India products owes mainly to PM Modi's initiatives such as make-in-India and Aatmanirbhar Bharat. These initiatives along with Production linked incentives are understood to be key drivers in taking forward India's economic journey in the 21st century.
Read more: The World turns to India for Steel and Chemicals amid China's crippling power crisis and factory lockdown
China's Dual Circulation Policy not allowed to stand on its own by India
Meanwhile, China's dual circulation policy of selling its product to its population as well as exporting it outside has been given several jolts by nationalistic forces in India. Labelled as the Chinese version of Aatmanirbhar Bharat, the policy mainly aims at making the Chinese domestic market the mainstay, while allowing the domestic and foreign markets to boost each other. Until now, China has heavily relied on its export earnings to increase its production capacity for domestic as well as foreign markets, which sometimes leads to a shortage in the domestic market. The dual circulation policy is intended to cater more to the domestic market on the basis of its exports revenue. For the policy to succeed, Chinese domestic manufacturers are required to make cost-effective and competitive products, which would bring in forex revenues through exports. This forex revenue will then be pumped into the domestic market to increase the production to cater to domestic markets as the priority. While China was gearing up for this strategy, India plummeted its exports' earning within one and half years, which did not allow the policy to have a firm leg to stand.
Pre-Galwan valley clash, India was heavily dependent on China
Before the Galwan valley clash between the Indian Army and the Chinese people's liberation army, Indian markets used to be flooded with China-made products. The Chinese exporters used to heavily benefit from cheap labour available in China, while Indian indigenous industry which had been thriving for thousands of years was on the verge of extinction. According to a report by Hindustan Times, India imports more than 70,000 crores of Chinese goods during the period from holy Rakshabanshan to New Year. However, during the Rakshabandhan this year, the Chinese suffered a loss of more than Rs 5,000 crores this year while a loss of more than 500 crores was registered by them during Ganesh Chaturthi this year.
Read more: Big move to kich China out of supply chain: With 7,000 cr govt incentive, domestic production of APIs set to increase
Machismo turned into self-inflicted Machiavilleanary on Chinese by PM Modi
After the Galwan Valley clash, India tightened its noose around China. Because China was heavily dependent on importing its products to India and making big profits because of the presence of 1.4 billion consumers, the Modi government chalked out a plan to phase out Chinese products from the Indian market. This saw a loss of more than 40,000 crores by China in the Diwali of 2020. People of the country also lent their hand to the government in this initiative. Buoyed by the people's support, the government went forward with full-fledged offences on China on diplomatic, strategic, technology and military ends as well.
Read more: India's manufacturing pace takes off as China's manufacturing tumbles
The heavy loss incurred by China has irked the Chinese Communist Party and its mouthpiece GlobalTimes has warned Indian traders about the anti-China attitude. However, Indians have now realised that India's consumer base has the potential to turn the country into a superpower, even without any support from the outside. The Diwali loss to Chinese manufacturers will prove to be one of the biggest dampeners in the already declining Chinese economy in the post-covid world.