Land, multinational forums, bilateral diplomatic talks, economy and technology. These are some of the domains where India and China have been at loggerheads. After a few rounds of push and pull, the battle is now shifting to Mongla Port. Ultimately, it is Bangladesh which is reaping the sweet portion of investment pie. It is time for Bangladesh to choose sides between democracy and autocracy.
India on Mongla port
Egis India Consulting Engineers Pvt Ltd, Indian arm of French Egis group was recently selected as Consultant for upgradation of Mongla port in Bangladesh. The appointment came almost 7 years after India agreed to help Bangladesh secure a line of credit for the project. On its part, Bangladesh's Executive Committee of the National Economic Council (ECNEC) had approved the project way back in 2018. According to a deal worth $600 million, 75 per cent of the funding will be provided by India.
India will construct a 600-metre parking yard, a large multi-storey garage for car parking, a four-lane road with a drainage system, a shipyard, a flyover, and the expansion of two jetties with container facilities. With the increased infrastructure support from India, the port's capacity is expected to increase to 1,800 ships, 1.5 million metric tonnes of cargo, 4 lakh TEUs of containers, and 10,000 vehicles. It will add Tk 3150 crore to the Bangladeshi Treasury on an annualised basis.
Remarkably, the port is already the second-largest and second-busiest in Bangladesh. From 2012, the port handled 12 per cent more ships and 17 per cent more cargo on an average annual basis.
Also read: With Punjab as launchpad, Khalistan eyes nation-wide export
Strategic significance of Mongla port 
The need for its rejuvenation arose because Chittagong, Bangladesh's largest port till date, faces congestion issues. Earlier, Chittagong port was 260 km from Dhaka, while Mongla port was 280 km. With the construction of the Padma Multipurpose Bridge and other mega-infrastructures, the distance between Mongla Port and Dhaka has been reduced to 170 km.
Mongla port holds commercial importance for Bangladesh. It serves as a gateway for trade between Bangladesh and its neighbouring countries, including India and Myanmar. For India and China, it holds strategic importance too.
The port is located on the eastern bank of the Pashur River, close to the Bay of Bengal. The port is also close to the shipping lanes that connect Asia to Europe and Africa, which makes it an important hub for global trade. It also provides access to a range of resources, including natural gas and other minerals.
Also read: Congress must introspect its own history before supporting BBC documentary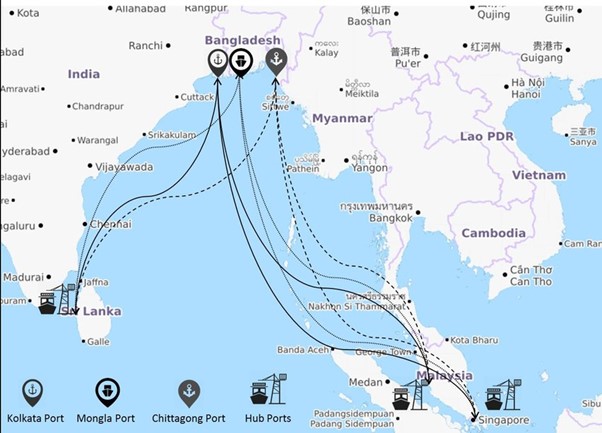 PC: Researchgate
China's intervention
With so much significance, any country would want to wield a strategic influence on it. Which is the reason why China has also jumped in. Few days after Egis was announced as a partner, China also announced its venture on the port.
It is one of the 27 projects which both countries had decided to execute with the help of Chinese money in 2016. The Mongla Port Authority had struck a deal with China National Complete Engineering Corporation. But, China was unwilling to bankroll its commitments. As soon as the Indian deal came into action, alarmed China quickly approved the financing.
Bangladesh needs $353.52 million from Communist nation. It will be used for building two container terminals and delivery yards.
There is a race between two countries here. Both countries have a sizable presence in Chittagong port too. Last year, India got access to Chittagaon port, which takes care of 90 per cent of Bangladesh's cargo trade. India is using it for transhipment facilities.
Also read: India sets milestone in inland waterways transportation, Nitin Gadkari flags off first container on NW1
India-China rivalry in Bangladesh
Apart from maritime trade, the neck-on-neck fight between China and India in Bangladesh has been quite apparent. Bangladesh became important for China for its BRI project as well as the presence of anti-India Islamists. Trade between both countries has risen at exponential rates. Remarkably, the trade deficit is in favour of China. Bangladesh has also been heavily reliant on China for defence equipment.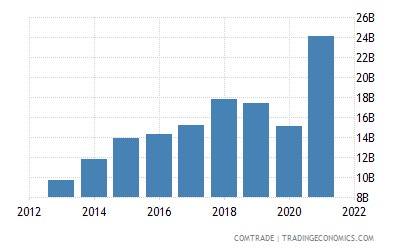 PC: TRADINGECONOMICS
India is changing that, slowly but steadily. It is the second biggest import partner of Bangladesh. With FTA on the horizon, the number is slated to increase by $10 billion. It is nearly 66 per cent of our export to Bangladesh in FY22. Both countries have also joined hands for a Defence pact.
Aligning with China is not going to benefit Bangladesh in the long-run. As happened with Sri Lanka and Pakistan, debt-trap is only foreseeable end in the future. While India is trying to save it, Bangladesh should also assist it, rather than sitting in the middle and taking advantage from both countries.
Support TFI:
Support us to strengthen the 'Right' ideology of cultural nationalism by purchasing the best quality garments from TFI-STORE.COM
Also Watch: